Riot police were required to break up a pitch invasion brawl between Leeds United and Frankfurt Eintracht fans after a pre-season 'friendly' match turned sour.
Hundreds of hooligans, some donning balaclavas, were pepper sprayed by the local authorities amidst the violent confrontation.
The fight took place in Eugendorf, a town to the north of the Austrian city of Salzburg and began when Frankfurt supporters 'ripped' down a Leeds United flag.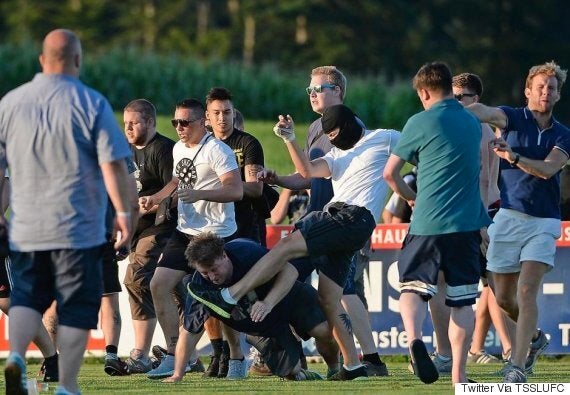 The fans can be seen violently clashing (via Twitter)
Leeds United were beaten 2-1 by the German team before the confrontation began. Around 100 Frankfurt supporters were involved in the clash and a local police officer said around 20 arrests had been made from supporters of both clubs.
Neil Slinn, a Leeds fan, told the Yorkshire Evening Post: "A few of us went over to applaud the Frankfurt fans. I was going to shake their hands. Then their ultras jumped over the (advertising) boards and started attacking us. Some were wearing balaclavas and we were outnumbered."
The stadium, with a seating capacity of several thousand, held around 400 Leeds fans. When the match ended some fans from both teams invaded the pitch. Police arrived on the scene with batons and dogs to break up the scuffle.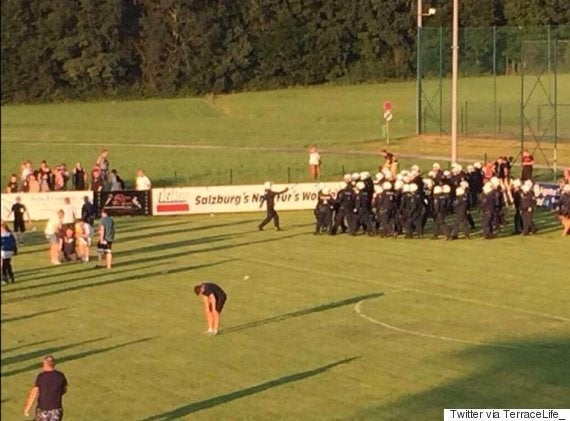 Riot police had to break up the tension between the crowds of supporters (Via Twitter)
There has been some debate over who started the attack. Phil Hay, a reporter for the Yorkshire Evening Post took to Twitter and claimed:
Other spectators and football enthusiasts took to the social media site to argue their case: