Cecil the Lion, Zimbabwe's famous big cat, has been shot and killed by a man who paid £35,000 to wildlife guides to let him hunt the animal.
The majestic beast, who was 13 years old and a major tourist attraction, was shot with a crossbow and rifle, before being beheaded and skinned, it has been reported.
His six cubs will now be killed, as a new male lion won't allow them to live.
A Spaniard was first believed to be behind the killing, according to conservationist Johnny Rodrigues, who told the BBC the method of killing heralded a new trend.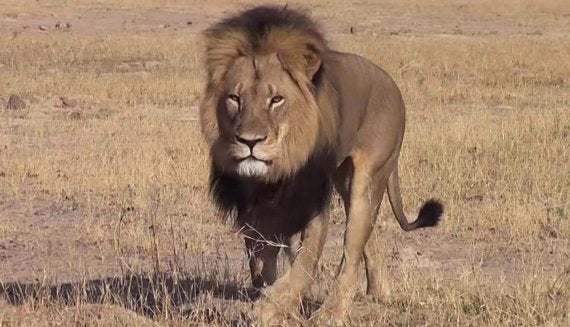 Cecil was wounded by a crossbow and arrow, and then killed 40 hours later
According to Rodrigues, the lion did not die immediately, and was followed for more than 40 hours before it was shot again with a rifle.
It is believed the lion was baited to tempt him out of the Hwange National Park, a technique commonly used by hunters so they can "legally" kill protected lions.
"Cecil's death is a tragedy," said Rodrigues. "Not only because he was a symbol of Zimbabwe but because now we have to give up for dead his six cubs, as a new male won't allow them to live so as to encourage Cecil's three females to mate.
"The two people who accompanied the hunter have been arrested but we haven't yet tracked down the hunter, who is Spanish."
The Zimbabwe Professional Hunters and Guides Association said its memebers were involved and the case is being investigated.
Cecil was wearing a GPS collar as part of an Oxford University research project which has been ongoing since 1999.
Will Travers, president of the Born Free Foundation, commented: "Tragically, 24 of the 62 lions that have been tagged by the project have been shot by sport-hunters and one can only imagine the negative impact that the sport hunting of lions is having on the population of Zimbabwe."
He added: "This story is so shocking on so many levels. Cecil was of huge value to Zimbabwe's economy and their Wildlife Service. Now he is gone. According to information I have received, the carcass of a freshly killed animal – a 'bait' – was used to lure Cecil out of the protected area where he was shot with a bow and arrow."
Spanish conservation organisation Chelui4lions has written to the country's body which overseas the import of endangered species, urging it to stop the import of Cecil's head as a trophy.
"From 2007 to 2012 Spain was the country that imported the most lion trophies from South Africa. During this period it imported 450 heads, compared to 100 in Germany. Europe needs to ban these lion hunting trophies altogether," said Luis Muñoz, a Chelui4lions spokesman.
"What hunter, what sort of demented person, would want to kill a magnificent adult lion, known to and photographed by all the park's visitors?" he added. "We're ashamed of the fact that in Spain there are rich madmen who pay for the pleasure of killing wild animals such as lions."