New Jack – also known as Jerome Young – posted a picture of himself posing with Hogan's daughter Brooke with the caption 'Hulk Hogan…I'm that N****'.
Hogan is alleged to have used the n-word several times during a conversation caught on an unauthorised sex tape.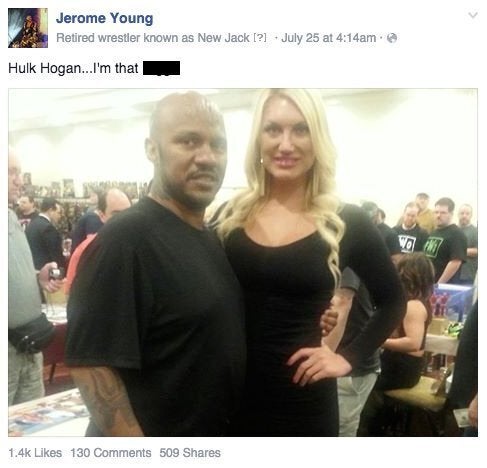 This post by Young has been shared hundreds of times on Facebook
Young is known in wrestling circles for being involved in the high profile "Mass Transit" incident, which saw an underage wrestler serious injured after being allowed to fight despite having no professional experience.
Young was acquitted of aggravated assault.
Hogan is alleged to have mentioned his daughter Brooke and spoken about her most recent relationships.
It was during this conversation that he is reported to have used the n-word several times.
Although WWE did not give a specific reason for its decision, it issued a statement saying it is: "Committed to embracing and celebrating individuals from all backgrounds as demonstrated by the diversity of our employees, performers and fans worldwide."
Hogan issued an apology to PEOPLE magazine, saying: "This is not who I am. I believe very strongly that every person in the world is important and should not be treated differently based on race, gender, orientation, religious beliefs or otherwise.
Since Friday, fans have been quick to show their support for Hogan online.
Hogan tweeted this message thanking his fans.
I'm overwhelmed by the love and support of the millions of people that never 4 a moment left my side,I'm grateful,truly humbled,only love HH

— Hulk Hogan (@HulkHogan) July 27, 2015