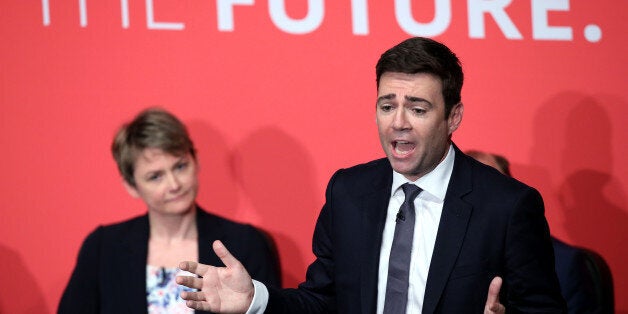 Andy Burnham has said Labour should hold a review of its leadership election rules, amid suggestions the party has been "infiltrated" by opponents trying to get Jeremy Corbyn elected.
Ed Miliband changed the rules to allow members of the public to vote in Labour leadership races if they pay just £3 and say they agree with Labour values.
Burnham told BBC News on Monday afternoon that while he supported this "in principle", the system would need to be investigated once the current race was over.
"I think we should have a review of it coming out of this leadership contest," He said. "In principle it is a good thing but afterwards we should have a review and see whether it has been open to any abuse."
He added: "But I like the idea we throw politics open to people and we bring the public in, otherwise we are going to see politics becoming more and more irrelevant."
Labour MP John Mann has called for the leadership election to be halted. The MP Bassetlaw has claimed the wishes of longstanding party members are being swamped by an influx of people from the hard-left of British politics who are "opposed" to the Labour Party. "It is pretty clear that what is happening amounts to infiltration of the Labour party," he said.
It has also been suggested Conservative supporters may have been willing to pay the small fee to vote in Labour's leadership campaign in order to vote for Corbyn. Most Tories believe Corbyn, who has emerged as the surprise frontrunner, is too leftwing to win a general election.
But Burnham rejected the call for the election race to be stopped. "I don't think it would help anybody to put this on pause and make it carry on for longer than it needs to. Labour needs to have the debate and make a decision about its future and get on with the job of being a proper Opposition," he said.
On Sunday, Corbyn said he only wanted the votes of "genuine Labour supporters" in his bid to succeed Miliband. But said the only "entryism" he had seen was "a lot of young people hitherto not really excited by politics coming in for the first time".
A YouGov poll of Labour members which suggested Corbyn was in the lead has startled centrist Labour MPs who expected the veteran Islington North MP to be a sideshow to the main race between Burnham, Yvette Cooper and Liz Kendall.
Corbyn currently also has the support of most local Labour parties. Corbyn has the backing of 112 constituency Labour parties, Burnham has 101, Cooper has 86 and Kendall has 14.
Earlier this month the Labour First pressure group urged supporters of Burnham, Cooper and Kendall to help each other to ensure Corbyn does not win. The group send out details on how party members should transfer votes between Kendall, Cooper and Burnham to prevent the leftwinger from winning.
Today Labour First's secretary, Luke Akehurst, has written to John Woodcock MP, the chairman of the Blairite Progress group, urging it to recommend its members take a similar position.
"We know that Progress has decided to support Liz Kendall and respect that this is the view of your Strategy Board. However, we are concerned that you have not recommended use of second and third preferences to stop Corbyn and that some individual members of your Strategy Board are suggesting not using their second or third votes," he said.
We are therefore writing to ask you to consider helping us demonstrate the unity of moderate and mainstream forces in the Labour Party and the strategic priority of stopping a Corbyn victory by amending your position slightly so that as well as continuing to support Liz you join us in recommending people use their second and third preference votes for the other mainstream candidates."