A man who broke his neck while training for a marathon and was told he would never walk again has defied medics to finally complete the race – 15 years on.
Joe O'Connor, 52, was training for the New York marathon in 1999, when a freak accident left him paralysed from the neck down – just three days before the race.
Mr O'Connor, from Tarporley, Cheshire, was on a SAS selection weekend in the Brecon Beacons when a gust of wind swept him off the side of a hill, causing him to plummet 400ft.
The dad-of-three was unable to move, and had to wait nearly two hours for a helicopter to take him Cardiff Hospital.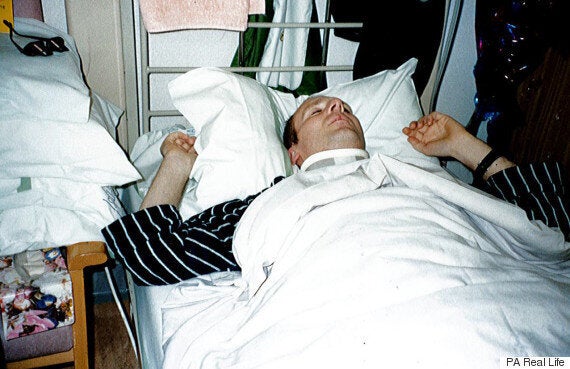 O'Connor in hospital in 1999
There, doctors told him that he had a broken neck and it was unlikely he would ever walk again. But Mr O'Connor says that he was "determined to prove them wrong".
Remarkably, after 15 years of intensive physiotherapy, Mr O'Connor was able to complete the 26.2 mile race in New York – unaided.
Mr O'Connor says: "You never know what life will throw at you; I certainly never expected this journey."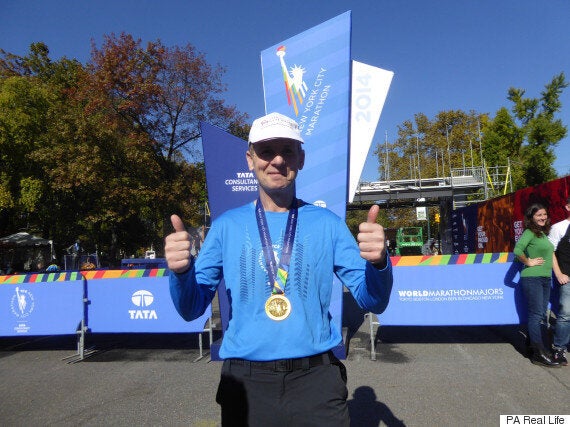 O'Connor after completing the marathon earlier this year
"I'd always been into fitness, was in the Royal Engineers when I was younger.
"Then, when I was 37 years old I decided I was bored of my city job as a financial advisor, and planned to join the SAS.
"At the same time I was also training for the New York marathon."
The weekend before the race, October 30 1999, Mr O'Connor went on a weekend selection process for the SAS.
He remembered: "It was so physically demanding. There were 60 of us to start with, and by the end we were down to about six. People kept dropping out.
"The weather was atrocious, and we were laden down with heavy rucksacks.
"One evening the hail and wind were unbearable, but we had to make it to the top of this hill.
"Suddenly there was this huge gust of wind that caught me off guard. Seconds later I was at the bottom of the hill unable to move any part of my body apart from my eyes and mouth.
"All I could think was how I didn't want to die. My wife was pregnant at the time and we had a five-year-old son, Hadley. I knew I had to fight for them."
Ninety minutes later a helicopter arrived and transported Mr O'Connor to Cardiff Hospital, where doctors told him it was unlikely he'd walk again.
He says: "When they heard that I was determined to prove them wrong. So I pushed myself. At first I could only speak and blink, but I knew I couldn't get depressed.
"After three weeks feeling returned to my fingers, and within three months it had began to return to the rest of my body.
"I was in hospital for four months, underwent different spinal surgeries, then went to live at my parents in a wheelchair.
"Unfortunately my marriage fell apart shortly after, that was when I hit my lowest point."
Unable to work, Mr O'Connor felt like he'd lost his confidence and identity.
He recalled: "It was a tough time. I had no money; I'd lost my wife and my home. Still I kept up with my physio and tried to keep my spirits up.
"Slowly but surely I started to be able to walk short distances with walking sticks. Doctors were astounded.
"Before the accident I'd been a trainer at a running club, and in 2003 I went to visit them.
"It was then I met Tracey. We married and had our son Conrad in 2005. She's been such a motivation."
It was with his wife's encouragement that Mr O'Connor signed up to compete in the New York marathon in November 2014 – 15 years after his accident.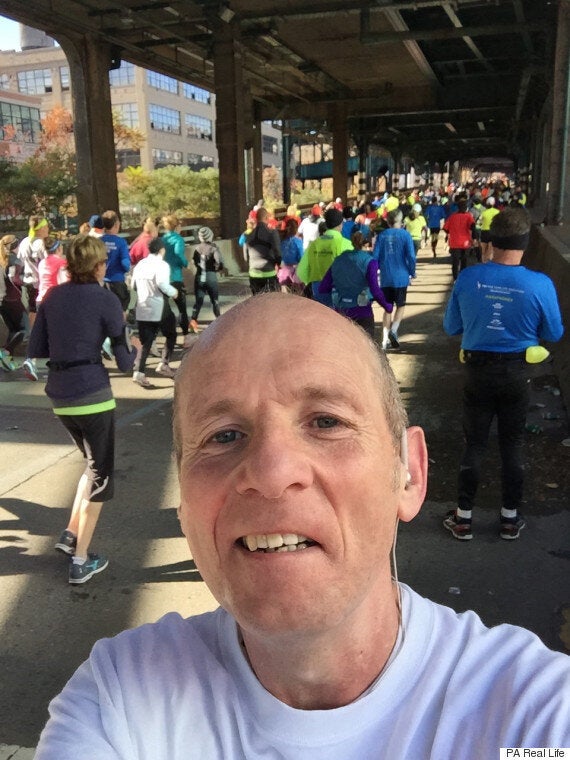 O'Connor during the New York Marathon
He says: "After years of hard work, by 2010 I could walk a little without any help. When everyone said 'you can't' I replied, 'I can!' and by 2014 I was ready to complete the race.
"When I crossed the finish line, with Tracey and Conrad there cheering me on, I was elated. It showed how far I'd come.
Now Mr O'Connor is CEO of the charity Sanctuary for Veterans, which aims to offer Veterans and their families respite and rejuvenation at a relaxing retreat.
Mr O'Connor says: "I know what it's like to feel the world is against you. Now I'm making it my mission to help others in that situation."
Related