The man who is believed to have paid wildlife guides £35,000 to let him hunt and kill Zimbabwe's beloved lion Cecil, is reportedly an American dentist who had already been in trouble with the law after slaying a black bear.
Palmer pleaded guilty in 2008 to making a false statement to federal wildlife officials concerning the exact location of the killing of a black bear during a hunt in Wisconsin.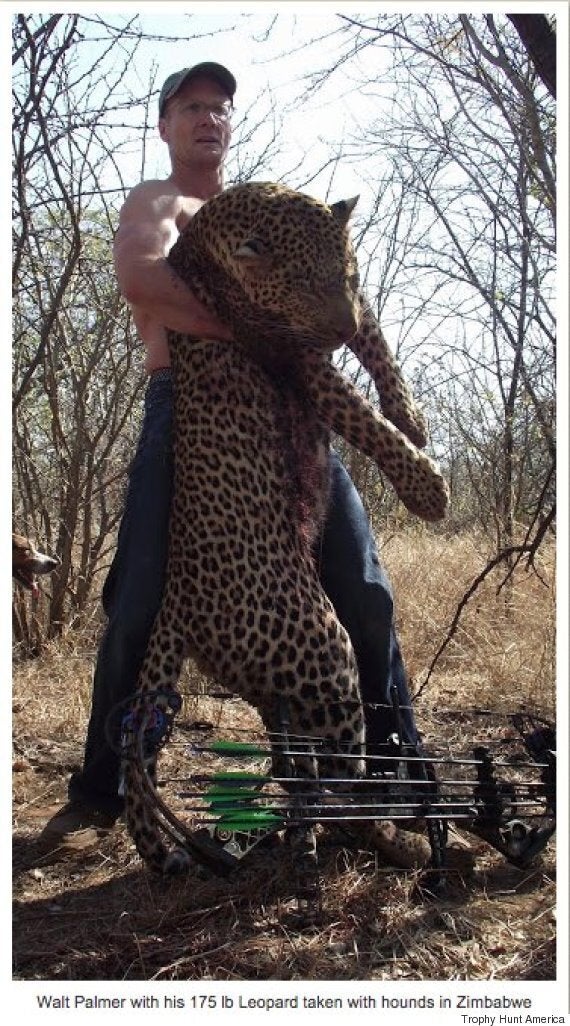 Cecil's decapitated, skinned body was found about half a mile out of the national park, after being lured out at night with bait. Animals are only allowed to be killed within the park during the day - and with a permit.
The animal was believed to have been wounded by Palmer's bow and arrow before finally being shot dead 40 hours later. The animal's collar was also removed, breaking the park's rules.
His six cubs will now be killed, as a new male lion won't allow them to live.
Johnny Rodrigues, the head of Zimbabwe Conservation Task Force said: "He was one of the most beautiful animals to look at. He never bothered anybody."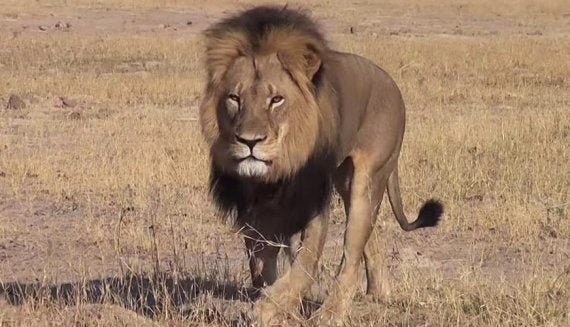 Cecil was wounded by a crossbow and arrow, and then killed 40 hours later
Palmer, a dentist in his early 50s from Eden Prairie, Minnesota, was described as an "elite hunter" by a New York Times journalist, who profiled the American in a 2009 article.
"Palmer, said to be capable of skewering a playing card from 100 yards with his compound bow, has cultivated a purist's reputation for his disinclination to carry firearms as backup," the journalist wrote.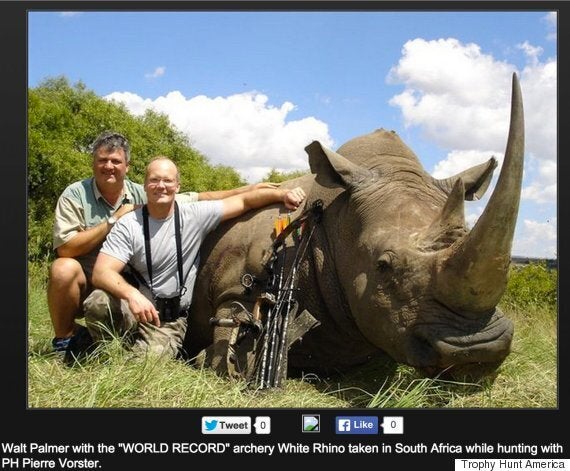 On a blog called "Trophy Hunt America", Palmer is pictured holding up various dead animals he had killed with his crossbow and arrow - including a leopard he had slain in Zimbabwe.
According to the blog, which is run by a hunting guide, Palmer was hoping to be inducted in the Pope & Young Club, a "fraternity of bowhunters" which supports the ethical pursuit of wildlife, and keeps records on bow-harvested big game animals.
Beks Ndlovo, chief executive of the African Bush Camps, a private safari company in Zimbabwe, said he wanted the practice of hunting lions to be stopped.
"In my personal capacity... I strongly object and vehemently disagree with the legalising and practice of hunting lions in any given area.
"I will personally be encouraging Zimbabwe National Parks and engaging with Government Officials to stop the killing of lions and with immediate effect."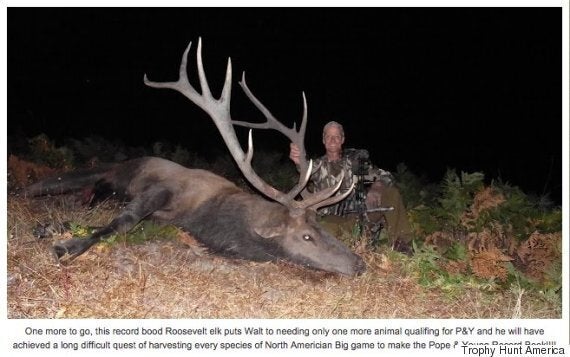 The Zimbabwe Professional Hunters and Guides Association said its members were involved and the case is being investigated.
"Theo Bronkhorst, a professional hunter with Bushman Safaris, is facing criminal charges for allegedly killing a collared lion on Antoinette farm in Gwayi Conservancy, Hwange district on 1 July 2015," a statement read.
"All persons implicated in this case are due to appear in court facing poaching charges.
"Both the professional hunter and land owner had no permit or quota to justify the offtake of the lion and therefore are liable for the illegal hunt."
Cecil was wearing a GPS collar as part of an Oxford University research project which has been ongoing since 1999.
Will Travers, president of the Born Free Foundation, commented: "Tragically, 24 of the 62 lions that have been tagged by the project have been shot by sport-hunters and one can only imagine the negative impact that the sport hunting of lions is having on the population of Zimbabwe."
He added: "This story is so shocking on so many levels. Cecil was of huge value to Zimbabwe's economy and their Wildlife Service. Now he is gone. According to information I have received, the carcass of a freshly killed animal – a 'bait' – was used to lure Cecil out of the protected area where he was shot with a bow and arrow."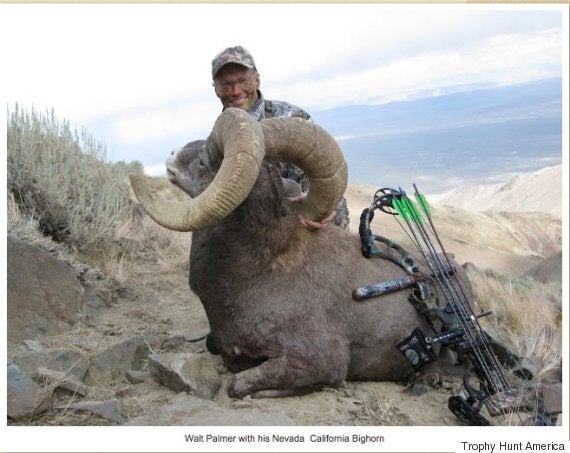 Spanish conservation organisation Chelui4lions has written to the country's body which overseas the import of endangered species, urging it to stop the import of Cecil's head as a trophy.
"From 2007 to 2012 Spain was the country that imported the most lion trophies from South Africa. During this period it imported 450 heads, compared to 100 in Germany. Europe needs to ban these lion hunting trophies altogether," said Luis Muñoz, a Chelui4lions spokesman.
"What hunter, what sort of demented person, would want to kill a magnificent adult lion, known to and photographed by all the park's visitors?" he added. "We're ashamed of the fact that in Spain there are rich madmen who pay for the pleasure of killing wild animals such as lions."