Former TOWIE star Dan Osborne never shies away from sharing gorgeous photos of him and his two children, and the past week has been no different.
The 24-year-old has two children - one-year-old Teddy from a previous relationship with Megan Tomlin and five-month-old Ella with his fiancée Jacqueline Jossa.
The couple recently got engaged in June 2015 after a romantic holiday in Greece.
Here's a little taster of a week in the life of Osborne and his kids.
Osborne and his son Teddy headed to the supermarket,and the one-year-old got incredibly excited over the sounds the Minions toys made when he pressed the buttons.
He even had a little dance in the shop aisle (watch in the video below).
Osborne wrote: "Teddy loving the Minions in Toys R us today 😂 had to get this! Cinema to watch it tomorrow!"
In this cute father-son snap Osborne is wearing a patterned navy top with plain grey trousers while his mini-me Teddy wears a plain navy top and patterned trousers.
After Osborne spent some quality time with his oldest son, it wasn't long before the doting dad brought daughter Ella into the mix.
Sitting in between Ella and Teddy he took a sweet selfie in which miraculously both children are looking at the camera.
Osborne shared a snap showing him dropping Teddy off at his mother's house.
Osborne gushed over his son in the caption, writing: "Dropped Teddy back earlier and missing him like crazy already!! See you tomorrow little man!"
While Teddy was away, the dad-of-two devoted his time to his daughter Ella, sharing a cute morning selfie in bed together.
Osborne's fans will no doubt love the topless photo, but we're much more in love with little Ella's face (probably unaware a selfie is going on).
Teddy's back and he's given Osborne a makeover... with apple stickers.
So Osborne decided to return the favour.
Summing up his week Osborne snapped a photo of Teddy and Ella sat together.
He wrote: "My absolute world in one picture! ❤️ I'd do absolutely anything for these two. Feel like the luckiest man in the world."
Teddy looks over the moon to be hanging out with his sister again. Ella? Not so much.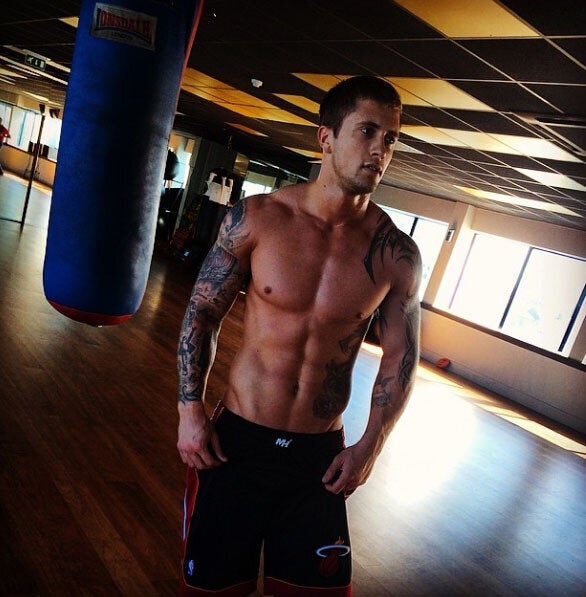 Dan Osborne: 100 Sexiest Pics