Shell's icebreaker ship bound for the Arctic has finally set sail, after Greenpeace protesters lost their battle to prevent the vessel from reaching the company's controversial oil drill.
Shortly before 6pm PT, the Fennica sailed through the wall of activists who were suspended from a bridge in Portland, Oregon.
"Everybody's hearts are broken," Greenpeace USA spokeswoman Cassady Sharp said Thursday evening, after the 13 protesters had been dangling from the bridge over the Willamette River for more than two days.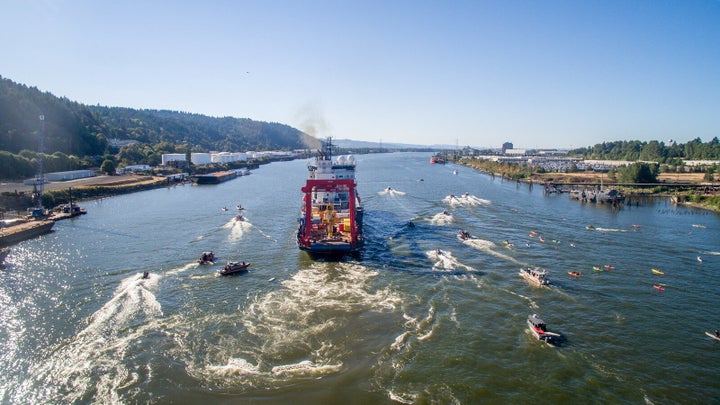 Greenpeace had aimed to delay Shell's ship from departing for the Chukchi Sea, where it would enable the oil company to start drilling.
Drilling at the Arctic site cannot proceed without the icebreaker ship, as it is carrying a key piece of safety equipment on board, which stops oil leaks if a well blows out.
The environmental organisation wanted to delay the ship for long enough so it would mean Shell lost a year work - giving time for President Obama to revoke approval to drill for oil in the Alaskan Arctic.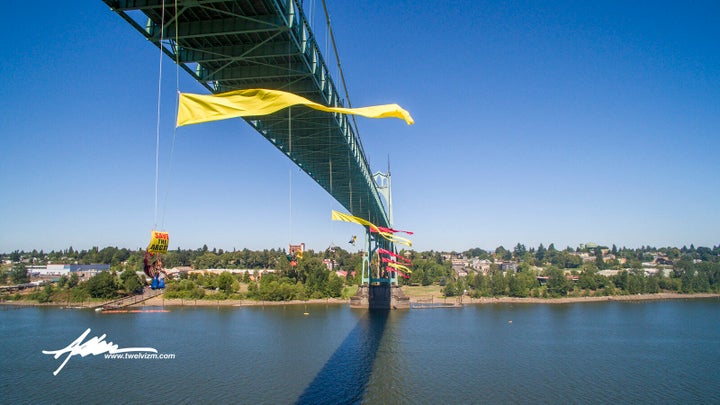 Portland police eventually used hooks to remove protesting kayakers from the ship's path, while a special emergency response officer rappelled over the bridge and cut the lines connecting the protesters. Two of the activists came down voluntarily, while a third had to be removed by firefighters and lowered onto a boat - leaving a big enough gap for the Fennica to move through.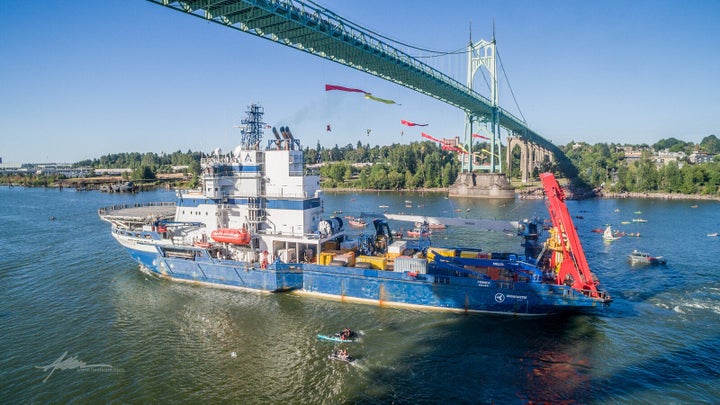 In May, Obama approved Shell's plan to drill for oil in the Chukchi Sea, in the Alaskan Arctic. According to Greenpeace, the Obama administration has predicted a 75% chance of a major oil spill if Shell develops its leases in the Sea.
There has since been a campaign by Greenpeace called "Shell No", which has attracted numerous celebrity supporters, including Pierce Brosnan, Naomi Campbell and Ozzy Osborne. On Thursday it was revealed Shell's profits had fallen as a result of Greenpeace's protest in Portland.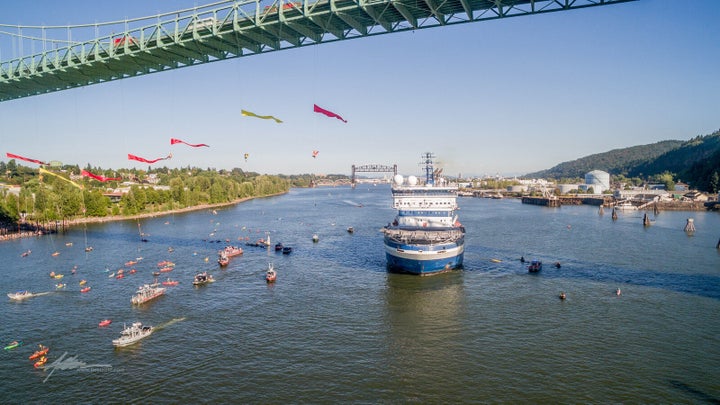 Shell has approval from the Obama administration to work in the Arctic region until September 28, and the company aims to sink at least one drill bit during that time to confirm the presence of oil. A research letter published in January by the Nature journal said in order to avert some of the worst outcomes of climate change, "all Arctic resources should be considered as unburnable".
The decision to grant Shell a permit to drill was alone controversial; the oil company's attempts to find oil in 2012 resulted in its Kulluk rig running aground, while the operator of one of its drill ships pleaded guilty to eight offenses and had to pay $12.2m fine for dubious record-keeping, hazardous conditions and polluting water.
#ShellNo protesters hang from the St. Johns Bridge to stop the passage of the Shell Oil icebreaker MSV Fennica.
Popular in the Community