A bride has been taken to hospital days after her wedding after a tourist bus had its roof ripped off when it hit a tree branch.
Four people were taken to hospital but their injuries are not thought to be life-threatening, the Metropolitan Police said.
Passenger Joseph Whelan, who was on the bus with his wife and two children, said the sound as it hit the tree was "like a bomb going off".
Mr Whelan said he was among a group of fellow Canadians who were in the UK for a wedding on Saturday.
The bride was also on the bus and was taken to hospital, he said.
He described the immediate aftermath as "total chaos" and said there was "blood all over the floor".
The impact tore the entire roof and left it dangling from the upper deck and on to the road.
Those on the top floor helped patch up the injured with makeshift bandages and firefighters led stunned passengers to safety.
The impact left a large branch in the road, along with debris and shattered windows from the bus.
A spokesman for London Fire Brigade said: "We believe around 40 other passengers were uninjured and are being looked after by police and the London Ambulance Service in a nearby building."
Roads around the site of the accident were closed, including Tavistock Square. The bus is not a Transport for London vehicle, the Met added.
A man named Craig who witnessed the aftermath of the incident said: "Just rounded the corner to see a bus has hit a tree and completely removed the roof! Everyone seems ok right now."
Michelle Bavage was on a bus coming in the opposite direction when the incident happened.
She said on Twitter: "On a bus heading in opposite direction when looked down the road. I saw roof hanging off bus and front smashed.
"Just the roof hanging off and tree in road. Was on bus going opposite direction. Roof was full of people."
Fire crews and police remained at the scene, where roads remained closed. London Fire Brigade said all passengers had been safely taken off the bus and firefighters were making the roof safe.
The bus was operated by Golden Tours bus company, which according to its website was set up in 1984 and runs tours around London and to locations such as Bath and Stonehenge.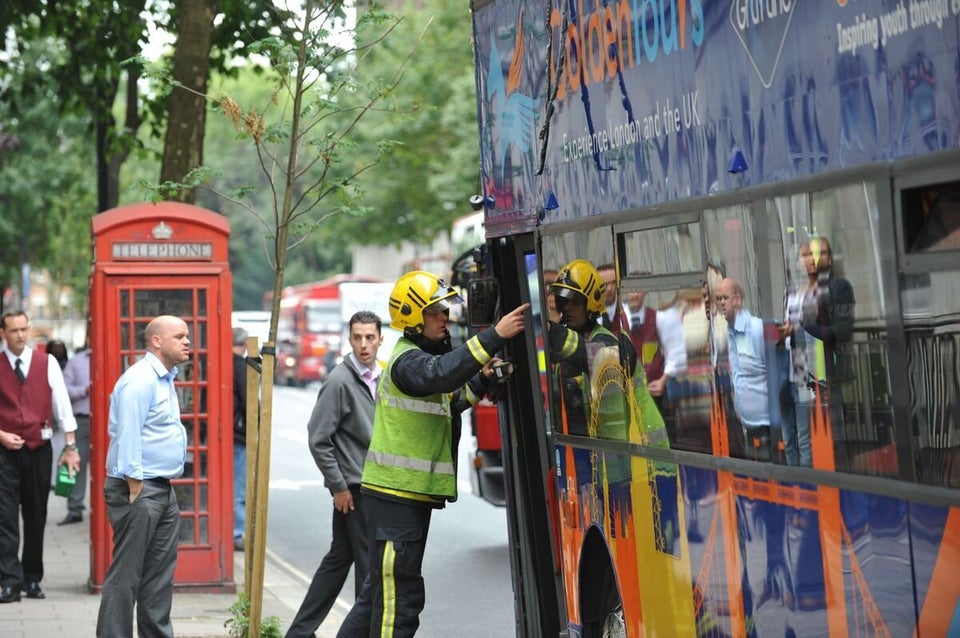 Tour bus roof ripped off by tree in Russell Square, London
Double decker bus accident in London