'I Am Cait' made its much-hyped debut in the UK last night, following last week's premiere in the US.
In the few short weeks since Caitlyn Jenner made her first public appearance, on the cover of 'Vanity Fair', her TV series has already become the most talked-about reality show in the world, as the high-profile former Olympic gold medallist invites cameras to follow her as she adapts to her new life, post-transition - including first encounters with her family, facing the press and learning about other families who've shared this experience.
8 things that struck us about the first episode...
That however handsome Bruce Jenner may have been, Caitlyn Jenner is an extraordinary-looking woman. In every shot of this hour-long debut, it's impossible to take your eyes off her - no small thing when other people in the room include internet-breaker Kim Kardashian West and 'Jesus' hubby Kanye.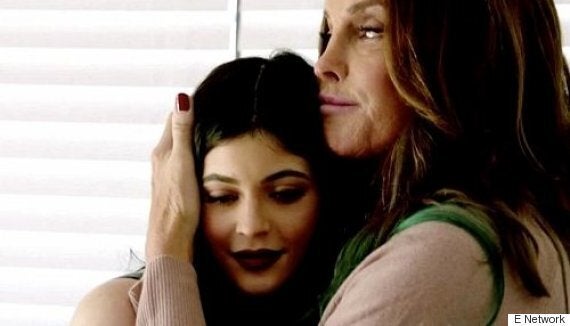 Caitlyn embraces her daughter Kylie Jenner in her new show
That Kim Kardashian West REALLY does view everything through the prism of social media, even the stunning sight of Caitlyn Jenner on the cover of Vanity Fair, her public debut following her private years of soul-searching. What profound insight did that bring forth from the young girl who's had this person has a father figure in her life for more than two decades? "I didn't know you were on Twitter." Hurrah, and we're back in Kansas, Dorothy.
That, never mind the Kardashians, Caitlyn's own family are a bunch of troopers. Her sisters describe their fear, their nervousness on meeting their new sisters, but there are an enormous amount of hugs and smiles when they do. And then it's time for normal life again, and a game of tennis.
That the show's producers REALLY know what they're doing. Just when you'll scream if you see one more lingering shot Caitlyn's nail varnish and lipstick, she learns of another suicide by a transgender teenager, Caitlyn describes her own dark hours with a gun in the house, and you remember the significance of what she's doing, and the clear message she's sending out.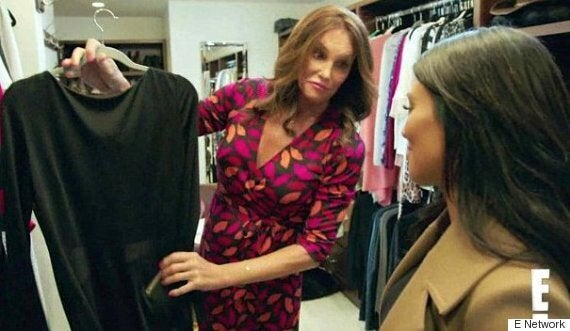 Caitlyn talks frocks with step-daughter Kim Kardashian
That there's a reason why Kanye West does not have his own reality show. Will Young may decry him as "arrogant and opulent" but, among this bunch of reality TV professionals, he's looks almost normal. His shoulders are down, his grin is frightening and he has to explain his shoe-socks to his in-laws. Meanwhile, his wife is too self-conscious about her burgeoning size to remove her coat. In words I never thought I'd write, this couple appear bizarrely down to earth.
That Caitlyn isn't above poking fun at her former wife Kris Jenner. When she's showing off her new closet full of designer labels to impressed step-daughter, Kim delights in telling her, "Mom has that dress, too." Caitlyn's response - a big open mouth, a grin and then "Shall we do who wore it best?" If we ever have to identity the moment when reality TV underwent a mighty evolution, this would surely be a candidate.
Those Stateside paps are a determined lot, meaning Caitlyn has to leave her house at dawn to avoid them as she heads to visit the bereaved family of a recent transgender teenager who took his own life. The lines are a bit blurred between what's not acceptable - "I can't bring this lot on that family" - and what is - her own camera crew lingering on every grieving face. But the stakes are high. Caitlyn photos are currently selling at250,000 a pop.
That the real star of the show is… Caitlyn's mother Esther. It's no ordinary octogenarian who says goodbye to a son, hello to a daughter and submits to revealing her prejudices, grief and confusion, all in front of an unblinking camera crew. That she does this with so much style and warmth - "I couldn't be prouder of her" is testament to her open-mindedness and grit. Caitlyn has strong genes, people.
'I am Cait' is shown in the UK on E! on Sundays.
Popular in the Community