Yes, the unique turn on the legend of The Knights of the Round Table, that spawned such enduring lines as "Your mother was a hamster and your father smelt of elderberries" and "strange women lyin' in ponds distributin' swords is no basis for a system of government", is shortly to enter its fifth decade - and to celebrate, the screen classic will be screened in 500 cinemas across the UK, in its brand new sing-a-long version.
The remaining members of the comedy troupe who broke the mould for surreal comedy in the 1970s, will also be filming a special introduction for this one-off night - which is taking place on 14 October 2015 - with fans encouraged to dress up as their favourite character.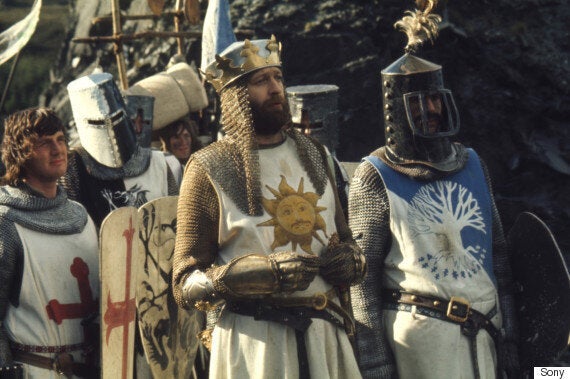 Original Monty Python member Graham Chapman, who appeared in the film, died in 1989
'Monty Python and the Holy Grail' came out in 1975, and was considered the first proper "film" made by the group, in comparison with the collections of sketches that had come before. In 2000, readers of Total Film magazine voted Holy Grail the fifth greatest comedy film of all time, in a poll topped by the same team's 'Life of Brian'.
Of the enduring appeal of the group's offbeat, quirky humour, Michael Palin a while ago told HuffPostUK that he really didn't know why so many people still found them funny. He said, "I don't know why 'Nobody expects the Spanish Inquisition' should be funny. I don't know why Margaret Thatcher got such a laugh in parliament when se likened the Liberal Party to a dead parrot..." He shrugs and smiles... "But there we are. Something clicked."
To celebrate the theatrical re-release of Monty Python and the Holy Grail, a brand new sing-a-long version of the film will be shown in 500 UK cinemas on Wednesday 14 October 2015. For bookings please visit: www.parkcircus.com
Popular in the Community