The Rizzle Kicks are such fans of the original song, Harley Alexander-Sule inked some of the original lyrics from 'Fresh Prince of Bel Air' onto his arm, while Jordan Stephens got to wear Will Smith's very own 'Go Speed Racer Go' T-shirt while they were recording.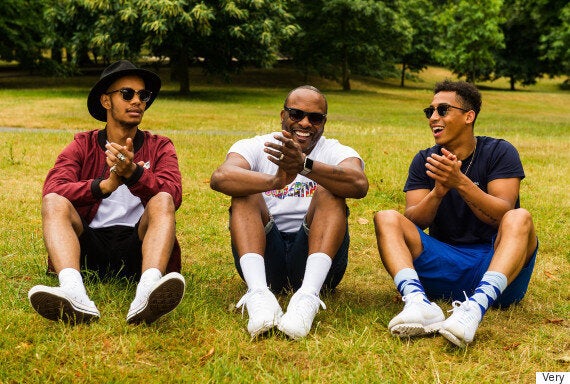 The Rizzle Kicks and Jazzy Jeff teamed up for a modern makeover of 'Summertime'
The good news for fans of the original is that Jazzy Jeff contributed his famous 'Drums Please' intro to the new track.
And he was so impressed with the result that he flew over to join the boys for the video, shot in Greenwich Park, with Very brand ambassador Rochelle Humes turning up for a cameo.
Can you spot the new lyrics to the song in the Rizzle Kicks' video above?
Jordan tells HuffPostUK of their decision to take on this classic number, "We'd been very quiet this year, busy being ordinary 23-year-olds for a while following our time in the proverbial spotlight, but this was too good to turn down.
"People are still loving that Summertime tune two decades later, so it was a bit daunting meeting Jazzy Jeff, when he flew over for the video.
"But he was so cool, playing us beats, showing us sounds he's been making, and since then we've been talking about another, original collaboration. It's been a great, organic thing."
The Rizzle Kicks can next be heard on the soundtrack for the 'Bad Education' movie, something else that came about without the boys seeking it out.
"That was another bit of weird energy," Jordan agrees. "We spoke to Jack Whitehall, and we'd actually already written a tune called 'Bad Education' and it's ended up on the soundtrack.
"We must definitely be getting the itch to come back and be creative again. It's a sign!"
Rizzle Kicks' 'Summertime' with Jazzy Jeff is available now. To watch the Very Summertime video, download the track, or even shop the look visit www.very.co.uk/summertime. The first 10,000 visitors to the website can download the track for free.
Behind the scenes here...
Related