Deraj Wilson-Aggarwal, a zoology student at the University of Bristol, has been hailed a hero by his father after he donated half his liver to save his dad's life.
Deraj's father, Naresh, developed hepatic cancer after suffering from cirrhosis of the liver inflicted by Hepatitis C, and required a donor of the same blood type to provide a section of healthy liver.
He contracted the disease from an inadequately tested blood transfusion, required after an accident. Normally the blood would clot in such a case to prevent excessive blood loss, but Naresh suffers from haemophilia, a condition that prevents the clotting of blood, leaving him in need of the transfusion.
Deraj's brother Jared originally prepared to donate a section of his liver, before it surfaced that the operation was too high a risk for him to undertake.
"When we found out the risk was too high for him to do it, I was straight in there," Deraj told Sky News.
"I had stopped drinking anyway as soon as I found out there was a possibility I could donate.
"From then on I was basically badgering my brother to let me do it.
"Being a student, it was obviously a bit of a change, but it's also led me to focus more on my studies and other things apart from my life revolving around the student lifestyle of drinking.
"It has actually made me healthier overall."
The waiting time for a liver transplant on the NHS is 145 days for an adult, but with a blood type match found and the student determined to aid in his father's recovery, a living donor liver transplant was possible to save Naresh.
After rigorous tests, psychological assessment and consideration, Deraj was confirmed as the donor and informed that he would be required to donate 56% of his liver to his father.
Jared writes on his blog: "Once all the assessments were complete the hospital confirmed the operation would take place.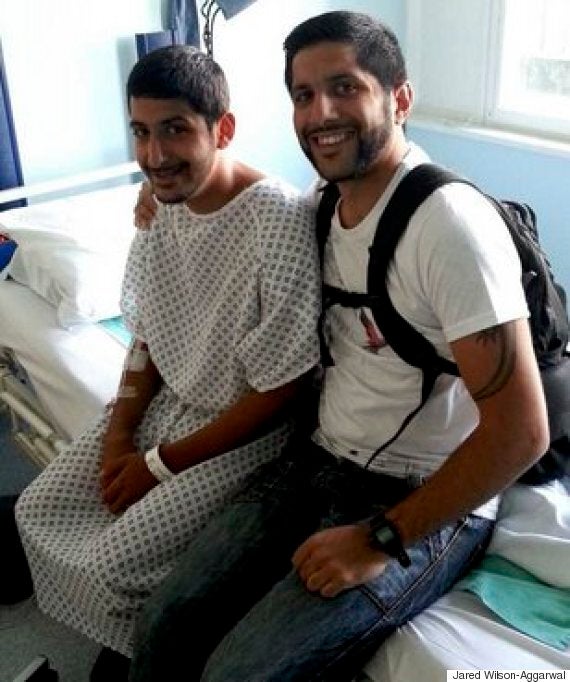 Deraj Wilson-Aggarwal (left) the morning of the operation to remove half of his liver
"That night I don't think anyone got a good night sleep and this was especially true for [Deraj] and Dad. I can't begin to imagine what was going through their minds as they lay in the hospital beds mentally preparing for the challenging journey that waited for them on the horizon."
The operation, carried out on June 17, was completed without complication and Naresh is now in recovery - and hopeful that he will eventually be eligible for further treatment on his Hepatitis C, which "can be eradicated in up to 100% of people treated depending on the type of virus, the drug combination used, and the general health of the individual," Professor Michael Manns, Vice President of United European Gastroenterology (UEG), says.
Professor Manns is calling for improvements to screening to ensure that more people are diagnosed as early as possible and have the best possible chance of a cure, and added, ""With possible cure rates as high as [they are], we have the potential to eradicate this infection, preventing many cases of chronic liver disease, and saving thousands of lives."
Deraj was in the Intensive Care Unit of the hospital for four days following the operation and transferred to a ward for another three. His brother writes that "his recovery was jaw dropping: sitting up in a chair on the second day, walking around ICU on the third and managing stairs on the sixth day.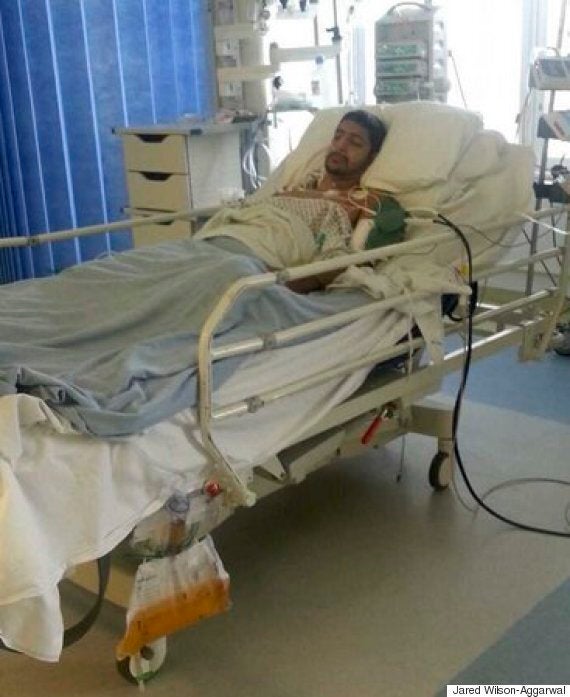 Deraj Wilson-Aggarwal in the Intensive Care Unit following his liver donor operation.
"This is not to say that his recovery wasn't a challenge. In ICU he struggled to keep food down and things like throwing up, sneezing and coughing caused considerable pain."
Deraj's father expressed his immense gratification for the health service professionals' care and operational procedure that saved his life and dexterously carried out the liver donation.
He describes both his sons as 'heroes', saying, "At their tender young age they were willing to risk so much to give me another lease of life. I am extremely lucky and treasure the gift of life I have been given."
Primary liver cancer, which develops within the hepatic cells and does not spread from another primary source, is rare in the UK and virulent in nature, with 30% of people diagnosed surviving for one year or more. Cirrhosis is one of the leading causes of the cancer, such as in the case of Naresh.