Jon Super/AP
The whole of Australia is being trolled for a disastrous Ashes performance today.
A record-breaking wicket haul by England bowler Stuart Broad boosted the nation's spirits on Thursday, as Australia were all out at Trent Bridge in Nottingham for just 60 after just 18.3 overs - the shortest first innings in Test history - leaving English viewers, fans and pundits overjoyed.
With much to celebrate, the public here were delighted with England's historic performance, but it's safe to say they didn't hold back.
Sky News anchor Kay Burley led the charge, mocking the country's cricket team for their performance on Thursday.
Hi Australia cricket team, you OK Hun?

August 6, 2015
She was joined in quick succession by hundreds of England fans, tweeting the Australian Tourist Board in nothing less than scathing gloating.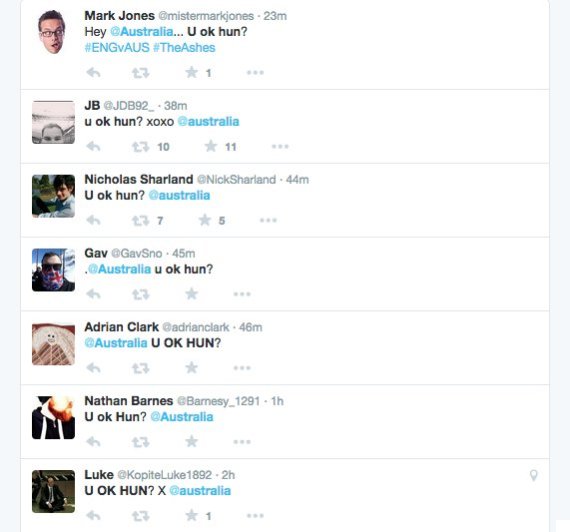 Twitter was chuffed to say the least
Other users piled in.
Lynton.....it's Dave.....you watching the cricket? #Ashes2015pic.twitter.com/GBpeil5IGz

— General Boles (@GeneralBoles) August 6, 2015
Hope you're having a lovely evening @DailyMailAUpic.twitter.com/Kt9B659uju

— Daily Mail U.K. (@DailyMailUK) August 6, 2015
Are England playing Australia or Austria at cricket?

— Simon Kelner (@Simon_Kelner) August 6, 2015
If you're new to cricket, Australia has played cricket before and this is technically a professional team. #Ashes

— Titus O'Reily (@TitusOReily) August 6, 2015
Every Australian batsman #Ashes2015pic.twitter.com/1JSFHE2qw4

— Matt (@MatthewHewitt) August 6, 2015
Looking forward to the 30-minute DVD of this #Ashes series

— Liam Blackburn (@liamblackburn) August 6, 2015
Sorry, we can't take any calls about criminal Australian batting... #Ashes2015 (image by Getty). pic.twitter.com/TlwWIrSiX4

— Crimestoppers (@CrimestoppersUK) August 6, 2015
RSPCA sends thanks to Australian cricket team for helping boost the UK duck population. #Ashes2015

— HaveIGotNewsForYou (@haveigotnews) August 6, 2015
'Extras' is currently top scoring for Australia! They'll have to bring on a lunch-watchman at this rate #Ashes

— Dan Walker (@mrdanwalker) August 6, 2015
A gem from the Guardian over-by-over coverage of the cricket http://t.co/HVJjRBMwYIpic.twitter.com/VoBm0E8bVg

— Tom Chivers (@TomChivers) August 6, 2015
Australia right now #Ashes#Cricketpic.twitter.com/e86vFaO8Ih

— Asa Bennett (@asabenn) August 6, 2015
Even Nottinghamshire Police chipped in.
And it did make this BBC sports journalist's life easier.
Cancel Friday night hotel.

— Elizabeth Ammon (@legsidelizzy) August 6, 2015
But all things considered, at least the Aussies took it all in jest.
SEE ALSO

13 Australian Fans Devastated By Their Crushing Cricket Pasting