Four years ago, Emilie Bersaas was hiding under a bed while a man obsessed with right-wing ideology coldly massacred 69 of her friends and colleagues, on the Norwegian island of Utoya.
The 23-year-old is now back at the summer camp as the youth wing of the country's Labour party, the AUF, return to the scene of Anders Breivik's horrific rampage for the first time.
After the country's worst peacetime massacre, the young activists are feeling re-energised. "It's important to reclaim the island," survivor Ole Martin Juul Slyngstadli has said. Lisbeth Roynehold, whose 18-year-old daughter Synne was killed, believes that by returning "the youngsters will fight for what my daughter fought for. They are fighting for democracy."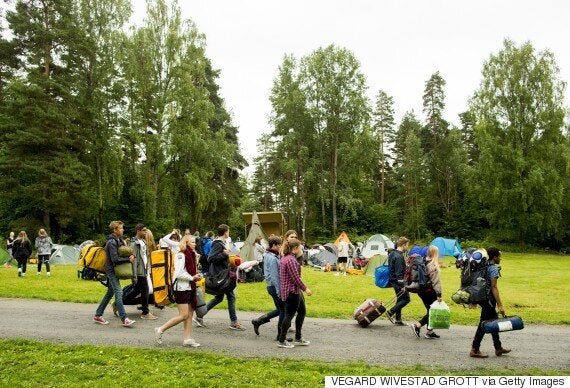 Teenagers return to Utoya this weekend for the first camp since the killings
Bersaas is AUF's vice president, and was just 19 when Breivik attacked. This weekend she is back on the tranquil island that the AUF has owned for six decades, and this time with a record 1,000 people, some as young as 13.
When we talk, Bersaas is on a boat heading towards Utoya, and very busy making preparations.
Laughter, shouting and splashes of water are audible in the background as she speaks to me on the phone, excited but distracted.
The year after the killings, the camp was cancelled, and for the last two years it has been held at a nearby campsite on the mainland. There has been debate over whether the camp should ever come back to Utoya: some relatives of those killed wanted the island it to be left as a memorial to the dead.
But this weekend it will be noisy and lively, with teenagers reclining in the sun, playing volleyball and football, and sitting among the pine trees to hear speeches on different political issues. Because of its notoriety, the camp has attracted more-high profile guests in recent years - including Nato Secretary General Jens Stoltenberg, who was Norway's prime minister at the time of the attack. On Friday morning he tweeted that he felt "good to wake up in Utoya and to be surrounded by so many young activists."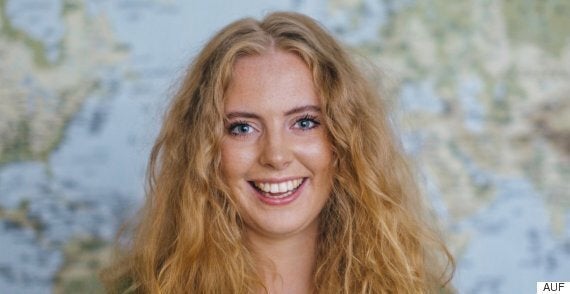 Emilie Bersaas was 19 when the island was attacked
When she has disembarked and found a "quiet place" among the trees, Bersaas explains why it has taken the organisation four years to return to this place.
"Utoya wasn't ready. There were things we needed to do on the island. We needed to get some new buildings, we needed to repair other ones.
"We all needed the time to think about how we wanted it to be, so it's been a great process in our own organisation but also with the support groups after the attack."
Breivik's bloody rampage wounded over 100 people as he roamed the island shooting for more than an hour, often with close-range shots to victims' heads, while others fled towards the water or hid in the red-and-white wooden buildings, many of which have now been demolished, including the cafeteria where 13 died.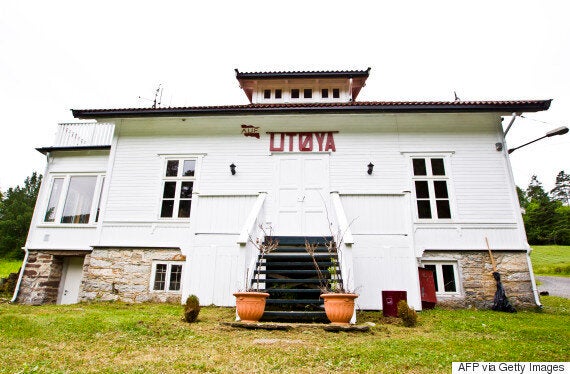 A newly-renovated building on Utoya
New buildings have now been put up, thanks to generous donations from the likes of Petter Stordalen, a Norwegian hotel tycoon and self-proclaimed anti-capitalist.
But for the survivors, the memories are still vivid. Bersaas was near to Breivik when, disguised as a police officer, he began shooting.
"I was close to the tent camp when the first gunshots were fired," she says. "I ran towards the camp to get a view, I was curious to find out what was going on and I needed information.
"But I quickly understood it was a dangerous situation and someone was attacking us." She ran to one of the island's buildings, called skolestua in Norwegian. "Directly translated, it means school room or like a living room: it's a cosy name for a classroom or school house."
She scrambled under a bed with another camper, where they lay listening and waiting with 47 other hiding in the school house. Breivik moved around the island, coming terrifyingly close to their hiding place. "He came to the building at one point. He tried to get inside but it was locked, so he fired gunshots into the building, and then he left."
"I didn't get out until the police came in and rescued us, and said that it was ok to come forward. And I did, I curled out of my hiding place."
"I was kind of still in shock, and didn't understand what was going on, and very afraid."
Hundreds of young survivors were taken off the island, dazed and wrapped in blankets, while the world learnt about one of the deadliest shootings in history by a single attacker.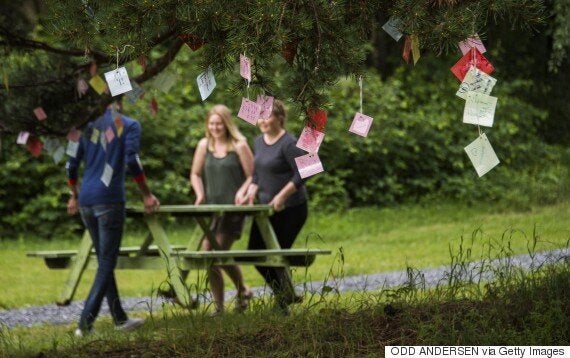 Volunteers set up a table for this weekend's youth camp
Perhaps surprisingly, Bersaas still loves Utoya. She has been back "very many times" since the killings, working for the AUF, volunteering, spending time with friends and even "cutting the grass".
"It's important to me to be there because I love this place," she says, warmly. "It's just so good for me to be here, so I know this is a place that no-one's going to take it away from me. The month after the attack, when we were allowed to go back here, I did go back."
For her, Utoya symbolises friendship and peace: "It's not the island [that was] under attack, it was us as an organisation, as a political party."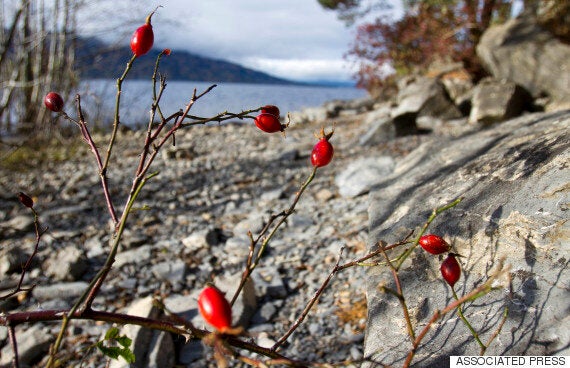 The site where the last ten victims were shot on Utoya
But returning is naturally painful too. "I lost good friends," she says, her voice faltering slightly for the only time in our conversation.
"It's been hard, going to a seminar, going to a meeting, going to a plan some activity, when you know that there is someone that should be there but is not here.
"That's been difficult [but] I know that they would want me to be active in politics, so I think the best thing that I can do is just be a vice president in AUF, and make sure that the members can participate in the summer camp."
The majority of the new youngsters on the island this weekend weren't at the 2011 camp ("four years is a long time for youth," she reminds me). New members rarely ask her about the massacre, "but if people are curious they do ask, and I think it's ok and it's important to tell our story from that day."
Right now, she is in the present, thinking of the first-time visitors arriving and setting up their tents ready for the big opening event on Friday morning. The speech from AUF leader Mani Hussaini is what she has most been looking forward to. He is 27, a new leader since the attacks, and has said that this year's camp will be "special". As a Kurdish Syrian, he has been said to symbolise the multiculturalism that Breivik hated.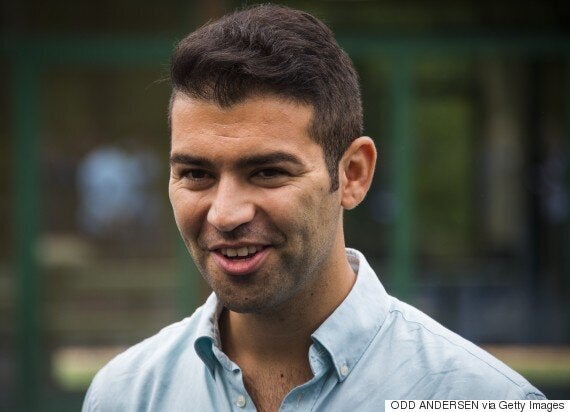 Mani Hussaini, the new AUF leader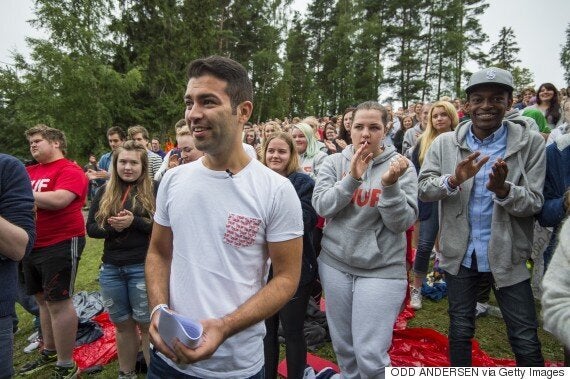 Hussaini at the Utoya camp welcome celebration
"Utoya is the heart of the Labour Youth and the island has a long, bright history," Hussaini said this week. "Utoya is also the site of the darkest day during peacetime here in Norway. The restoration of Utoya is about not allowing a dark story overshadow the bright history."
I can sense Bersaas smile on the phone as she reels through the plan for the first day: "We're going to have like a story day, storytelling from the former leaders and secretary generals in the Labour youth, who are going to tell about their decades when they were in AUF. And we are also going to thank people that have helped us through the last four years."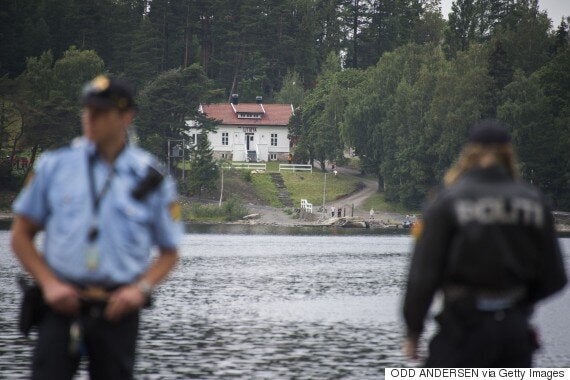 Police stand guard in front of the island
The programme is similar to previous years, but a little shorter, at three days rather than five. "We have to start somewhere," says Bersaas.
There are also more police: several uniformed officers rather than one in plain clothes as in 2011. "We have had a good dialogue with the police in the planning process," says Bersaas. "We do our own things as an organisation [such as] providing good information, having people walking around so people can ask them about things, and having first aid people here, which we've always had. It's very important to ensure that participants are going to feel safe and that they are going to have a good time."
The world reeled in shock when, a year after the attacks, a court ruled Breivik was not psychotic during his killing spree. The man who reportedly shouted "You are going to die today, Marxists!" was sane, and driven by an obsession with far-right ideology and video games. He is now serving 21 years in prison, the longest sentence possible in Norway, though this can be extended indefinitely for anyone considered a danger to the public.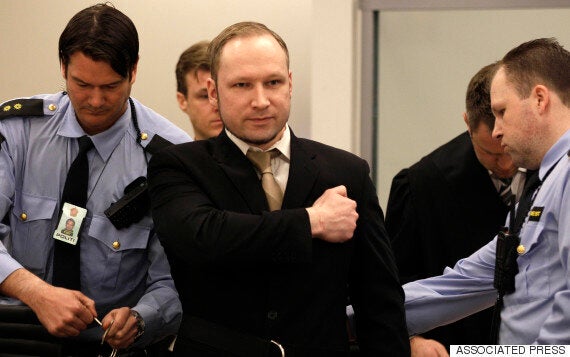 Bersaas has been an AUF member since she was 16. Her Vice President's profile on the AUF website sits alongside other beaming young faces, revealing nothing of the trauma some have gone through. "AUF has friends all over the world," Bersaas's online profile reads in Norwegian. "This is precisely why we are able to go behind the headlines, go behind the news clips and watch people. I joined the AUF because it is social democracy which offer the best solutions, not only for people in Haugesund and Norway, but for people around the world. For it is the people it's all about."
She believes the massacre shows, in a way more horrifying than many can imagine, that "right-wing extremism is growing and it needs to be debated. It gives us more courage, I think, and we know that we have to fight it because it's actually something going on, not just in Europe, but even in Norway."
The attacks didn't just bring the party's youth wing together, but energised its political purpose, she claims: "It has let us think about why we do this. It's a naïve thing to say, but we want to change the world, and we're young, that's why we become members. It's the values we stand for, and our ideology really needs to be defended: we need to work for it."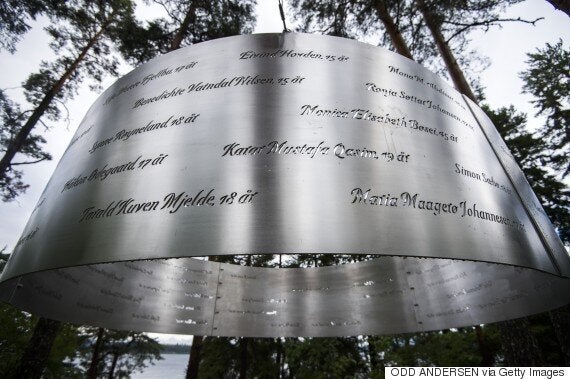 One of the memorials to the dead, a steel ring, hangs from the trees on Utoya
A slice of land has been symbolically cut out Utoya, to symbolise the part of it lost for ever. It's one of two memorials on the island to those who were killed. The other, a large steel ring engraved with the names of many who died - though not all, as some parents do not want their lost children's names displayed - is suspended between the pine trees in a secluded clearing.
But young people at this weekend's camp not only be commemorating the loss, but enjoying themselves, Bersaas says: "They have heard so many things about it, especially good stories from me and my colleagues who want them to share it with us and have the feeling that this island is also theirs, because it is."