The Missouri town was marking the anniversary of the 18-year-old's death at police hands when shots rang out.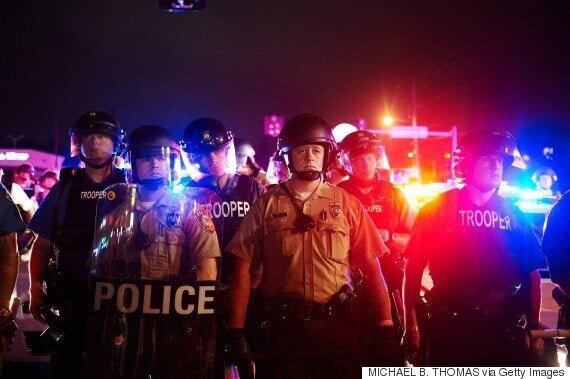 Police in Ferguson on Sunday night
According to police, they shot a man who had opened fire.
But the father of the suspect, 18-year-old Tyrone Harris Junior, called the police version of events "a bunch of lies."
He said two girls who were with his son told him he was unarmed and had been drawn into a dispute involving two groups of young people.
Harris Junior faces five counts of armed criminal action, four counts of first-degree assault on a law enforcement officer and a firearms charge.
Meanwhile, around 50 protesters were arrested while blocking the entrance to a federal courthouse in St. Louis, where they demanded federal action to stop what they consider racially abusive policing.
Those in custody included scholar and civil rights activist Cornel West.
Tyrone Harris Senior said his son was a close friend of Michael Brown and was in Ferguson on Sunday night to pay respects.
He said his son got caught up in a dispute among two groups of young people and was "running for his life" after gunfire broke out. He said the girls who were with his son said he had no weapons.
"My son was running to the police to ask for help, and he was shot," he said. "It's all a bunch of lies ... They're making my son look like a criminal."
St Louis county police chief Jon Belmar told reporters that officers had been tracking the Harris Junior, whom they believed was armed.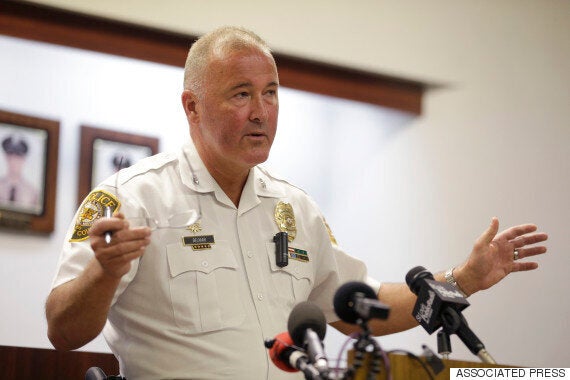 Jon Belmar speaks with reporters
At the height of what was already a rowdy protest in which rocks and bottles were thrown at officers, gunshots rang out from the area near a strip of stores, including some that had been looted, he said.
Mr Belmar believes the shots came from about six different shooters. It was not clear what prompted the exchange, but the police chief said the groups had been feuding.
At one point, the suspect crossed the street and apparently spotted the plainclothes officers arriving in an unmarked van with distinctive red and blue police lights, Belmar said. He said the suspect shot into the hood and windshield.
The officers fired back at him from inside the vehicle and then pursued him on foot when he ran.
The suspect fired on officers again after he became trapped in a fenced-in area, the chief said, and all four officers fired back. He was struck and fell and was taken to a hospital, where Belmar said he was in "critical, unstable" condition.