Fishing is one of those hobbies, which at the best of times, can be a boring to watch.
However, bystanders at Pacific Beach in San Diego were treated to a rare and spectacular sight as a fisherman cast his attention to a drone flying over the pier.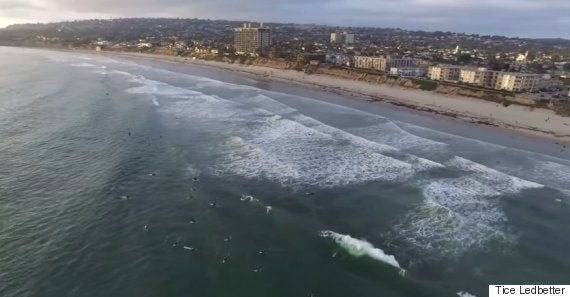 Tice Ledbetter, who was piloting the unmanned aerial vehicle, caught the moment on camera showing how a fishing line managed to wrap itself around his drone, all after one cast.
Obviously quite annoyed, he posted a video of the episode on YouTube, calling the unnamed drone-catcher "a jerk," while admitting the "cast was spot on!"
Gizmodo reports the legality around Ledbetter's actions are unclear as local law only describes unmanned gliding over San Diego's piers as illegal.
The talented fisherman, however, appears to be on the wrong side of the law.
The city's municipal code states that it is unlawful for "any person to...cast any fishing line or pole overhead."
Thankfully, Ledbetter's drone was not damaged and the aftermath only involved a rather long and tedious session of removing reels of fishing line from the quadcopter's rotors.
We wouldn't want anyone to try this at home, but kudos to San Diego's rogue fisherman for making it all look very easy.