What film do you immediately think of as being the most all-round emotional one you've ever seen?
Odeon Cinema polled 2,000 British film fans to vote for films that took them on a rollercoaster of joy, sadness, fear, disgust and anger - the emotions and feelings central to Pixar's latest blockbuster 'Inside Out'.
One film was voted as containing the most of all five feelings, and that was 'Forrest Gump', Tom Hanks' 1994 Oscar-winning tale of a simple man travelling through his life, one adventure at a time. The same film was voted the most 'feel-good' film in cinema-goers' minds.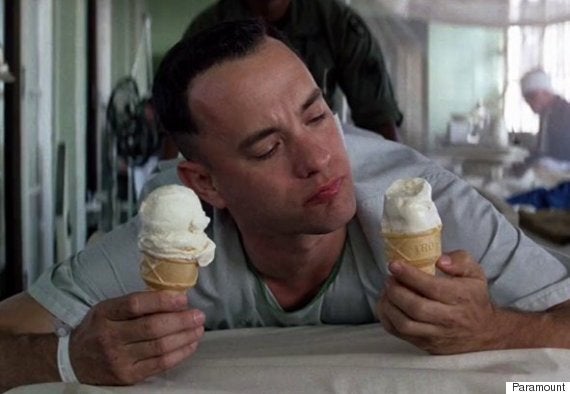 "Life's a box of chocolates... or icecreams" - The wonderful world of Forrest Gump
Other films to make the top ten included 'The Lion King', 'The Green Mile' and 'Titanic'. Check out the full top 20 countdown below of films recognised as containing joy, sadness, fear, disgust and anger...
16. Saw/A Clockwork Orange
9. The Shawshank Redemption
3. Texas Chainsaw Massacre
Biggest Tear Jerker Film of All Time: Titanic
Top Feel Good Film of All Time: Forrest Gump
Most Disgusting Film of All Time: Texas Chainsaw Massacre
Scariest Film of All Time: The Exorcist
Film with Angriest Characters of All Time: Texas Chainsaw Massacre
Personality and Behaviour Psychologist Donna Dawson explained why we love receiving multiple emotions during a trip to the cinema. She said: "The reason that we love to experience many different emotions in a short space of time as in a film, is because it allows us to 'feel' and appreciate each separate emotion more clearly and sharply through the contrast with other emotions. Cinema defies the concept of time, as it allows us to live a lifetime of emotional experience in a few hours."
Do you agree with the titles on the list above? Let us know what else should be on there...