A teenager who stabbed a supply teacher and bragged about the attack on Facebook has been given six years in detention and five years on licence for the racially-motivated assault.
The 14-year-old boy knifed Vincent Uzomah in the stomach with a kitchen knife he had brought to Dixons Kings Academy in Bradford last June, and admitted causing grievous bodily harm with intent.
Bradford Crown Court heard there was "clear evidence" the boy, who has been told he could serve three of the six years in custody, attacked Uzomah because he was black.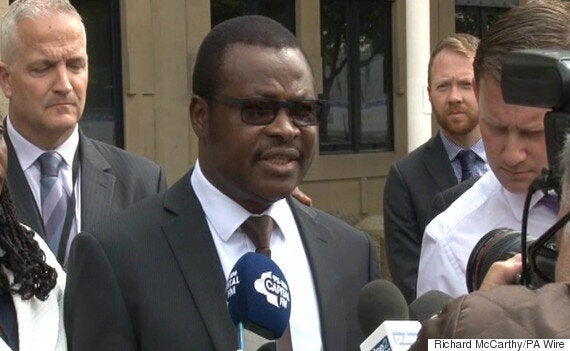 Vincent Uzomah making a statement outside Bradford Crown Court after his attacker was sentenced to 11 years detention
Jonathan Sharp, prosecuting, said: "The defendant disliked him, claiming he couldn't teach, and freely referred to him by the epithet beginning with the letter n, including saying it in anger just before he attacked him."
Around 20 minutes after the attack, the boy posted an update on Facebook which contained the line "I stick a blade straight in his tummy," which received 69 "likes".
The BBC reported the judge describing the social media response as "an appalling reflection of a small microcosm of our society".
Speaking outside court, Uzomah said: "As a Christian, I have forgiven this boy who has inflicted this trauma and pain on to me and my family.
"It was, however, important for the law to run its course and for a strong message to be sent out, especially to kids of similar tendencies, that violence is never acceptable.
"Our prayer for him is that he will make use of the opportunities and support that will be provided to him, to become a changed person who will make a positive contribution to society."
Det Supt Simon Atkinson, from West Yorkshire Police, said: "This was a shocking and very serious attack on a man doing a job he loved, and he was lucky that the consequences were not more serious.
"His attacker showed no concern by fleeing the scene...he worryingly showed a further lack of remorse towards his victim by boasting about it on social media."
Related