Most children wear the same school shoes every weekday during term-time - that's up to 35 hours a week. Getting the right pair is vital, not least to make sure they are suitable for the uniform code at school (think basic, black), but for comfort and support too.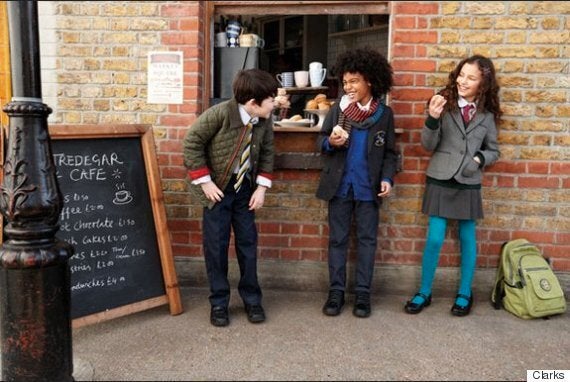 Get school shoes properly fitted
Children's feet are growing and changing until well into the mid-teens. Any shoe worn for a reasonable period of time that doesn't fit properly can affect healthy growth, comfort and even alter the way a child walks. Only a third of children have feet which are 'standard' width, so getting shoes fitted is essential to allow natural healthy development to take place. Properly fitted shoes will also have growing room, meaning there's no need to buy a bigger size.
Don't buy too early or too late
Any time from four weeks before term starts is a good time to get school shoes. It's unlikely that a growth spurt will catch you out after that, and the choice should be at its best, plus you'll avoid the last-minute rush.
Kids run around a lot so get shoes with a flexible sole
A good sole is key to shoes. An active child can take up to 18,000 steps each day and during the life of a shoe, each sole will need to absorb the impact equivalent to the weight of 250 juggernaut lorries. To do this, it must be stable at the back but highly flexible at the front. Soles that are too stiff or even bend in the wrong place can be detrimental to comfort and foot health.
Get shoes checked for size every term to term-and-a-half
The feet of a school-age child will grow around one whole English shoe size (about 8mm) per year. After around four to five months, get your child's school shoes checked for size again, and then as often as the shoe fitter recommends until the shoes are outgrown.
Don't forget to take the socks or tights they'll wear to school with you. This helps the shoe fitter ensure a good fit.
Avoid tricky fastenings for little ones
Choose a shoe with a fastening which kids can manage themselves (tricky buckles, laces etc are out!). It does need to be secure to stop the shoes slipping and avoid possibly contributing to trips and falls.
Pick a quieter time of day to shop
Children's shoe shops can get very busy just before term starts, so get the kids up early and be at the store when it opens as it is usually quieter then. Or book an appointment - a new service offered by Clarks.
So there's the essential bits, but it's also worth checking your school's uniform list to see whether you need to get sports shoes too, as you might as well buy these at the same time. Younger children might need plimsolls for PE, older ones might need trainers. Some schools also ask for children to have a pair of Wellies to keep on the premises.
Finally, don't forget to label your child's shoes! You'd be surprised at how often they get lost at PE changing time. Most shoe shops sell stick-on name labels so look out for them when you're in shopping mode.