A mother was overjoyed as she watched her six-year-old son, who has Down's syndrome, walk the catwalk for the first time, as she says he is breaking stereotypes of what a model "should" look like.
Anita Killick, 43, from Caterham, Surrey, said she "couldn't be more proud" of her son after he was scouted by a modelling agency.
She said: "Coming from a mum's point of view, when you pick up different catalogues and magazines and there's no one with disabilities in there you just think 'what's wrong with our children? Why don't people want to use them?'
"It's really disgusting they're not using more children with disabilities, [they] can do exactly the same as anyone else." Louis Killick on his first catwalk
Killick said she was put in touch with agency Models of Diversity, who campaign for a more diverse range of models in the fashion industry.
The proud mum added that Model's of Diversity founder Angel Sinclair was won over by Louis' charm.
Killick, who is also mum to Hannah, 15, Nathan, 12, and 14-month-old Hayden, said: "It was a lovely surprise when Angel chose Louis to take part in a catwalk show.
"I never dreamed Louis would be doing a catwalk show I was really chuffed, he did so well.
"It shows there is appreciation for children who are different, children with disabilities should be given the same chances as other children, they can surpass expectations."
Previously, Killick said she has worried about how people would react to Louis' disability as he grows up.
Killick said: "When Louis was born I would hide myself away - I blamed myself for his condition, but family and friends told me it wasn't my fault, it's just one of those things.
"When he first went to school other children weren't really playing with him because they didn't understand him - now they've all got to know him, he's got so many friends.
"I do worry though, older kids get set in their ways and they see things differently, I worry he might get picked on when he starts secondary school - we're here and we support him as much as we can, we love him so much." Despite being initially unsure of how Louis would take to modelling, Killick and her husband Jason, 44, were really pleased to find he was a natural.
She said: "When he did the first runway show he just wanted to do it again straight away, he was so excited, he just kept saying 'more show mum!'
"He's a very sociable boy, he wanted his picture with all the other models and he made friends with all of them.
"He loves having his picture taken, he loves dressing up and we have some really funny pictures of him, he's just adorable.
"He's quite a character and he loves posing, he's such a little showman."
Killick is hopeful that Louis, who is also a big football fan, is destined for big things and would love to see him modelling on TV one day.
She said: "It's all new to us, Louis' success has come as quite a shock the problem is knowing where to start.
"Angel at Models of Diversity has been so helpful, and she's helped us get in touch with other agencies too. Louis has even been signed up with VisABLE, who promote disabled models, actors and presenters.
"I don't want him to be scapegoated because of his disability, but I'd love to see a bit more publicity with him.
"I think he'd love to see himself on TV or on billboards, he'd be really pleased to see himself." Killick and the whole family are proud of Louis' achievements and will continue to support him as his modelling career kicks off.
She said: "I think modelling will really help his confidence - it's good for him to mix with people, especially those who are a bit different like him as well.
"He did so well, I was quite surprised but I think he enjoyed it and it's really good for him.
"We would never push him into modelling - he can be very stubborn and he knows what he wants, and if he didn't want to do it he wouldn't.
"We wouldn't change him for the world. The extra chromosome means nothing, Louis is just Louis.
"We just couldn't be more proud of him."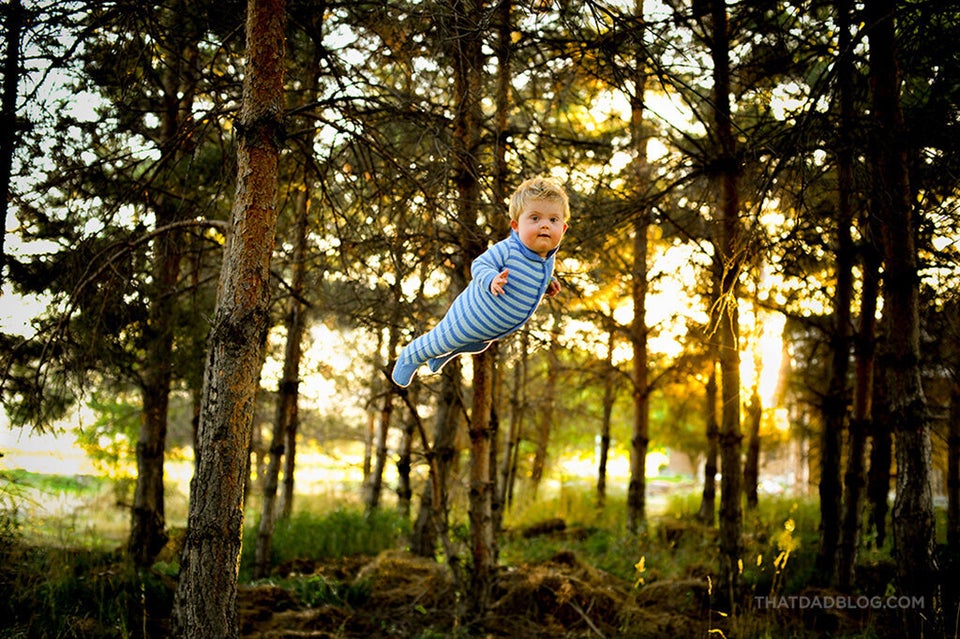 Dad's Photos Of Son Flying Hope To Raise Awareness For Down's Syndrome