The 69 people who "liked" a teenager's Facebook post which bragged about knifing his teacher in a racially motivated attack have been condemned by a judge as "sick".
Vincent Uzomah, a supply teacher at Dixons Kings Academy in Bradford, was stabbed by the 14-year-old in June, in front of his pupils.
Vincent Uzomah speaks outside Bradford Crown Court following the sentencing
The boy, who cannot be named for legal reasons, has been sentenced to 11 years detention for the attack, which he boasted about on Facebook, saying: "The motherfucker getin funny so I stick the blade straight in his tummy."
Judge Durham Hall QC criticised the "appalling" actions of those who liked the social media post, which the boy uploaded 20 minutes after the attack.
Speaking at Bradford Crown Court on Monday, he said: "It's an appalling reflection on a small microcosm of our society that within minutes or hours after posting, 69 people 'liked'. How sick."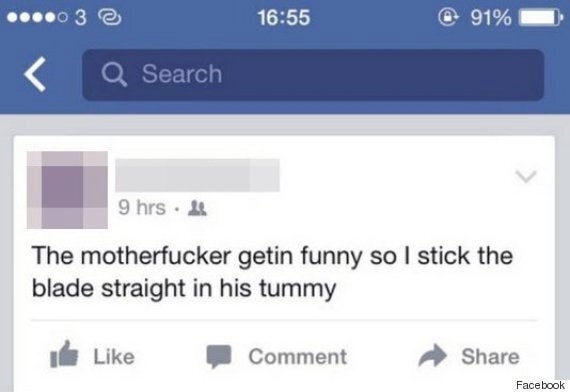 The Facebook post which was liked by 69 people
Uzomah joined the QC in condemning them, telling Newsnight: "It makes me feel like the society is drifting away from the normal way of life and if things are not really put into place to correct this, it will keep on getting worse."
Speaking about the stabbing, the father of three said he was too traumatised to return to teaching. "I was just thinking is it my time to die? Is this my last hour? I didn't say goodbye to my wife, my little kids," he said. "I looked around for help and there was nobody around. I felt if I stayed in the classroom probably the worst would happen and I started feeling cold inside so I held it tightly and started running towards the reception.
"I just prayed 'God, don't let me die'. I was really frightened."
The boy was overheard calling Uzomah a "n*****" before the classroom attack, which was prompted by Uzomah asking the pupil to put his phone away.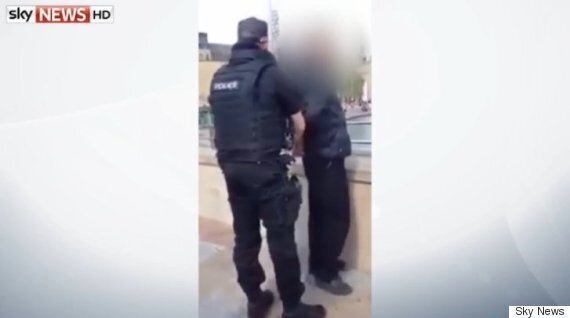 Police arresting the teenager in June
Jonathan Sharp, prosecuting, told the court: "The defendant disliked him, claiming he couldn't teach, and freely referred to him by the epithet beginning with the letter n, including saying it in anger just before he attacked him."
Addressing the young offender, Judge Hall said he had "deliberately" and "callously" stabbed his teacher, adding: "You boasted about it before, you boasted about it after when you had stabbed him."
Speaking outside the court following the sentencing, Uzomah said: "As a Christian, I have forgiven this boy who has inflicted this trauma and pain on to me and my family.
"It was, however, important for the law to run its course and for a strong message to be sent out, especially to kids of similar tendencies, that violence is never acceptable.
"Our prayer for him is that he will make use of the opportunities and support that will be provided to him, to become a changed person who will make a positive contribution to society."
Det Supt Simon Atkinson, from West Yorkshire Police, added: "This was a shocking and very serious attack on a man doing a job he loved, and he was lucky that the consequences were not more serious.
"His attacker showed no concern by fleeing the scene...he worryingly showed a further lack of remorse towards his victim by boasting about it on social media."