Amnesty International said the foreign secretary should stop "scaremongering" about the crisis of migrants seeking refuge in Europe and realise it is due to a "global refugee crisis" caused conflicts and including the four-year-old civil war.
The human rights group made the comments as it released a report today on the siege of rebel-held Eastern Ghouta, the Damascus suburb where people are bombed, starved and abducted while living at the mercy of both government and rebel forces.
Amnesty accused the Assad regime of using "starvation as a weapon of war" and said hundreds had died in the area between October 2012 and January 2015 because they lacked food or medical care.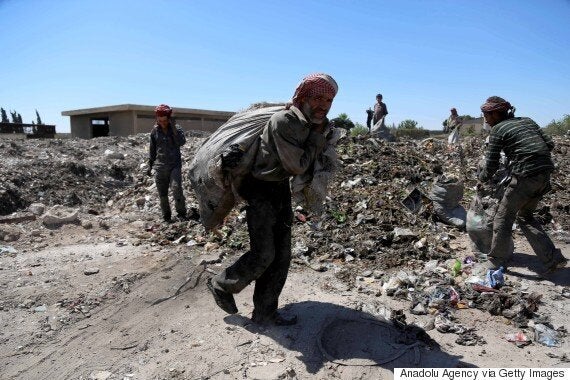 Syrians are forced to collect rubbish at a landfill to provide for themselves in, eastern Ghouta, on August 10, 2015
People fleeing in the war in Syria make up a large proportion of migrants trying to enter Britain and other European countries, as violence in north Africa and the Middle forces them to leave their homes.
Steve Symonds, Amnesty's UK Refugee Programme Director, told HuffPost UK: "Tragically, most of those trapped in Eastern Ghouta have no means of escape, but of course many Syrians have managed to flee the daily horrors unfolding in their country.
"What's particularly distressing is the way that some of our own politicians and pundits have been scaremongering about people at Calais or on the shores of Europe when the world is obviously facing a real refugee crisis.
"Ministers like Philip Hammond need to take a good look at this report and be far more considered with their language in future."
Around 163,000 people live in Eastern Ghouta. Between January and June this year, the Syrian air force launched aerial attacks against the area 60 times, killing around 500 civilians.
Amnesty analysed 13 air strikes and found they killed 231 civilians but just three fighters.
Amnesty told HuffPost UK that the Assad regime had stepped up aerial attacks against civilians in recent months as it lost ground to opposition groups in the north and south of the country.
Kristyan Benedict, Amnesty International UK's Syria campaign manager, said: "This, in part, has been due to better coordination between Turkey, Saudi Arabia, Qatar and the US, along with manpower shortages and fatigue within Syrian government forces.
"Meanwhile, the Syrian government has been increasing its air attacks in response, with civilians bearing the brunt of these attacks."
The attacks have hit mosques and busy public markets. One eyewitness, called Amir, told Amnesty he saw nine bodies scattered on the streets near a mosque in Douma, in eastern Ghouta, after an airstrike on February 9.
The attack also destroyed residential buildings, an underground field hospital and a school
On the same day, Amir witnessed another strike on another mosque in Douma to which families and children had fled after the previous attack. "Nowhere is safe," he said.
Another eyewitness described the "disaster" they saw when the Syrian government attacked on market in Kafr Batna on February 5.
At 1pm, the busiest time of day, the government launched the attack, destroyed two nearby residential buildings. "There was no trace of a military target nearby," Amnesty said.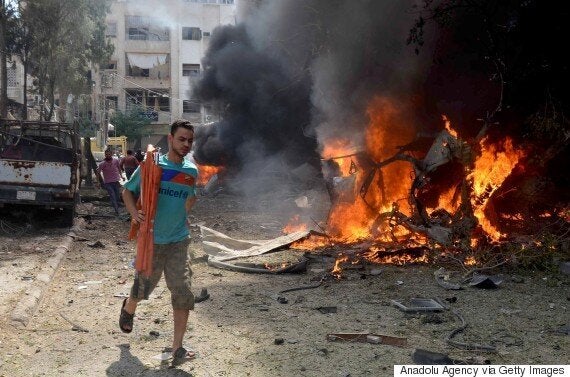 A car burns after Assad forces attack the Douma district of East Ghouta, on July 27, 2015
On January 25, Syrian air force jets bombed a market in Hamouria shortly after Friday prayers, just as crowds left a nearby mosque to buy sugar, killing more than 40 civilians.
"I could only see blood. It was horrific, like nothing I have seen before," an eyewitness said.
As well as bombardment from government forces, the people of Eastern Ghouta face arbitrary taxes, imprisonment and even abduction from the Army of Islam, an Islamist group that is the largest armed group fighting the government there.
The Syrian military routines confiscates food from people at checkpoints that force them to buy on the black market at hugely inflated prices, while the Army of Islam has detained people who have requested people to leave.
The Army of Islam also uses imprecise weapons such as mortars, which amounts to a war crime in such a populated area, Amnesty's report said.
Said Boumedouha, Amnesty International' Middle East and North Africa director, said: "[Civilians] are trapped and surrounded by fighting on all fronts with no means to escape the unlawful aerial and shelling attacks waged by government forces.
"Their anguish is compounded by dwindling supplies of food, clean water and other crucial necessities which mean that daily life for many has become a prolonged experience of hardship and suffering.
"Government forces are using starvation as a weapon of war in flagrant violation of international law. Withholding food and basic supplies required to survive is a vicious act of cruelty amounting to collective punishment of the civilian population."
Related