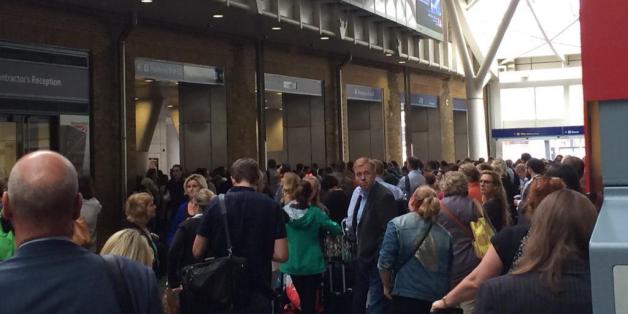 Twitter/Chris Gibbons
King's Cross was evacuated and filled with armed police over the arrival of a suspected drugs dealer on Thursday afternoon.
A British Transport Police (BTP) spokesman said yesterday: "Armed BTP officers attended the mainline platforms at King's Cross rail station shortly after 3pm today (Thursday, 13 August) to meet incoming trains to that location.
"Some platforms were closed while this activity took place.
"At approximately 4.15pm, a 40-year-old man was arrested on suspicion of possession with intent to supply of a Class B drug. Enquires are ongoing."
In pictures posted online, armed police officers could be seen in attendance.
Armed police arrest man at #KingsCross in #London after reported firearms "incident"

photo via @JackMarshall88 pic.twitter.com/LeAOdqN4jt

— Anna Ahronheim (@AAhronheim) August 13, 2015
@Holborncompany @Holbornlolz BTP are. pic.twitter.com/WT3VnOzFHc

— Mr Milky (@MilkcartonWINS) August 13, 2015
Some people on the scene reported seeing a man being led away in handcuffs.
Man in handcuffs being led away by armed police at King's Cross.

— Gav (@GTRussell) August 13, 2015
The station was reopened shortly afterwards and trains resumed a normal service.
Some services ran with delays of up to half an hour following the incident.
About 600 people pushed back just before one entrance re-opened - see pic. Normality returning slowly. #kingscross pic.twitter.com/3L0fmfzjoH

— Stuart Dinsey (@Sdinsey1) August 13, 2015
#kingsx #kingscross very closed with armed police and no trains going anywhere pic.twitter.com/Kh3HAOAULK

— Peter Robinson (@PeterRobinson81) August 13, 2015
#kingscross platforms 1 to 8 closed for police search

— Simon Allcock (@SimonAllcock) August 13, 2015
Kings Cross platforms 0-8 all closed, lots of police creating a 'sterile area', no indication of why.

— Pilgrim Beart (@pilgrimbeart) August 13, 2015
Some people questioned why such drastic measures were taken given the reason behind the evacuation...
King's Cross station evacuated as armed police detain man http://t.co/IQ3XG2Vbiu Seems very extreme for a class b drug. #kingscross

— Jacob O (@jakeov) August 13, 2015
How can a train station be evacuated because of a possible drug dealer? Sounds like BS #KingsCross

— Sainty Cazorla (@Robsainty) August 13, 2015
Only in the UK would a major transport hub be closed because the police want to arrest a man carrying a Clss B drug. #KingsCross

— Alex D (@alexrhysdavis) August 13, 2015
Police ignore massive drugs cabals all round the country, but close #KingsCross for one drug offender? Pull the other one.

— Donna_R_E (@Donna_R_E) August 13, 2015