It's nearly 10 years since Category 5 Hurricane Katrina devastated New Orleans and Louisiana. The deadly natural disaster was one of the costliest and deadliest hurricanes in US history, claiming the lives of nearly 2,000 people.
Now, 10 years on, Getty Images photographer Mario Tama has been back to New Orleans to revisit the scenes of his iconic images to see how the once obliterated areas have changed.
Tama has since published a book called 'Coming Back: New Orleans Resurgent' on his experiences of photographing the devastation and the recovery process from the hurricane, with all proceeds going to 'New Schools for New Orleans'.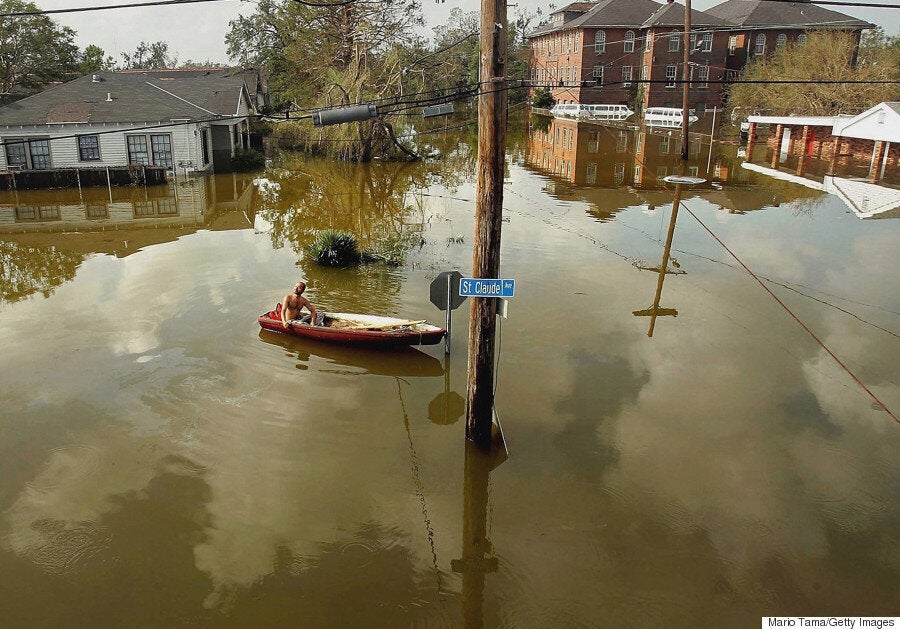 A woman walks with a dog in the Lower Ninth Ward in New Orleans in 2015 and a resident rides in a canoe in high water after Hurricane Katrina devastated the area in 2005.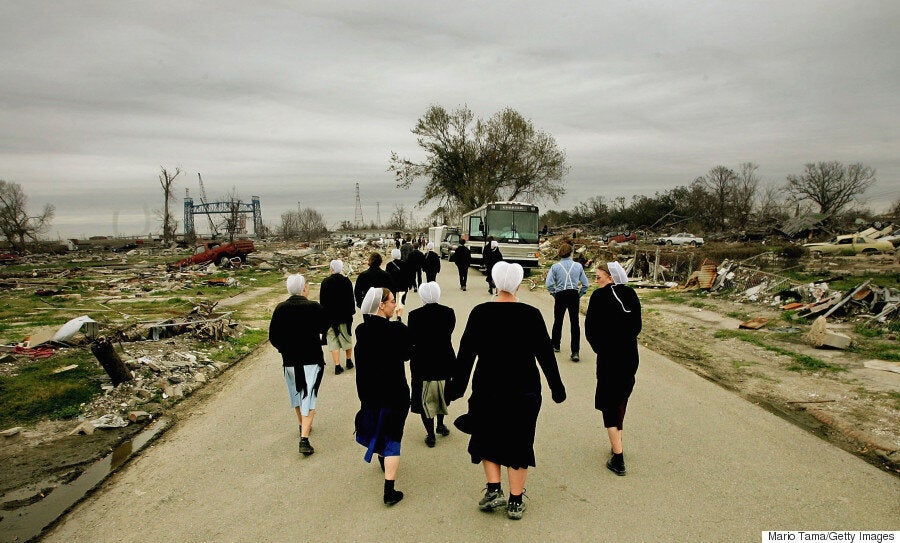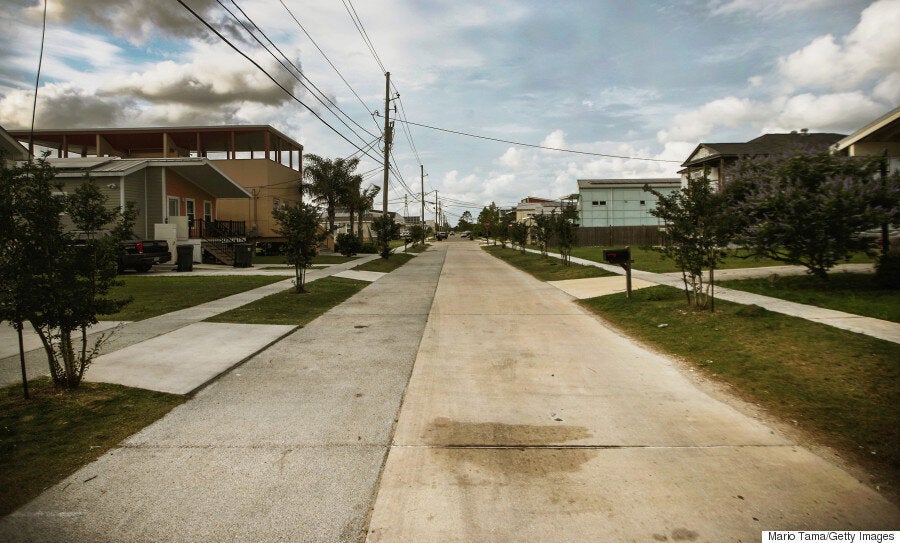 A group of Amish student volunteers tour the devastated Ninth Ward and new homes stand in a development built by the Make it Right Foundation for residents whose homes were destroyed by Hurricane Katrina.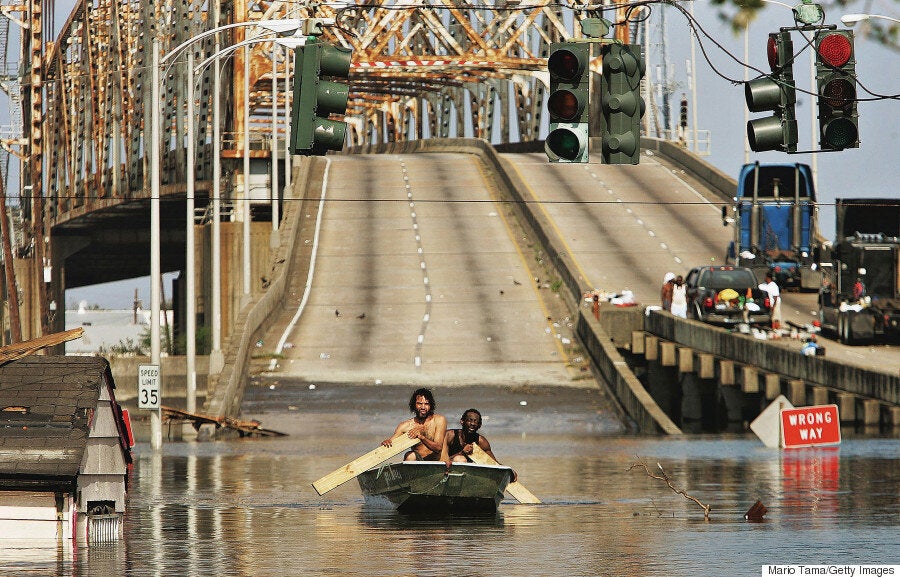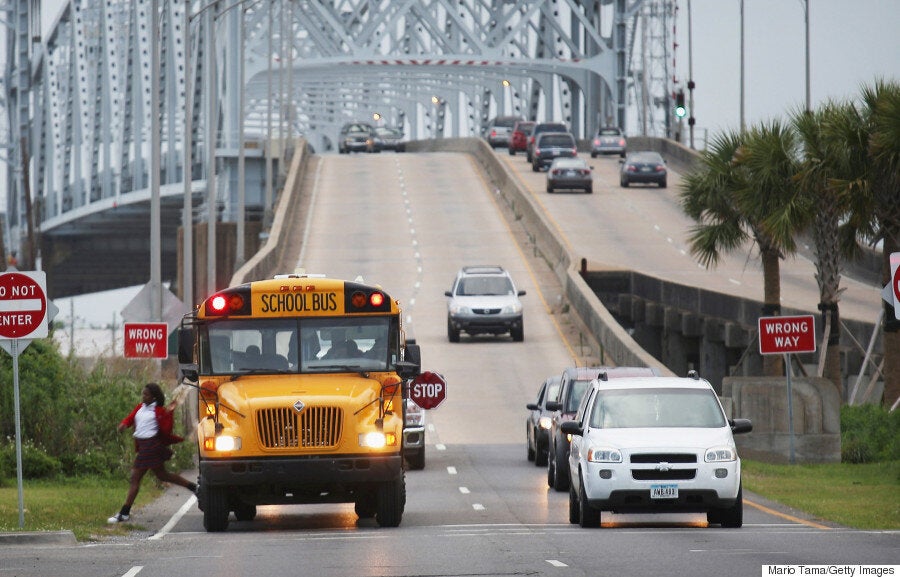 Two men paddle in high water after Hurricane Katrina devastated the area of New Orleans and a school bus drops off a student in front of the Claiborne Bridge in the Lower Ninth Ward in 2015.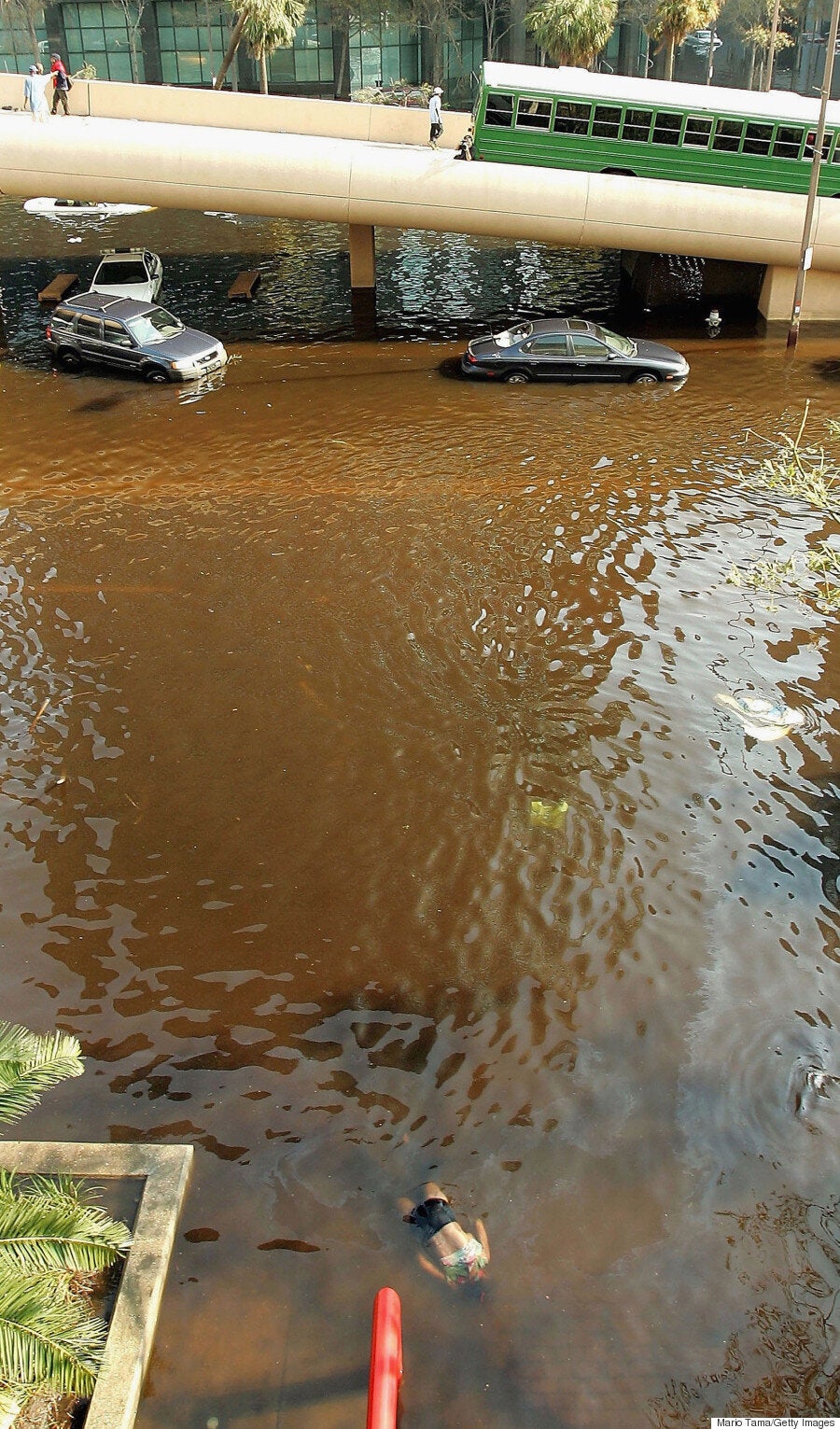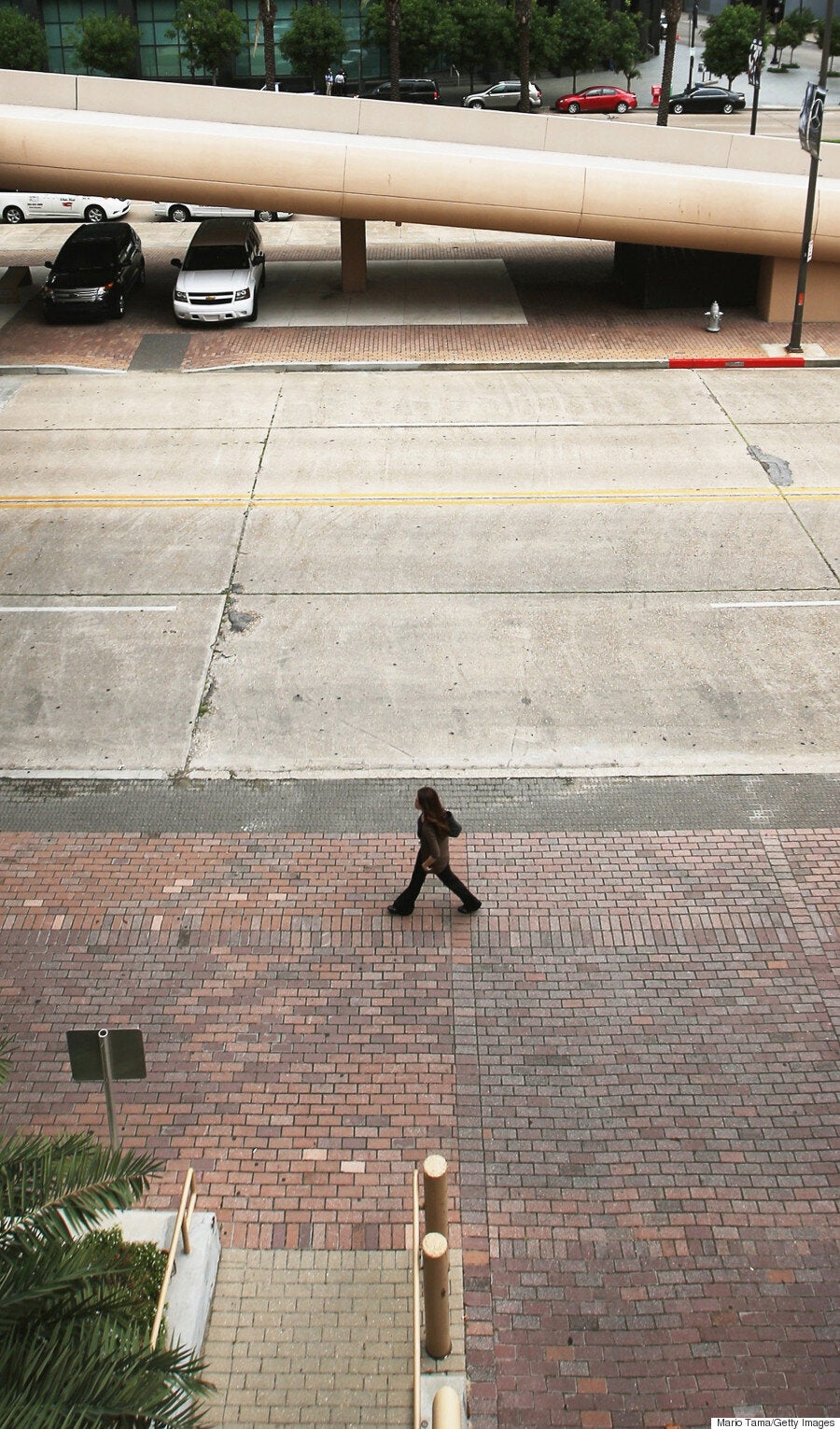 GRAPHIC WARNING: The body of victim from Hurricane Katrina floats in the water surrounding the Superdome and life carries on 10 years after the natural disaster.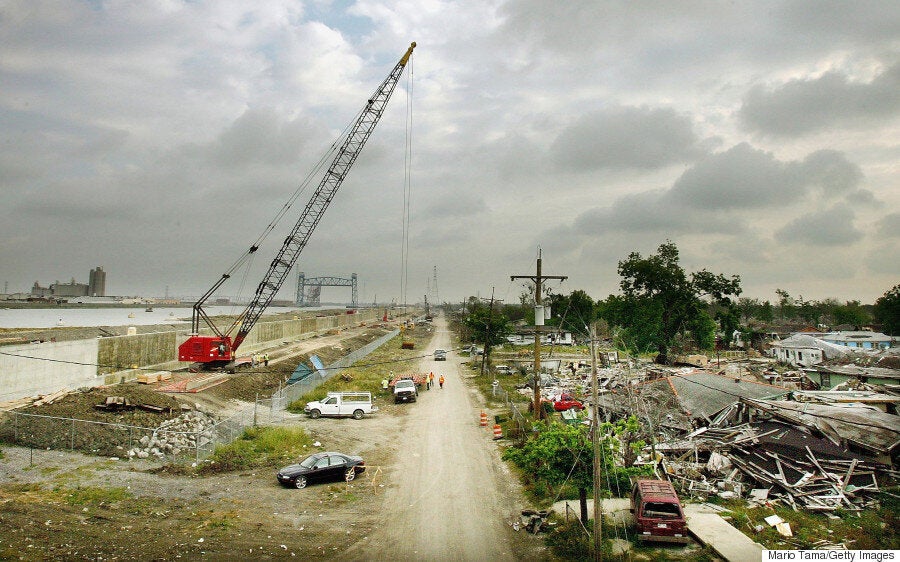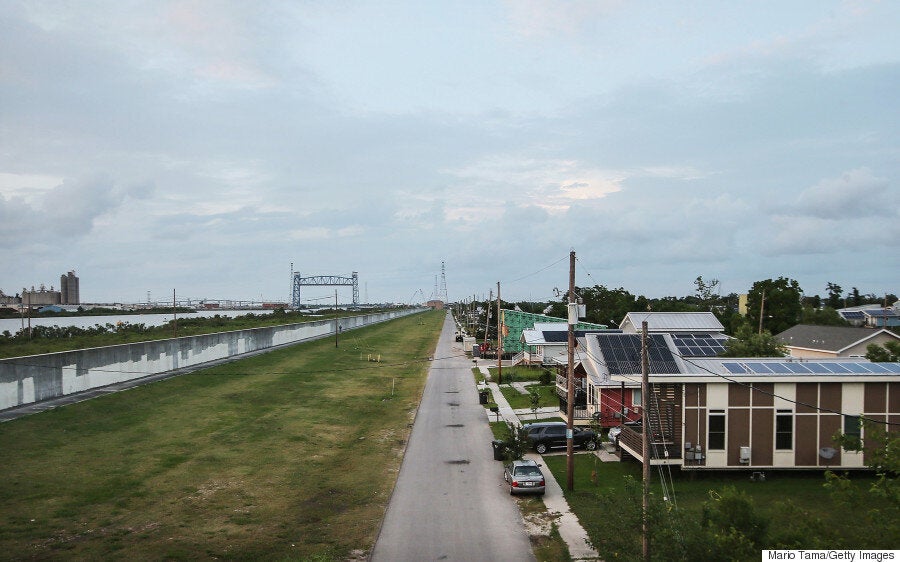 Workers rebuild the levee which was breached by Hurricane Katrina along the Industrial Canal and in 2015 New homes now stand along the rebuilt Canal.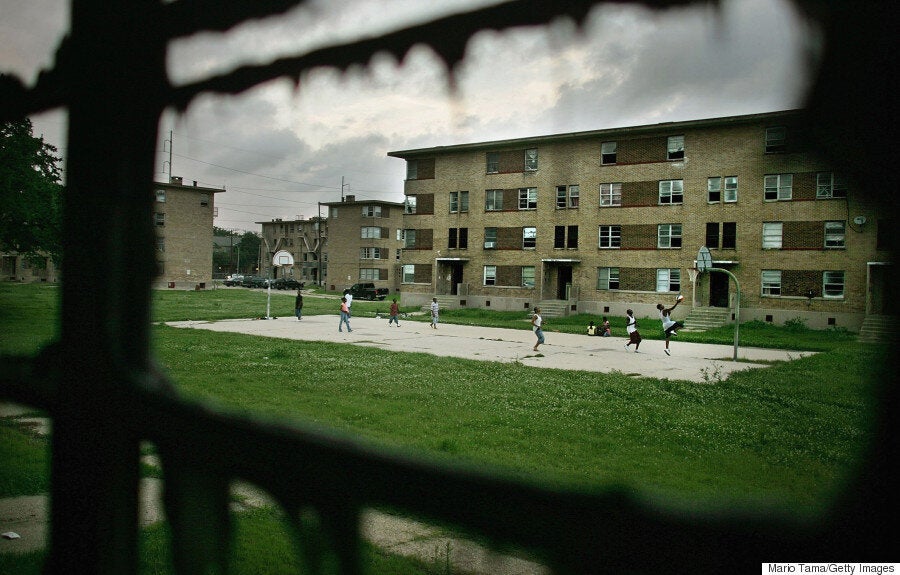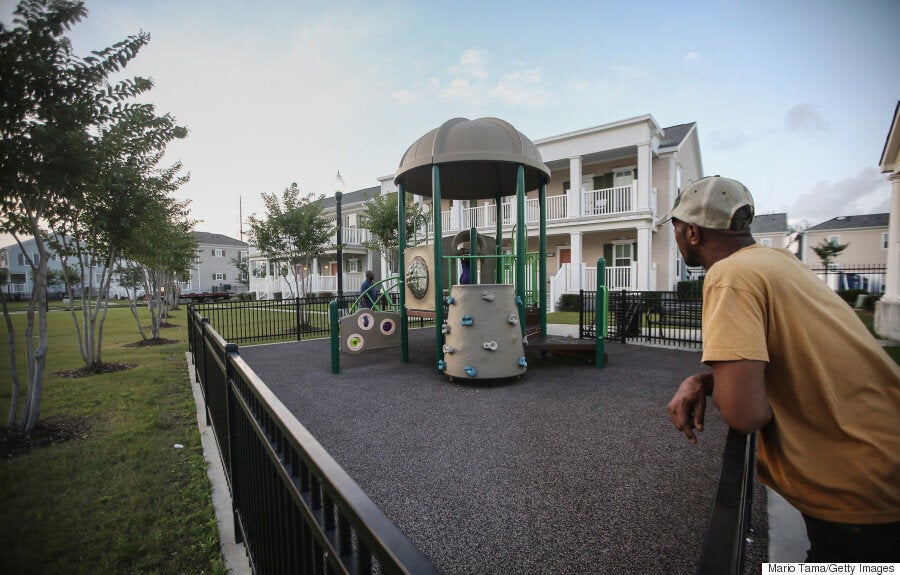 BW Cooper housing project residents in front of storm damaged apartments and today the Marrero Commons housing development, at the location where the housing complex once stood.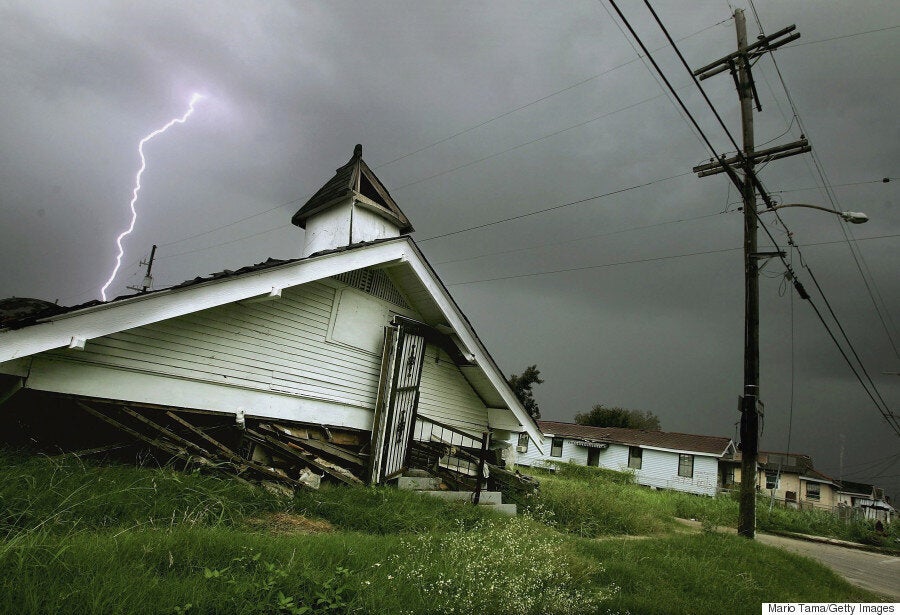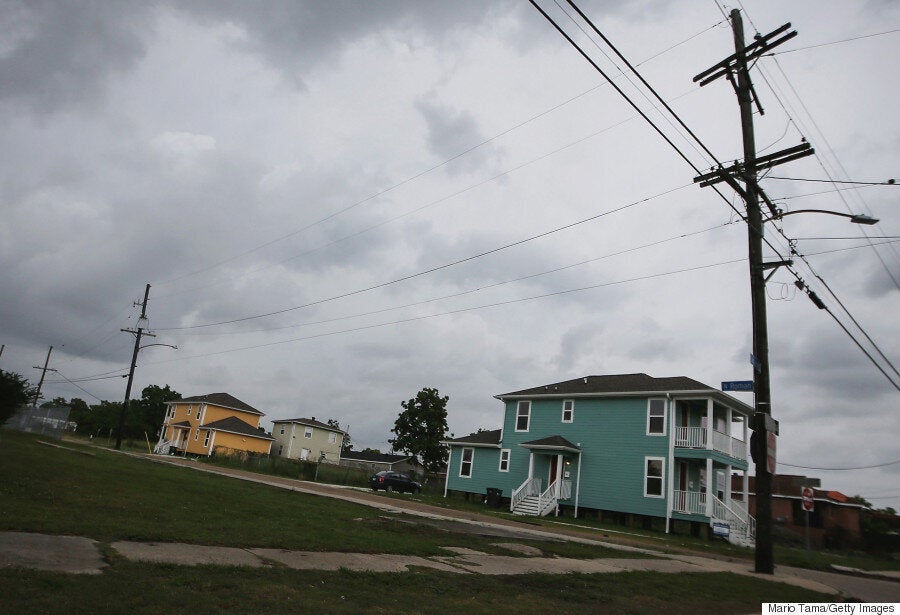 A lightning bolt strikes above a destroyed church in the Lower Ninth Ward in New Orleans and now the site is home to a new housing project.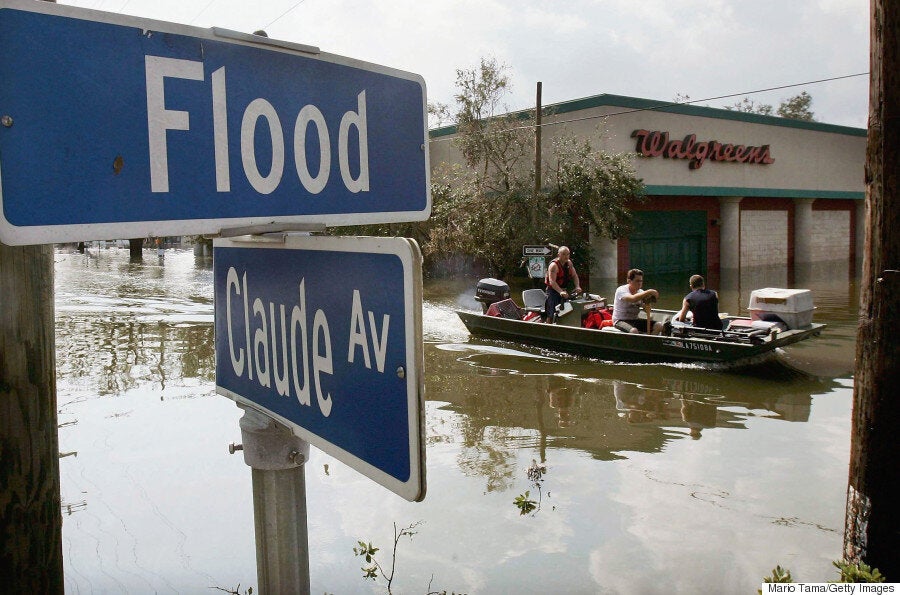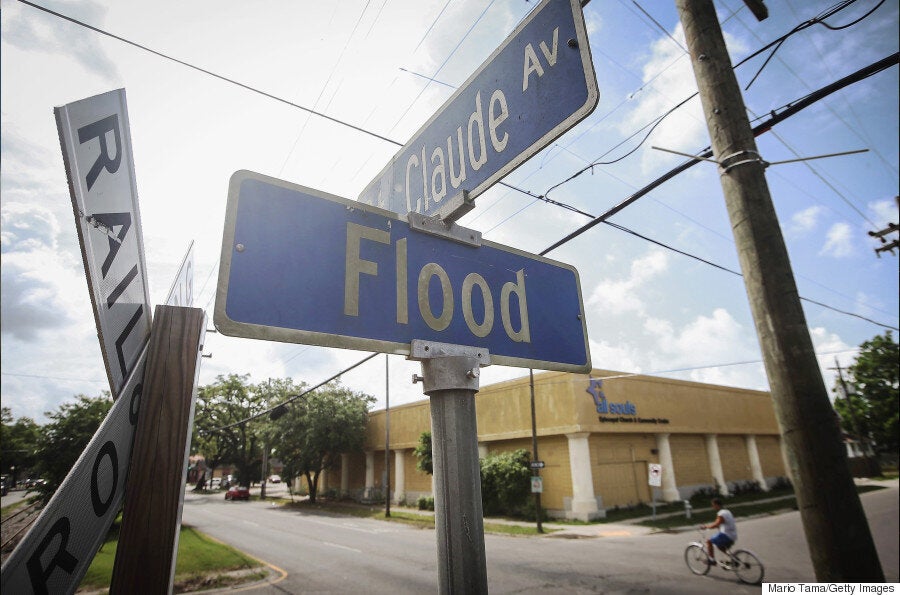 Men ride in a boat in high water past Flood Street in 2005 and a man bikes past the corner of Flood Street and St. Claude Avenue in May 2015.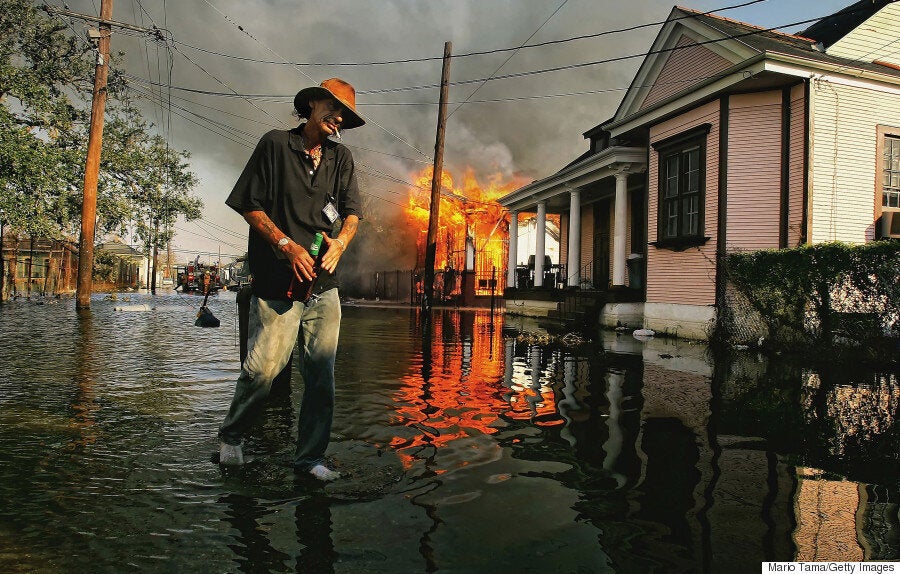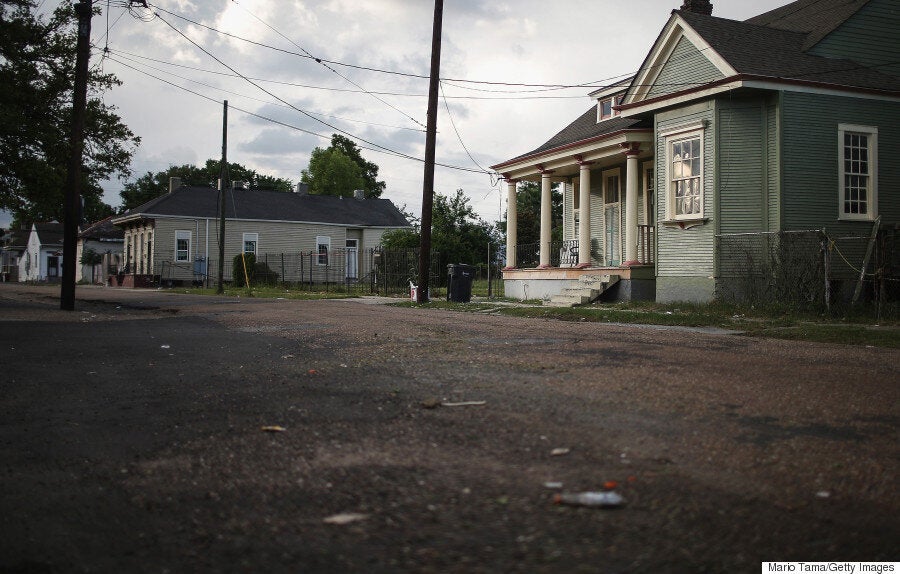 Robert Fontaine walks past a burning house fire in the 7th ward and newly decorated house stand at the site today.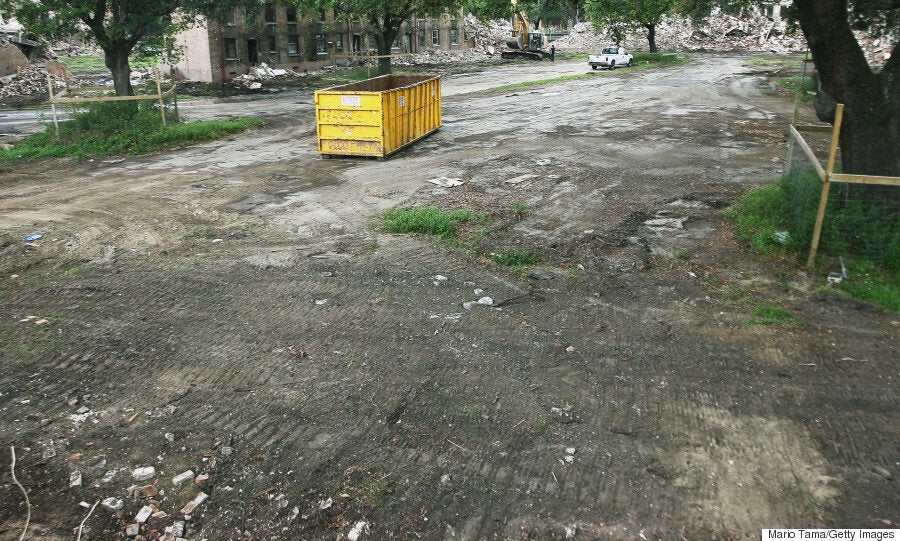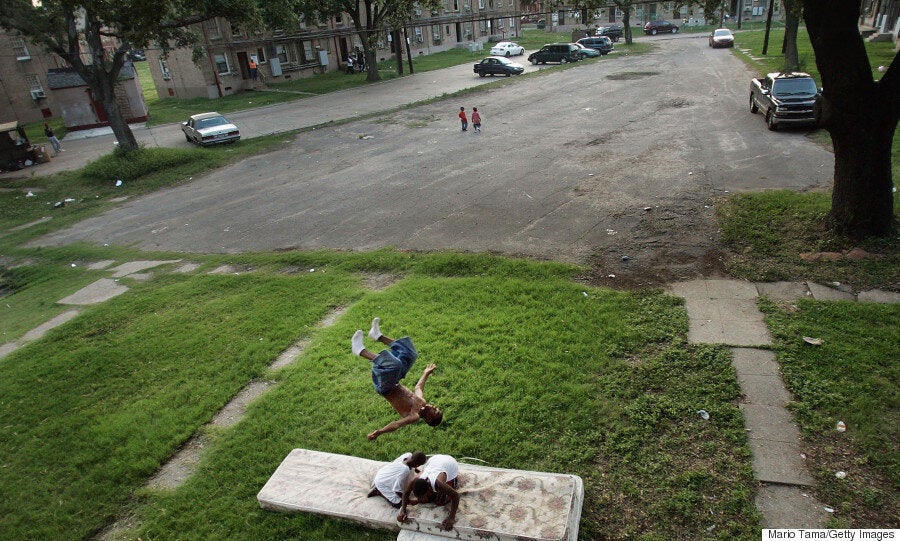 Housing residents practice flips using mattresses in June 2007 and rubble remains at the forner B.W. Cooper housing projects.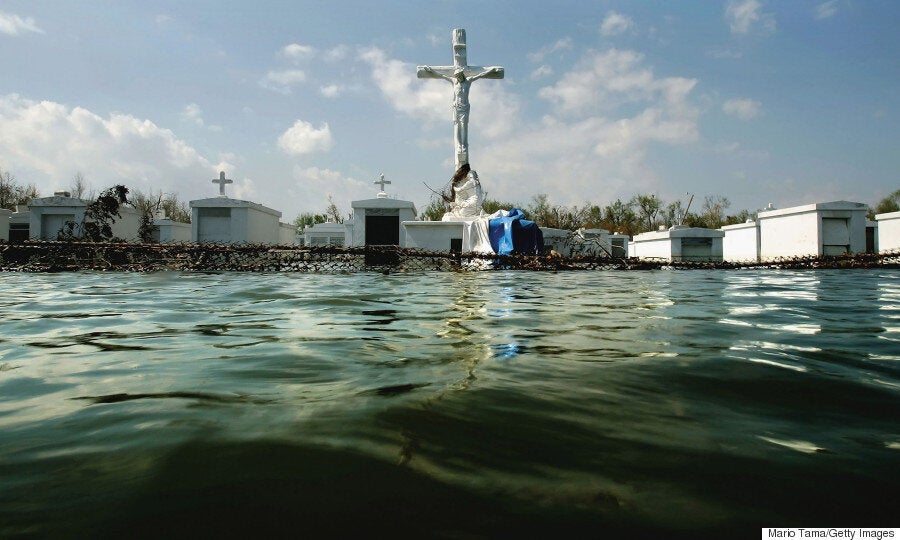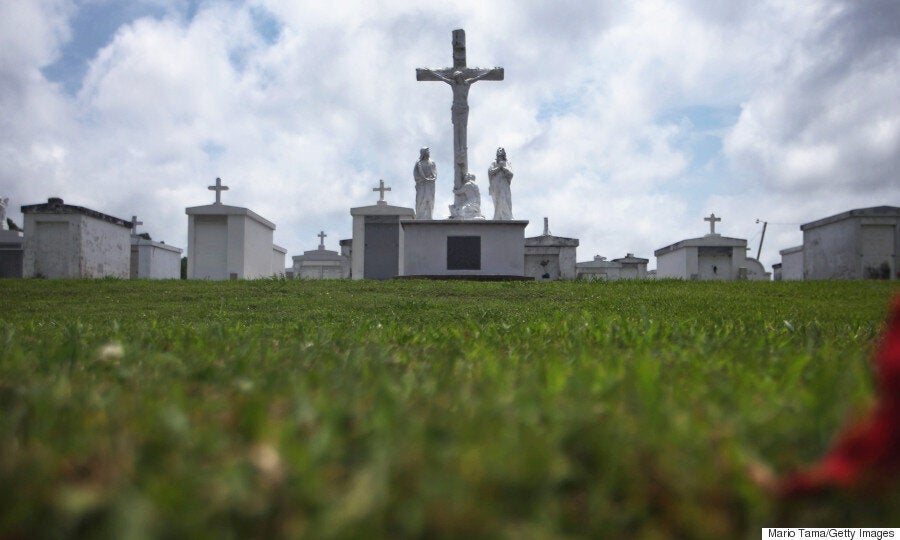 Water floods an above-ground cemetery outside Saint Patrick's Church in Plaquemines Parish and the cemetery has recovered after the devastation.