A plane has disappeared carrying 54 people after it flew into bad weather and lost contact with ground control.
The Indonesian airliner vanished on Sunday while flying in heavy rain, strong wind and fog on a short flight in the country's mountainous easternmost province of Papua, officials said. A search for the plane was suspended and will resume Monday morning.
The ATR42-300 twin turboprop plane was carrying 49 passengers and five crew members on the scheduled 42-minute journey.
Five children, including three infants, were among the passengers.
The Trigana Air Service plane was flying from Papua's provincial capital, Jayapura, to the Papua city of Oksibil when it lost contact with Oksibil's airport.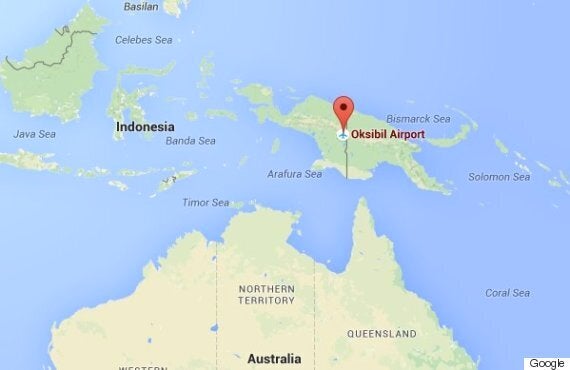 Oksibil, the plane's destination
A plane was sent to look for the missing airliner, but the search was later suspended due to darkness and bad weather. The search operation will continue Monday morning.
Much of Papua is covered with impenetrable jungles and mountains. Some planes that have crashed there in the past have never been found.
Indonesia has had its share of airline woes in recent years.
The sprawling archipelago nation of 250 million people and some 17,000 islands is one of Asia's most rapidly expanding airline markets, but is struggling to provide enough qualified pilots, mechanics, air traffic controllers and updated airport technology to ensure safety.
Last December, an AirAsia jet carrying 162 people plummeted into the sea as it ran into stormy weather on its way from Surabaya, Indonesia's second-largest city, to Singapore.
The disaster was one of five suffered by Asian carriers in a 12-month span, including Malaysia Airlines Flight 370, which went missing in March 2014 with 239 people aboard during a flight from Kuala Lumpur to Beijing.