As any Glastonbury Festival regular knows, burning the candle at both ends is compulsory. But, while the five days spent on Worthy farm are nothing short of incredible, returning home hits you like a sack of shit.
Once I eventually got through the infamous traffic jams and home to my bed, I slept for 11 hours straight. When I awoke the following afternoon, my body ached and my face was covered in breakouts.
And so the rehabilitation process began. Normally I try to do this single-handedly, but I invariably fail and fall victim to takeaways and drowning my sorrows in gin.
So when I was offered a helping hand by Well Aware, London's first luxury wellbeing concierge service, and their bespoke post-festival package, I decided to see how the other half live.
The Reformation Package, which is the most extensive of their recovery packages, offers a combination nutrition, fitness, relaxation and pampering - four words rarely associated with festival season.
It is aimed at "diehard festival goers who feel broken, sleep-deprived, under-nourished, with borderline liver damage". And, seeing as I tick each of these boxes, I figure it's the best to go for.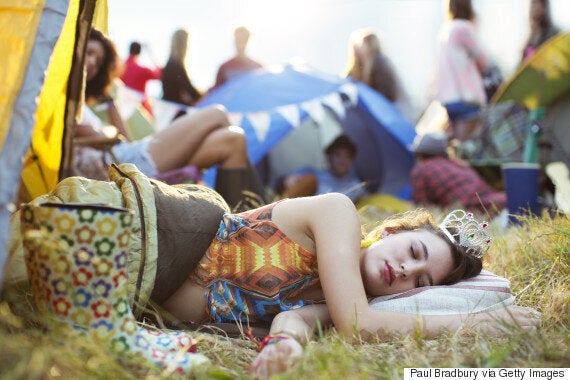 The Package - Food: Five days of healthy food delivery, including one-and-a-half days of juice cleansing, followed by three-and-a-half days of healthy (solid) food
The Claim:"Based on the principles of balanced healthy eating, this delicious food package will cleanse your body and ensure you feel energised."
The Experience: Being a Lifestyle editor, I have a pretty healthy diet. But at festivals, when I don't have a Nutribullet or spiralizer to hand, all that kind of goes out of the window.
My usual diet of fruit, veggies, legumes and grains (yeah, I really know how to enjoy myself) had been replaced by copious amounts of rich, oily foods (not to mention gallons of cider) and so when the music stopped, I was keen to get back to my normal eating habits.
I don't believe in detoxes - the body already does a good enough job of detoxing, otherwise we'd be dead - but I do believe in having a Reset™. This means going OTT on the health front (juices, no alcohol, no caffeine etc) in order to nourish your body after neglecting it and to kick start healthy eating habits.
The Reset™ kicked of with a 36 hour juice 'cleanse' from CPress, which involves eating nothing but vegetable and fruit-based juices. I've done juice cleanses before, but this was the toughest to date. Because I was so tired I was craving carbs and sweet treats, so I was glad when it was over and I could chew again.
The next few days involved eating a reduced calorie diet (1,300 instead of 2,000) of high-protein meals. I'm told I won't feel hungry due to the composition of each meal, and surprisingly, despite having a pretty hearty appetite, I don't.
Meals included a salad of spring greens, goji berries, avocado and broccoli from CPress or roasted salmon, grilled asparagus, with samphire and watercress pesto from The Detox Kitchen. Both were delicious, filling and fresh.
For the five days I also avoided alcohol and caffeine, which is unheard of for me, and steered clear of anything that hadn't been delivered as part of the package, that includes the office biscuits, which are my weakness.
I felt great throughout the duration of the five days, becoming more energised and positive as the week went on. Cutting out alcohol and caffeine helped me sleep, while the meals gave me all the nutrients to get back on track.
I believe that food the the single strongest tool we have to improve health and wellbeing. To quote Ann Wigmore, "The food you eat can be either the safest and most powerful form of medicine or the slowest form of poison."
The Claim:"Can't drum up the motivation for exercise? Not to worry, this one-hour session with a top PT will ensure that you sweat out all those remaining toxins - all you need to do is turn up!"
The Experience: No matter how early I went to bed, nothing could prepare me for getting up at 6am and dragging myself to Highbury Fields, in Islington, where I live, for a 7am PT session. Especially the Friday after Glastonbury.
As usual I was late and trying (unsuccessfully) to stifle yawns as I shuffled across the park.
As I approached the place where I was supposed to meet Dean from Train Dirty London, I could see cones laid out on the floor, as well as boxing gloves and kettle bells. It took a lot of willpower not to turn around and head back to bed, but the beauty of PT sessions is that all of the onus is on the trainee, so there was no way of getting out of it.
Dean greeted me with a huge grin and promised to "go easy on me". But as I completed my fourth round of burpees while commuters stared at me on their way to the station, I knew that he had been lying.
The hour was a mixture of circuit training (kettle bell swings, squats and lunges), boxing and abs work. Like all PT sessions the best - and worst - part is having the trainer's undivided attention, so I couldn't cheat. His eyes were on me the whole time, encouraging but firm, friendly but still a little intimidating.
It was tough and I sweated a lot (it didn't help that it my session took place on the hottest day of the year), but I genuinely did enjoy myself. Dean and I got on well and spoke the whole time - when I wasn't groaning from having to do another burpee, that is.
When I finished I felt on top of the world, the rush of endorphins set me up for the rest of the day and I was super focussed at work.
If it wasn't for that hideous early-morning start, I could consider exercising before work more often.
The Package - Relaxation: One massage at London spa Azure Beauty
The Claim:"Not only will it leave you feeling rejuvenated, it will also help relieve any tension whilst also boosting circulation."
The Experience: I've learned over my festival-going years that having an inflatable mattress is vital, as are earplugs and an eye mask.
But regardless of how prepared you try to be undisturbed sleep is practically impossible. Combine this with carrying a huge backpack all the way from London and hours of dancing around in the mud, and it's no surprise that when I return from the festival my body felt like it had been run over by a lorry.
Usually after a festival my only method of easing the aches and pains is through early nights and yoga, but the Reformation Package offers a massage and it couldn't come soon enough.
The masseuse used Decleor techniques and a 100% natural balm, which was made from pepper, cypress and lavender to work on the circulation and have an analgesic effect.
Despite having had a few days to recover by this point, I was clearly still exhausted and fell asleep during the massage. When I woke up, I left feeling more relaxed than ever and completely re-energised. The following day I still ached slightly, but this is owing to the deep tissue element which really works into the muscles. The Package - Pampering: One hour-long facial at PfefferSu
The Claim: "If your cleanser didn't make it out of your bag for the whole of Glasto, fear not, this 1 hour facial will ensure your party efforts are not forever engrained on your face."
The Experience: No matter how many showers (zero), face washes (two) or baby wipes (30) feature in your festival experience, drinking, lack of sleep and sun exposure take their toll on your skin.
When I arrived at the salon and laid down on the bed, the facialist immediately gravitated towards the sunburn on my nose and breakouts around my temples and chin. She asked me about my skin routine and how much sun protection I used, and I sheepishly admitted that both had been practically non-existent over the recent week.
We decided it was best for me to have the Ultra Revive Facial, which consisted of a nippy pomegranate enzyme exfoliant (which kind of burned), extractions (a fancy word for blackhead and spot squeezing) and a facial massage for drainage and muscle toning.
The facial was great and my skin looked great the following day (and for about one week after). Again, I fell asleep during the treatment, which is yet more testament to how exhausted I must have been.
The Verdict: While I felt great after the five-day package, I could certainly recreate parts of the package elsewhere and for a fraction of the price.
Having meals delivered directly to me took away the stress of shopping and preparing, however for those not based in London or unable to afford the meal delivery service - simply pre-planning five days (or longer) of nutritiously balanced meals and cutting out (or down on) alcohol and caffeine would have the same desired effect.
Having a one on one PT session certainly got my butt moving, but hitting the gym or exercising with a friend could provide the same motivation (and for a fraction of the price). The best thing about personal training sessions is that they are tailored to meet the needs and requirements of the individual, the session I had felt more like a circuit class with no one else in it rather than a personal training session. So while it was great, it would need to be more bespoke to be truly effective.
The massage was the one part of the package I felt couldn't be recreated at home. Of course you can go to a steam room, do some stretches and - if you're lucky - get a partner to give you a deep massage, but there really is nothing substitute for a professional who truly understands the body and its needs.
A personalised facial is also pretty hard to top. However those on a budget could definitely seek an alternative, such as this DIY organic beauty facial.
My reservations are based on cost alone, not the quality of the services. But I figure the clients opting for the Recovery Package probably aren't on as strict as budget as I am.
For someone on a budget, the money would be better spent on renting a yurt or another premium accommodation at the festival as a form of damage limitation. Better to spend money on looking after your body in the first place, rather than abusing it and trying to repair it in the aftermath.
Prices for the Well Aware post-festival recovery package start from £350. The package is based on your location, availability and requirements.