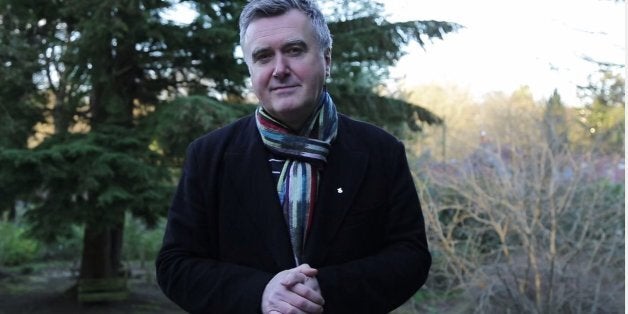 The BBC is continuing to show "bad news judgement" over its coverage of Scottish politics after the corporation got it "badly wrong" during the Scottish independence referendum, the SNP's media spokesman has said.
In an interview with The Huffington Post UK, John Nicolson, a former BBC journalist, points to the hugely-popular Commons speech delivered by SNP MP Mhairi Black, but was featured with the "presenter talking over it" on the BBC.
Mr Nicolson says the BBC is not guilty of bias, but that protests outside the corporation's Glasgow HQ in the run up to last year's vote show people "got very angry by what they saw on their screens".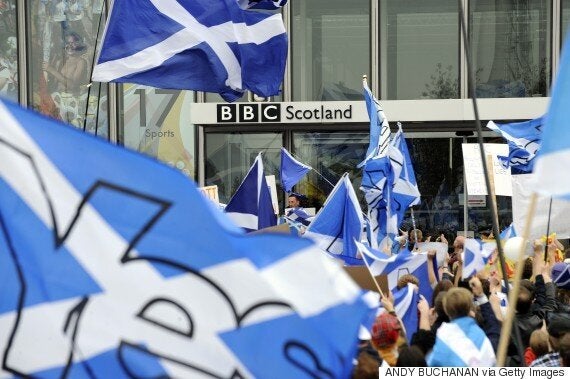 Protest at BBC Scotland during the referendum campaign
The MP for East Dunbartonshire, a one-time Newsnight reporter, said the BBC is instead "Establishment to its core ... pro-monarchy, it's pro-union, it's pro-status quo".
He thinks it should be given more independence north of the border, including a separate 6 O'Clock News for Scotland.
He said: "When Mhairi Black gave her speech - which has now been listened and watch more than 10 million times - BBC Scotland did not run a clip of it. They ran a bit of it with the sound down with the presenter talking over it.
"Then gave more air time to the Speaker ticking someone off. A lot of people think that's bias, I just think it's poor journalism and poor editorial judgement."
He suggests the corporation did not not "cover itself in glory" during the referendum.
Mr Nicolson said: "When people say 'it's biased because you must come in everyday and you're given your instructions on how to run down the SNP or rundown Scotland', that's not how it works.
"The BBC is Establishment to its core. It's pro-monarchy, it's pro-union, it's pro-status quo. It's not that journalists are told what to say, it's just the whole atmosphere in which they work is of The Establishment. We have to try to get away from that."
He dismissed suggestions the protests were "orchestrated", rather a "spontaneous demonstration by people who just got very angry by what they saw on their screens every night".
He said: "Something has gone badly wrong when a news organisation has protestors outside its door."
He also issued a warning over ditching the public service broadcasting ethos of the BBC as the part of the shake-up over the licence fee renewal.
He said: "I'm a great champion of public service broadcasting. Without public service broadcasting we hand over broadcasting to Rupert Murdoch."