The cast and crew of 'Emmerdale' have being paying tribute to actress Kitty McGeever following her death at the age of 44.
Kitty, who joined the cast in 2009, was the first ever blind actress to be cast in a British soap.
Producers of the ITV soap confirmed her death in a a statement, which read: "It is with much sadness that Emmerdale confirms actress Kitty McGeever, who played the character of Lizzie Lakely, passed away last night, surrounded by her loving family.
"Kitty was a great talent and a true inspiration to all who worked with her. The cast and crew are devastated at her passing and she will be missed tremendously and remembered fondly by all of us."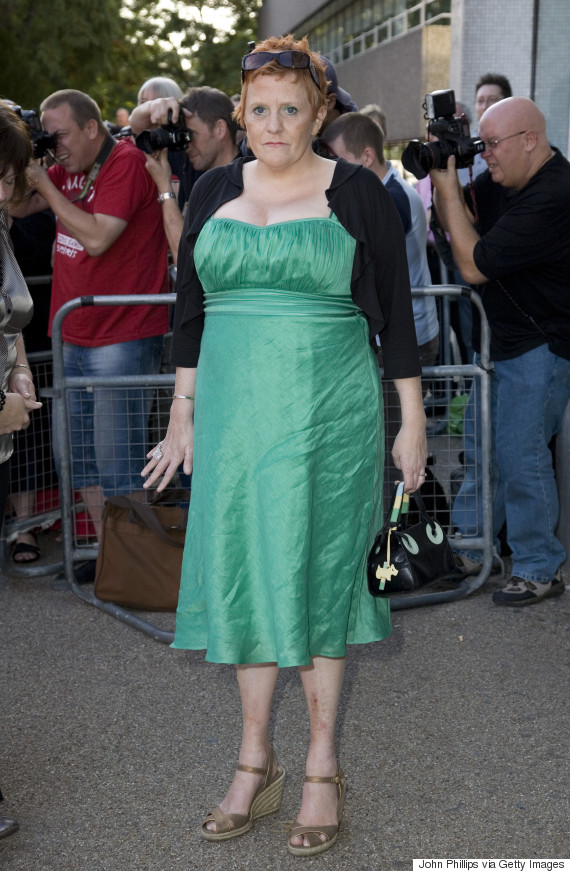 Kitty McGeever (1971-2015)
Her 'Emmerdale' castmates, crew members and friends also paid their respects, taking to Twitter to express their sadness at the loss of their colleague and friend...
Tragic to lose Kitty McGeever. She brightened up everyone's day and had just the most wonderful sense of humour X

— Kelvin Fletcher (@kelvin_fletcher) August 18, 2015
Truly saddened to hear the passing of our dear, dear friend Kitty McGeever. A huge personality @emmerdale will be missed terribly. #RIP 🙏🏼

— Danny Miller (@DannyBMiller) August 17, 2015
Kitty McGeever you will be missed. An incredible actress who never failed to make everyone laugh out loud every single day. An inspiration x

— James Thornton (@JamesThornton_) August 18, 2015
Blessed to have known Kitty McGeever. Vibrant, vivacious & charming. Forever an inspiration, forever in my heart. X pic.twitter.com/uSwCZsP20m

— grace cassidy (@GraceCassidy_) August 17, 2015
So sorry to hear about the loss of Kitty McGeever. Sending love to our @emmerdale friends. She was a one off. Once met, never forgotten.

— Jennie McAlpine (@jenniemcalpine) August 17, 2015
RIP the unbelievably wonderful Kitty McGeever. An absolutely incredible inspiring and funny woman whom I was lucky enough to know. #kitty❤️

— Natalie Anderson (@AndersonNatalie) August 17, 2015
Wonderfully funny and inspirational actor Kitty McGeever has died. I was privileged to have known her as a friend of my sister Amy.

— Kate Robbins (@KateRobbins) August 17, 2015
So sad to hear of the passing of Kitty McGeever. She appeared in my show Beautiful People - such fun to work with.

— Jonathan Harvey (@JOJEHARVEY) August 17, 2015
It is with much sadness that we confirm actress Kitty McGeever passed away last night, surrounded by her loving family. (pt 1)

— Emmerdale (@emmerdale) August 17, 2015
So truly sad to hear about Kitty McGeever. Such a warm, funny and wonderfully talented lady.

— Sharon Marshall (@Sharontweet) August 17, 2015
So sad to hear the news our dear Kitty Mcgeever has died. Never forget the scene's we used to have with her infectious laugh❤ miss you xxx

— Gemma Oaten (@gemmaoaten) August 17, 2015
So, so saddened by the loss of our lovely Kitty McGeever. I feel so lucky to have worked with such a wonderful, hard-working woman.

— Chelsea Halfpenny (@ChelseaHP) August 17, 2015
It's since emerged that Kitty could end up saving lives after her death after it was revealed that she has donated her liver and corneas to medicine in a final act of kindness.
Speaking about the actress, Emmerdale's producer Kate Oates said: "What she did do was donate her liver and also her corneas, so Kitty's family and Kitty have hopefully given the gift of life to someone else through this tragedy, which I think is just a wonderful thing.
"She became friends with everybody, she was a real social butterfly – just this huge, huge presence. That's what was really groundbreaking about her."
She added: "The word "inspiration" is banded around far too often but for Kitty there is no better word for her, she was just amazing."
The actress played Lizzie Lakely until March 2013, when she was forced to quit due to illness.
Lizzie was a huge hit with fans during her years in the Dales, and her feisty nature and mischievous tendencies resulted in many hilarious plot developments.
LIKE US ON FACEBOOK | FOLLOW US ON TWITTER