It wouldn't be British summer without at least one shark attack story that's a little too close to home.
While the Cornish coastline is normally under attack from shark-infested headlines, this time the story has hotted up considerably, with a boy apparently being bitten in Benidorm.
Holidaymakers at the popular Spanish resort fled the beach after a young boy was attacked by a 'large fish', which left a bite mark on his waist.
Just read about a boy being 'savaged' by a shark in Benidorm. Daily Star has gone with a photo of a great white..... pic.twitter.com/URvgtqm2Fj

— Daniel Wickings (@DanielWickings) August 19, 2015
The un-named child was treated at a first aid centre after the attack, and tourists were told to stop swimming at Poniente Beach on the Costa Blanca while a search was carried out.
Local officials believe that the culprit could be a barracuda, but the media has got its teeth stuck into the story...
The Sun suggested that the 10-year-old was 'mauled' by a '7ft beast'

The boy was 'savaged', according to the Express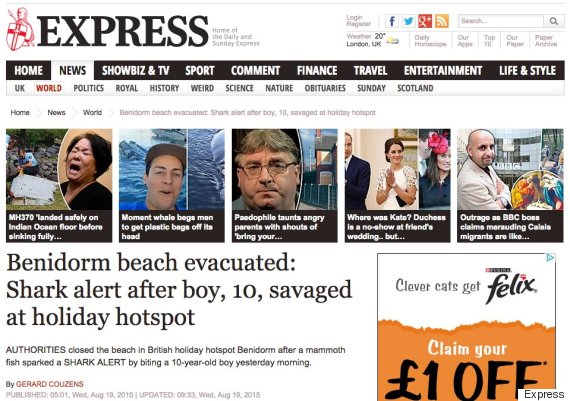 The Mirror suggested that the boy was wearing goggles and went to touch the mystery fish...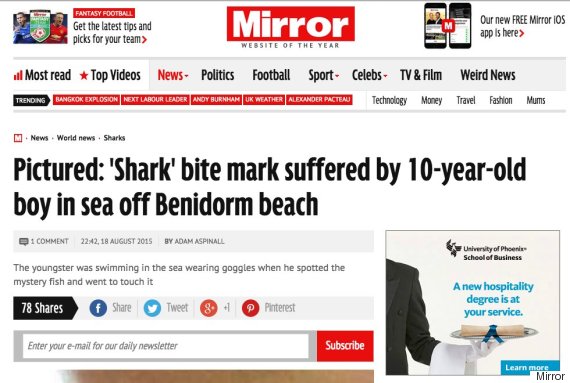 Daily Star lead with a huge photo of a great white, dubbing the event a 'jaws attack'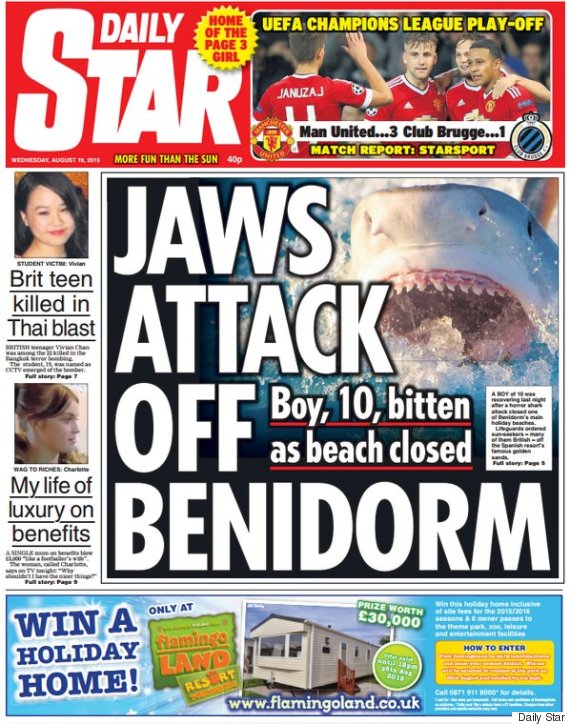 Then again, they had previously reported that there were killer predators on the prowl in the area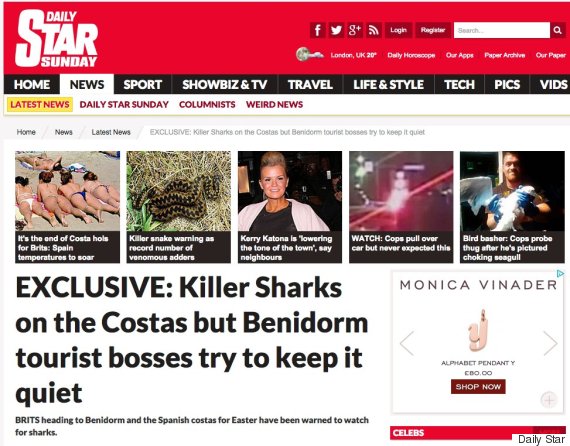 And it's not just us that think the headlines might be a little sensationalist. People are taking to Twitter to share their disbelief...
First pictures of the horrible shark attack in Benidorm. Thanks to @dailystaruk 😂😂😂😂😂😂 pic.twitter.com/xumR9AqMXd

— publicboulevard (@publicboulevard) August 19, 2015
Shark attack in Benidorm? Please, I've had worse injuries from a curling iron

— Laura Alexander (@laurabrap) August 19, 2015
The Suns article on a 'shark attack' in Benidorm is absolutely ludicrous. "beast savaged the youngster, Boy mauled" pic.twitter.com/zFBFu3mgND

— Euan McMillan (@EuanMcMillan28) August 19, 2015
Just read about a boy being 'savaged' by a shark in Benidorm. Daily Star has gone with a photo of a great white..... pic.twitter.com/URvgtqm2Fj

— Daniel Wickings (@DanielWickings) August 19, 2015
Reckon I'm well equipped to catch this pesky shark in benidorm next week pic.twitter.com/AJU4iNUoJW

— A Clockwork Kumquat (@A_LooseEnd) August 19, 2015
'A boy was mauled by a shark in Benidorm'

Look at his injuries HAHAHAHA

You'd get a worse mark from Hoover suction pic.twitter.com/zqRibgZhhk

— JugglyPuff (@QuippyRascal) August 18, 2015
"Absolutely no way it was a shark" doesn't stop @dailystaruk from running this headline http://t.co/8OIdLTtsBH pic.twitter.com/3QoCb0XW0y

— Jessica Jones (@jessicajones590) August 19, 2015