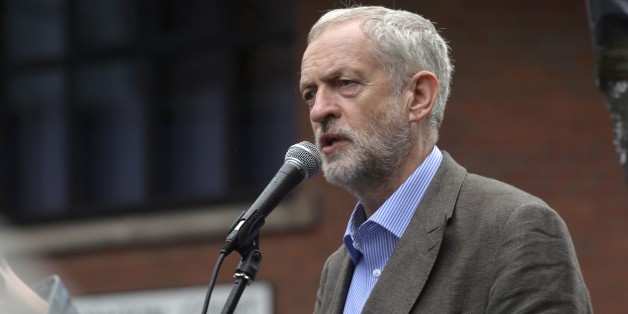 Owen Humphreys/PA Wire
Jeremy Corbyn denied knowing a controversial Muslim activist that he was pictured sat next to in Parliament, and said any suggestion he holds anti-Semitic views are "appalling, disgusting and deeply offensive".
During an interview with the BBC's World At One, the Labour leadership frontrunner was asked about a Daily Mail story claiming he met Dyab Abou Jahjah, a former Hezbollah fighter, in 2009.
This is a recent tweet from Dyab Abou Jahjah pic.twitter.com/K8FqBqjNoA

— Ross Hawkins (@rosschawkins) August 19, 2015
Abou Jahjah has said attacks on British soldiers are legitimate. Mr Corbyn said he had never heard of the Lebanon-born activist, despite a photograph suggesting otherwise, but this evening suggested his team had jogged his memory.
U-turn from Jeremy Corbyn on @Aboujahjah. Denied meeting on #WATO, now: "My staff have researched this and told me that I did meet this man"

— Tom Newton Dunn (@tnewtondunn) August 19, 2015
Abou Jahjah has today written a blog about his links to the North Islington MP, explaining how they met and repeating his claims that British soliders in Iraq are a "legitimate target for resistance".
But when pressed on the BBC programme, Mr Corbyn said: "Sorry, who? ... I saw the name this morning and I asked somebody who is he?"
"Sorry, who?" @jeremycorbyn on claim he invited controversial activist to Parliament http://t.co/yk38jDwHRG#watopic.twitter.com/Rt9ByJYTIn

— The World at One (@BBCWorldatOne) August 19, 2015
When pressed again, the Labour MP said: "My views are that the Holocaust was the most disgraceful and vile process of the history of the 20th Century, if not the wider world.
"That has to be understood by successive generations, it has to be understood by all our children in schools. That, surely, is important."
"The idea that I am some kind of racist or anti-Semitic person is beyond appalling, disgusting and deeply offensive. I've spent my life opposing racism and till my dying day I will be opposed to racism in any form," he added.
READ MORE:
Earlier this week, Mr Corbyn denied having any current contact with a self-confessed Holocaust denier Paul Eisen, telling Channel 4 News on Monday that he had never made a substantial donation to either Eisen or his Deir Yassin Remembered charity.
The Labour leadership frontrunner was last week accused by the Jewish Chronicle of associating with "Holocaust deniers, terrorists and some outright anti-Semites" in an editorial that expressed "deep foreboding at the prospect of Mr Corbyn's election as Labour leader."
Mr Corbyn today responded to the questions line-by-line.
Jeremy Corbyn responds to the JC's seven questions http://t.co/E8DS5cUXj3pic.twitter.com/3Dr7378FpJ

— The Jewish Chronicle (@JewishChron) August 19, 2015