NEW YORK -- Calm, reflective, undeterred. Jimmy Carter delivered news of his damning cancer diagnosis with the assurance of a man at ease with life and ultimately death. A life-long Baptist, faith is synonymous with the Carter name. Faith and peanuts.
And though he graces that unwelcome decuplet of single term presidents, his achievements since the White House -- the near-eradication of Guinea worm disease, the establishment of the Carter Center and, more recently, his staunch defense of human and particularly women's rights -- is a far greater legacy than many who were given four additional years in the Oval Office.
Yet the former president is also a symbol for faith in American, a beacon for what Christianity could be -- caring, tolerant and flexible. Not for him the strident dogmatism that so often sets Bronze Age teachings in conflict with the modern world.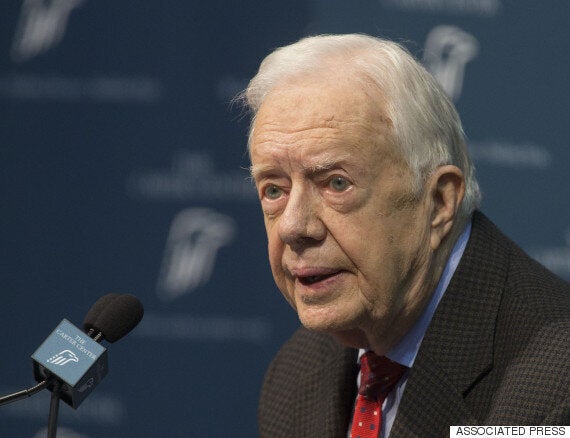 Jimmy Carter talks about his cancer diagnosis during a news conference at The Carter Center in Atlanta on Thursday, Aug. 20, 2015
"This discrimination, unjustifiably attributed to a Higher Authority, has provided a reason or excuse for the deprivation of women's equal rights across the world for centuries," he wrote, adding: "it damages us all."
And though his cancer diagnosis is a tragedy, for a man who spent much of his life championing human rights, hearing sinister calls for an expanded police state to "round up illegals" and deport American citizens must be an even greater tragedy still.
Popular in the Community