The latest actor to throw their hat into the ring to play Doctor Who is a woman - and she certainly has the credentials.
Hayley Atwell probably didn't realise what she started when she found herself with 30 minutes to spare last week, and thought she'd start chatting with some of her followers on Twitter. When one asked her what role she'd like on 'Doctor Who', she quickly answered...
@ohmyjlc I'd like to BE Doctor Who

— Hayley Atwell (@HayleyAtwell) August 14, 2015
And that is how you make something in this day and age go viral. Marvel actress + Doctor Who conversation = endless analysis and opinion on the parts of a hundred online articles, all of which has left Hayley clearly bemused...
Wow, one playful comment about playing the Doctor and the Internet goes nuts... 😳😁😂

— Hayley Atwell (@HayleyAtwell) August 19, 2015
It has to be said, though, that, should the Keepers of the Tardis start scratching their heads for a female resident, they could do a lot worse than this twinkly-eyed actress.
Hayley has acquired a whole new fanbase as Agent Peggy Carter, one of Marvel Comics' most distinctive heroines, whose history includes being romanced by Captain America and joining the French resistance as a teenager.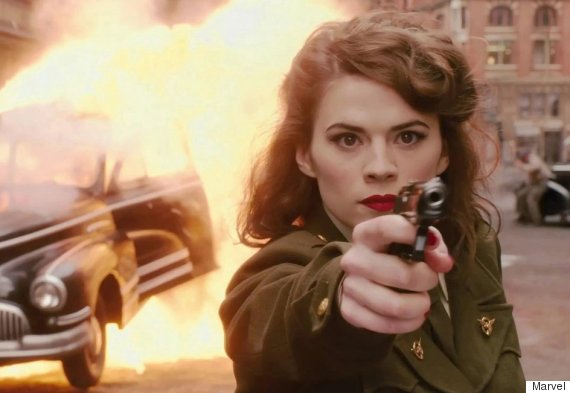 Hayley Atwell in brilliant form as Agent Carter, one of Marvel's most distinctive female heroines
The American-English actress has played the feisty character in a series of Marvel blockbusters, most recently 'Ant Man', and had great success with the Fox TV series built especially around her - 'Marvel's Agent Carter'.
Debate has waged for a while over whether the next Timelord incarnation should be female. Show runner Steven Moffatt has said himself, "There easily could be a female doctor - I think it's good to do that", but not everyone agrees.
Author A.L. Kennedy (female) recently told an audience at Edinburgh International Book Festival that, speaking as a heterosexual woman, she doesn't want to see a female Doctor Who any time soon.
She explains, "He's kind of got a guy vibe, the Doctor. A hopeless, undomestic, dozy, dreamy guy-type of eccentricity. It's not a girl-type of eccentricity. I'd be surprised if he changed gender."
Meanwhile, fans wait eagerly for the new series of 'Doctor Who' with Peter Capaldi returning for his second series as the time-travelling planet-saver. At his side will be Jenna Coleman, who had intended to leave the show after last year's Christmas special, but decided she was having too much fun, and would stick around for a few more interplanetary adventures.
'Doctor Who' returns to BBC1 on19 September.
LIKE US ON FACEBOOK | FOLLOW US ON TWITTER