One of the UK's most prominent drag queens has revealed that police have made arrangements for increased personal security, pending the broadcast of a documentary on Channel 4 next week.
Asif Quaraishi, who performs under the name of Asifa Lahore, is a practising Muslim and explains that, having received death threats in the past, he does fear increased exposure and a backlash to his participation in the programme.
READ MORE: Asifa Lahore interview with HuffPostUK
He told journalists at a screening of the programme, "I do worry post the broadcast. There are certain things that have been put in place for my safety. The death threats featured [in the show] were last year. As and when those things happen the police are always informed and they have been ridiculously supportive."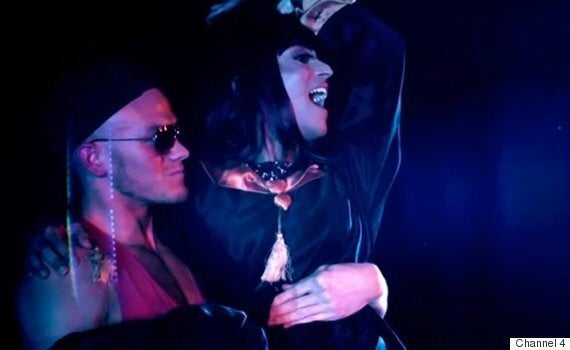 Asifa's drag act includes wearing a burka for one stripping scene
Away from the cameras, Asif - who was recently recognised at the Attitude Pride Awards for his campaigning - is adamant that he feels no internal conflict between his faith and his drag act, which involves wearing a burka during one strip scene.
He explains, "For me it is never been an issue in terms of how I practice what I interpret as Islam.
"I fast, I pray, I believe in one god, I give to charity, I've been on pilgrimage. All I do know is I exist. I'm gay, I'm Muslim, I'm a drag queen, I'm British, I'm a Pakistani. People say that all these things shouldn't fit right together but hey, here I am."
The documentary, which airs on Monday evening, follows three Muslim drag queens. As well as Asifa raising her profile to campaign for LGBT rights within the Muslim community, we see Zareena Khan's search for love bring her into contact with several married Muslim men, and 22 year-old Ibrahim's decision to debut his drag act, and surprising even Asifa by stopping to pray in the same venue they are set to perform.
All three have earned praise from gay rights activist Sir Ian McKellen, who narrates the programme. At the screening, he called them "pioneers" and told them, "You are riding on a wagon that is going forward. We are all with you. You are going to have to lead us and help us help you."
He added that their battle reminded him of his own earlier campaigns for equal recognition for the gay community, saying, "It makes me begin to understand what it was like 20 or 30 years ago about simply being gay."
'Muslim Drag Queens' will be on Channel 4 on Monday at 10.00pm. Earlier this year, Asif led a LGBT march for acceptance...
Related