Stop the bus: this man can transform your bog-standard pancakes into works of art.
And we're slightly in awe of him.
In the past, he's created tasty versions of The Beatles, Steve Jobs and superheroes galore. But now he's turned his attention to the wonderful world of animation.
From Toy Story's Buzz and Woody to the characters from Pixar's latest film, Inside Out, we can't get enough of the creations on his Instagram feed, Dr Dancake.
Drake tells HuffPost UK Lifestyle that he's now a full-time pancake artist. But it hasn't always been that way.
After leaving school, he worked as a short-order cook at a small diner. But he soon realised that the job didn't pay well enough to allow him to live a "happy" life.
"So I started trying to come up with clever ways to impress my customers and earn more in tips," he says. "That's when I started putting smiley faces on top of pancakes.
"The first time I served one was to a very grumpy-looking guy whose mood changed the moment he saw it, and he ended up leaving me a $15 tip for a $3 meal. I decided that I'd make special pancakes for every customer that ordered them after that."
After doing that for roughly five years, Drake had figured out some tricks - with the help of his coworker, Tracy - that allowed him to actually draw designs into the batter.
A photo of him creating his pancake art (or what he dubs "weirdo art") then went viral and the rest, as they say, is history.
After a television appearance, the special requests started flooding in and from that moment he became the world's first professional pancake artist.
So what's next for Dr Dancake?
"We're working on a youtube series of fine art reproductions as a follow-up to the Pixar video that I'm soon to release," he says. "I've found that my art is better when I take my time on it and don't invent arbitrary release schedules and such."
Check out some more of his creations below: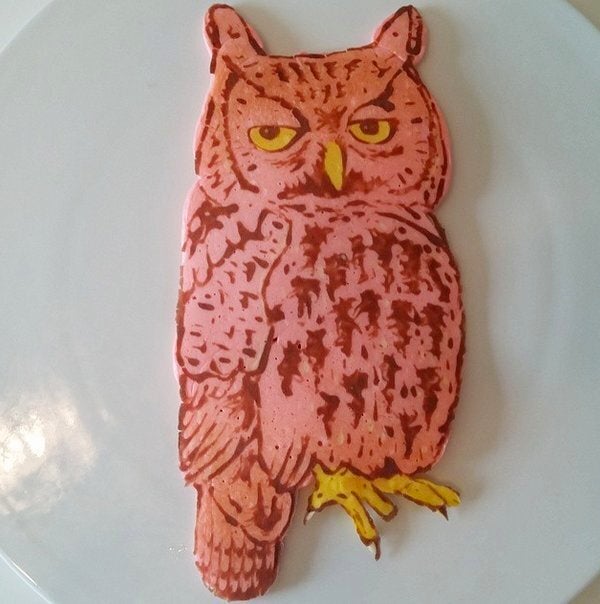 Pancake art