A new trailer has been released of the site, displaying its many attractions.
Ranging from the chance to "navigate the high seas" of refugees on a Mediterranean boating lake, to watching two juggernauts performing ballet, the variety on offer is distinctively alternative.
There's even chance to attend an anarchist training camp running classes in how to break into bus billboards.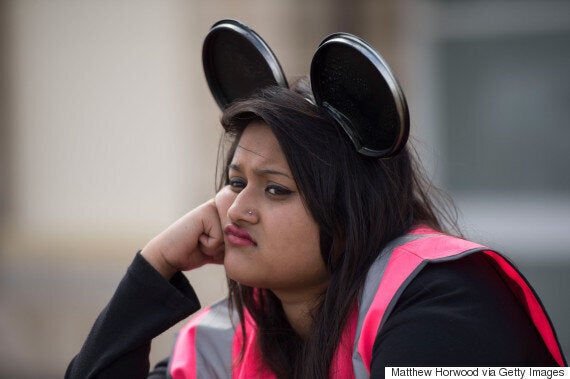 A steward looks on at Banksy's 'Dismaland' exhibition
The advert opens with a scene of distinct normality, a nuclear family are sat eating breakfast.
Soon we're drawn to the attention of their body language, numb, mindless and in a miserable state. A voice over begins: "Is there something missing in your life?" it asks.
From this moment we're journeyed from middle class England to the front doors of Banky's microcosm, representing our culture and media in one dismal world.
The children jump for joy and the parents shuffle around after them with a distinct sadness on their faces.
We're taken on a whirlwind tour, which is covered in the works of established artists.
A huge gallery runs the length of the site, with displays from Damien Hirst, Jenny Holzer and Jeff Gillette.
Banksy himself has a distinct footprint on the venue and ten pieces are accredited to him, including the landmark piece of Cinderella's castle.
He is also the brains behind a humorous custom-made dodgem ride, depicting a grinning Death cavorting manically in a small car.
Friday nights during its five week run will include live events. Run the Jewels, Sleaford Mods, Massive Attack, Pussy Riot, and comedian Katherine Ryan are all slated to appear at the venue.
Its doors, in Weston-super-Mare, officially opened on Saturday 22nd August and it will run until the 17th September.
Tickets cost £3 for adults while children under 5 go free. Booking in advance is advised as demand is likely to be high.