The latest shock-stunt by a Halloween costume company sees Cecil the Zimbabwean Lion made part of a 'killer' costume, which mixes dentistry and animal poaching.
Costumish.com has listed the costume which includes a detached lion's head and blood-spattered dentist robes.
SEE ALSO:

Caitlyn Jenner Halloween Costume Prompts Petition, Outrage Online
The website's CEO Johnathan Weeks announced the costume on entertainment website TMZ, saying the company had been "flooded with requests" for the costume since Cecil's slaughter last month.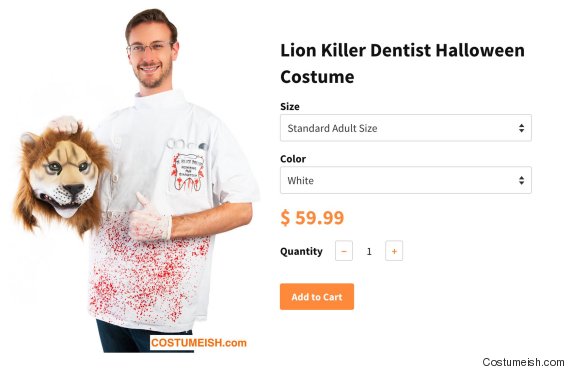 The online listing went live on Tuesday, according to TMZ
In its listing, the website writes: "2015's most controversial killing has laid bare the rift in American and Zimbabwean attitudes toward exotic game hunting and animal conservation pitting an outraged mob against a Minnesotan dentist in a scandal sure to be remembered for a generation.
"Our Cecil Lion Killer Dentist Costume features a severed lion's head mask, bloody smock, and bloody gloves for a gruesome, complete look."
Nonetheless, Mr Weeks concedes the website has yet to sell one of the costumes.
But it's not all bad as, according to the website, 15% of all proceeds will go to a wildlife foundation.
Meanwhile Walter Palmer, the 55-year old dentist from Minneapolis accused of killing Cecil, maintains the hunt was legal and that he sought all necessary permissions.