Young people are fuming about the "sneaky" changes to Virgin Trains' off-peak fares, which will see the cost of a return to London from cities such as Birmingham and Manchester rise astronomically.
"My daily commute is £27 return a day, however, this is trebling in price to £86," she told HuffPost UK. "More than my daily wage. I commute as I cannot afford to rent in London."
May added: "I want Virgin to be held accountable to their actions and reverse this decision."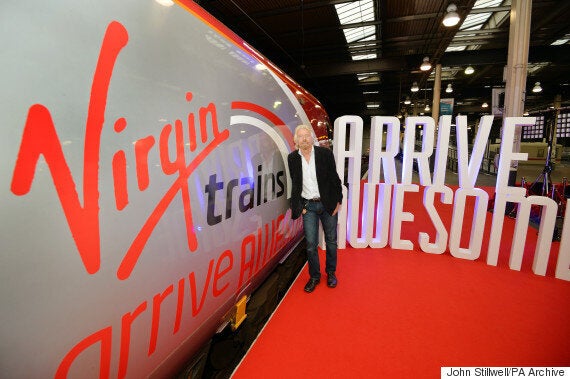 Sir Richard Branson at the launch of the Virgin trains "Arrive awesome" 2014 campaign. Ironically, the company pledged to spend £50m to make the passenger experience more satisfying
From 6 September, railcard users will no longer be able to purchase off peak fares on peak time trains, and instead will only be able to purchase peak time tickets. Although the railcard discount can be applied to peak time trains, the fares are significantly higher than off peak.
"I started the petition go highlight how unfair Virgin are being. Many people with a railcard have the 16-25 one. Therefore this policy is specifically targeting a number of younger people who are more likely to be in lower paid jobs and therefore need this need the discounted price to subsidise their means of travel.
"Crucially this is a threat to people's jobs as myself included, people will no longer be able to afford to travel to jobs they worked so hard getting."
Hannah Young, a 25-year-old copywriter who commutes from Birmingham to London as she cannot afford to live in the capital tweeted Richard Branson, the founder of Virgin Group, to inform him of the impact the changes will have.
In an open letter to the billionaire, she says she is "shocked" to learn of the changes.
"The same journey to work that previously cost £34.15 will cost £110.90 a day... Your decision means young people, disabled people, and over-60s who use a railcard to commute will have to make some life-changing decisions.
"Your railcard scheme means progressing a career in London is an option for people who can't afford to move there.. It makes it easier for students and graduates to afford internships, especially when so many are unpaid or on low pay."
Young adds: "You've trapped us into choosing to give you £10,000 [the cost of a season ticket] or travelling with a cheaper company where we'd be sitting on a train for nearly as long as sitting at our desks.
"And to make it more complicated, you've given us just two weeks to work out what we're going to do."
Lauren Hawkridge has just completed her first month of a new job in London, and also commutes from Birmingham.
[My service] is riddled with cancelled trains, delays and additional stops being made to make up for other services," she told HuffPost UK. " I begin to wonder what they are doing with my £34.15 and I'll be being asked to spend £100 for a service that quite frankly isn't worth it.
"This is a policy change that they didn't tell us about, weren't publicising until a few friendly members off staff at stations (Euston for me) told me of this change. There was no mention on their website or social media, until they were queried by frequent travellers such as myself."
A spokesperson for Virgin Trains said: "We are the only train operator to offer this double discount where customers can use discounted, off-peak tickets on peak-time trains.
"Customers who book tickets before 6th September can still travel using the double discount after the new rules come in. Normal railcard discounts on peak and off peak tickets are unaffected and there are still many great deals available, particularly with some planning and flexibility."
Popular in the Community