At the heart of Britain's foreign aid programme is helping less well-off countries to help themselves. International Development Secretary of State Justine Greening has crystallised the idea.
"When I look at how we can continue tackling the vast range of challenges we face, the common theme is creating opportunity," she says. "No matter where you are or who you are, we all want the chance to live up to our potential."
Many of the successful programmes supported by the UK's £12 billion overseas aid budget have that message at their core, underpinning the Department for International Development's (DFID) achievements, such as supporting 62.9 million people to access clean water, better sanitation or improved hygiene.
Two major strands of its work is trying to reduce the inequality faced by women and ensuring the biggest generation of youths on record is not left behind.
Ms Greening adds: "(Living up to our potential) matters for people right here in Britain and it's the same for people living in developing countries too. Whether you're in Birmingham or Bangladesh, Edinburgh or Ethiopia, people want the chance to go to school, they want the dignity of having a job, earning a wage and supporting themselves and their families."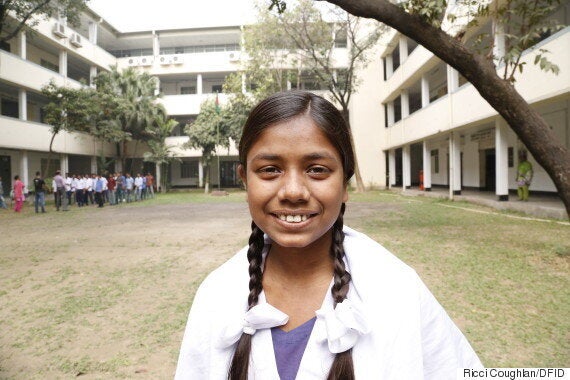 16-year-old Swapna Akter who has been enrolled in the DFID-funded Underprivileged Children's Education Programme (UCEP) in Bangladesh
DFID has to be inventive to reach its goals, such as with its immunisation programme. Among those its supports is Gavi, a public and private sector "vaccine alliance" that has helped immunise more than half a billion children since 2000 in 73 countries. Over five years, the UK has funded the alliance by £1 billion, roughly a quarter of its funding, and the money helps secure huge discounts from manufacturers given the bulk purchase it makes.
The UK's investment in the vaccine to prevent cervical cancer in women and girls is expected to bring a 10-fold increase in the proportion of children who are fully protected. It has also prompted a 21% increase in the diphtheria, tetanus and pertussis vaccine (DTP).
Yet the task is more complicated than many might imagine, with health workers having to overcome cultural and geographical barriers. In Ethiopia, take-up varies wildly. Some 94% of children in Addis Ababa have had the basic DTP vaccine, but the rate plummets to as low as 12% outside the capital.
In Afar, a vast region where families are constantly on the move searching for water and fresh pasture for cattle, the local health bureau is working with religious leaders to help combat local fears over vaccines. One nurse has described being threatened by an angry father after approaching his child for a routine immunisation check.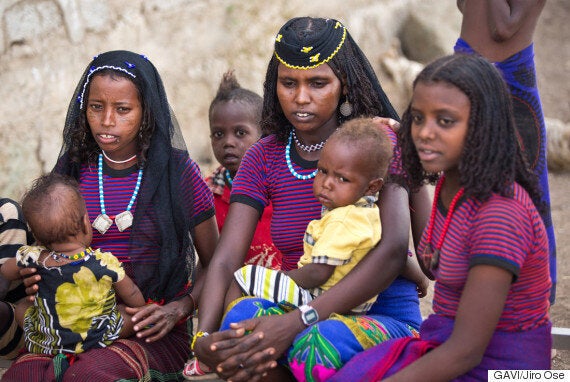 The vaccine alliance Gavi has worked with religious leaders in rural Ethiopia to help improve take-up
Influential religious leaders it has turned to include Sheik Mussa Mohammed, a highly respected Islamic scholar and deputy head of the regional Islamic affairs office.
"You have the messages and we have the people," he says. "Together we can reach the community with messages that will protect our children from illness and death."
With support from Gavi, the alliance invited more than 40 imams to attend an immunisation summit where texts were cited to underline there is a religious duty to protect children from any illness, including vaccine-preventable diseases.
More workshops have followed, resulting in widespread dissemination of immunisation messages in mosques during Friday prayers and at religious events. During Nika, the marriage vows ceremony, imams often call upon couples to vaccinate their future children. A year on, and immunisation coverage rates have increased dramatically.
Ibrahim Gudelle, Head of the Maternal and Child Health Unit at Afar's Regional Health Bureau, said: "We have seen a lot of successes, particularly in increasing our region's coverage with the basic package of childhood vaccines. It's a result of the involvement of Islamic leaders."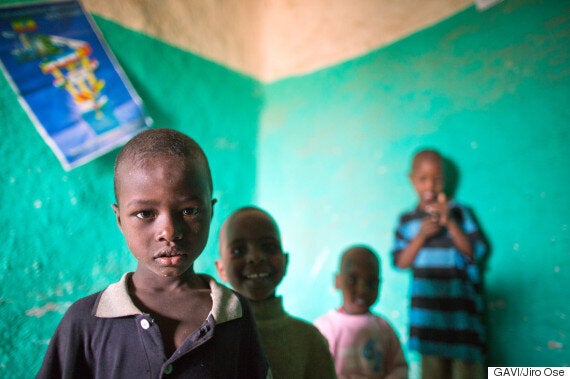 Immunisation could be considered among the core activities of foreign aid, alongside building schools and ensuring better sanitation. That remains "absolutely fundamental", but there is a bigger picture, says Ms Greening.
"Giving people the chance to lift themselves out of poverty is key," says Ms Greening. "And our investment is doing that, creating opportunities so that no matter where someone is born, or what gender they are, they will have the chance to earn and succeed. We want to help countries we help to move away from aid dependency."
Education is a major focus, and in particular reducing the risk of girls becoming lost in the schools system in developing countries where there is pressure to marry or work.
DFID funds a scheme called the Learner Guide Programme in Zimbabwe and Tanzania. It gets recent female school graduates who have been helped by the Campaign for Female Education charity to return to their schools as mentors and role models. The 2,575 Learner Guides have reached over 87,600 students in 2014 alone. In a year, mentors typically five visit to students' homes each month, and encouraged an average of three students to return to school.
For Carolina Francis, from Tanzania, education has been transformative.
The second of seven children, her father died when she was three years old, and her family was unable to support her through school. She was supported through secondary education by Camfed and is now, aged 23, a Learner Guide. She provides for her family, including supporting her two younger brothers through primary school, and also pays college fees for her younger sister, who is studying hotel management.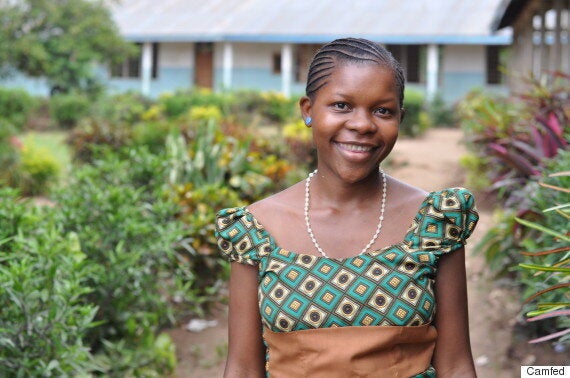 Carolina Francis, from Tanzania, is a mentor to girls to help them stay in school
"When I was first trained as a Learner Guide, we were given an allowance for our meals," she says. "I saved as much of the money as I could. When I arrived back home, my mother was very ill. Because I had saved my meal allowance, I was able to take her to the hospital. So becoming a Learner Guide benefitted me right away!
"At the school where I work, one of the biggest challenges is pregnancies. Since becoming a Learner Guide, I've been trying to find out why. I found that the 'boda boda' drivers are tempting the girls. The drivers wait for the girls and promise them gifts and money (money they often need to stay in school). Then the girls become pregnant.
"So I have advised the girls to fight against that and also to tell their parents when a person is bothering them. I'm sure their parents would want to know. The more you engage the parents, the more pressure will come from the community for the men to stop this behaviour. Since then, the number of these instances and the number of pregnancies has been dropping. The problem is still there, but the number is dropping."
She added: "My dream is to become a business person. Now, I do temporary jobs and get paid after two weeks. My father died when I was a child, so I'm still supporting my mother and two siblings in primary school. Since my mother is still sick, I have to go to the hospital every month. The cost of her medicine is the same amount as my salary for two weeks. So the rest must feed and care for the family. With a business I think I can care better for my family."
Since 2012, DFID has funded the Underprivileged Children's Education Programme (UCEP) in Bangladesh, which urban poor working children who have dropped out or never enrolled in school receive a basic education and vocational training to get work. Graduates from technical schools are placed into appropriate jobs related to their area of expertise.
Among those is 16-year-old Swapna Akter, who was orphaned at three years old. Her shelter home sent her to school where she discovered a love of education, passing her junior school exams with flying colours. Backed by UCEP, she carried on into secondary school and has just started at its Mirpur Technical School in Dhaka and wants to become a qualified engineer.
"When I passed my junior exams with A+ grades, I was interested to study more. Then I heard about UCEP – and the chance to do a diploma in engineering. My favourite thing about school is my class teacher. She gives me the love that I didn't get from a mother.
"My dream is to be successful in my life: complete my education, do the engineering diploma and then get a good job – to get a good position in society so people don't just see me as an orphan. I dream of living independently. I also want to do something for children like me, to help girls like me be successful."
Ms Greening says ensuring everyone has a sound education is crucial when faced with the "largest youth generation in history".
"Almost nine out of ten of these young people live in developing countries, around half live on less than $2 a day," she says. "If you look at Africa, half the population is under 18.
"Ensuring these young people get an education is just the first step. Once they leave school, we need to make sure they can use their skills and find a job."
She cites the World Bank's prediction that there will be at least 600 million people entering the job market in the next 15 years.
"In Sub-Saharan Africa and Asia these young people will be entering labour markets where, as it stands, there is little waged work and little chance of escaping poverty," she says. "Women and girls need to be part of this solution too - you can't sustainably develop any country if half the population are locked out."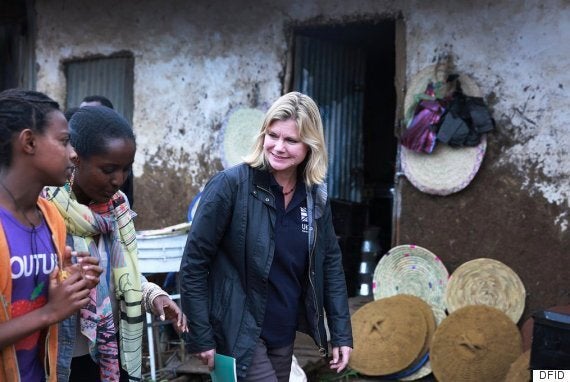 Justine Greening: "No matter where you are or who you are, we all want the chance to live up to our potential."
Many of the initiatives it supports are designed to ensure women are not locked out. In Pakistan, two-thirds of women have no access to bank accounts or access to financial services, and UK aid has helped provide "microfinance" loans to thousands of women in the country to start their own small business.
Among them is Sughra Baji from Lahore. After working on a piecemeal basis for as little as 50 rupees (about 40p) a day, she 10 years ago obtained her first loan and set up her own cloth business. Now she earns up to £20 a day and gives work to more than 25 other local women.
"I now send two of my sons to school," she explains. "My elder son didn't go to school as we couldn't afford it before, but he helps me with my business so has a good job.
"In the future I want to buy the cloth and stones in bulk direct from Karachi, and set up other women with their own businesses who I will supply to."
Microfinance has been targeted at women, who have set up small enterprises with their loans, such as garment making and weaving.
By 2015, the UK will help 1.2 million poor people access microfinance loans and support entrepreneurs across Pakistan. More than half will be women. It also helped set up the first branchless banking system in Pakistan, enabling many of the poorest to access financial services for the first time.
Training is also helping to improving livelihoods for Somali women.
The UK aid-funded Sustainable Employment and Economic Development (SEED) programme helps disadvantaged youth and women get technical and vocational education. Since its inception, over 5,000 people have received training. They include Hawa Osman, 22, and 27-year-old Farhiya Mohamed, who attended hospitality-training courses, and have specialised in the confectionary industry.
"This training has given me confidence in myself and my skills to go out and make a living on my own," says Hawa. "The programme has given me access to skills and training that was previously unavailable to me."
Farhiya says: "Our trainer has great experience in this field and she makes everything easy and understandable.
"I have my own small shop and I plan to expand my business to include the different kinds of sweets I have learnt how to prepare."
Ms Greening says British people should be can be "incredibly proud of what our international development budget is achieving".
She says: "Whether it's helping countries like Jordan and Lebanon cope with Syrian refugees so they can safely stay in their home region, tackling the deadly Ebola virus at source, or fighting for the rights of girls and women key for sustainable development, the UK is creating a safer, healthier and more secure world.
"There has been enormous progress in the battle against poverty since the Millennium Development Goals were agreed 15 years ago. Extreme poverty has been halved, the number of under-five child deaths fallen from nearly 35,000 per day to around 17,000, equal numbers of girls and boys are now in education and the number of children out of primary school worldwide has dropped by around 50 per cent. The support of the UK has been central to these achievements."
But the job is not yet complete, and the goal is to help end extreme poverty by 2030.
"For DFID that means continuing to ensure that every pound of British taxpayers' money goes as far as possible," she says.
"And it means finding the most effective and efficient ways to deliver on that commitment through our NGO partners, through the multi-lateral organisations we support, through businesses who can help drive economic growth that has already lifted 700 million people out of poverty in the last two decades.
"Private investment has been a key ingredient of this jobs success. Working with organisations like GAVI, for example, have shown what we can achieve by bringing together the private sector, donors and professional organisations."
As part of HuffPost's What's Working initiative, we're profiling inspirational people and organisations who are making a positive contribution to society by finding solutions to the world's problems.