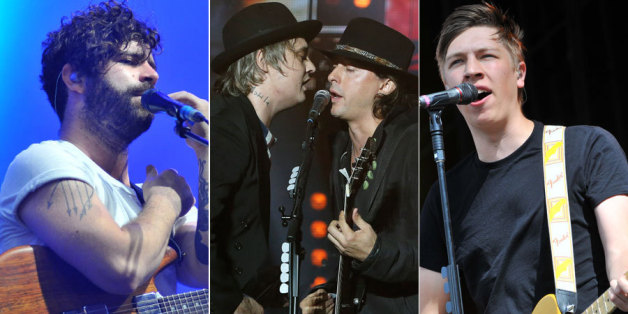 C Brandon via Getty Images/Chiaki Nozu via Getty I
Festival-goers enjoyed a huge variety of performances at Reading Festival over the weekend, when everyone from Azealia Banks and Kendrick Lamar, to The Libertines and Jamie T took to the stage.
With nine different stages each presenting 12 hours a day of music, seeing everything was impossible, so there's only one thing left to do - watch all of the best bits on the BBC iPlayer.
MORE: In Pictures - Reading Festival 2015
But which sets are worth watching? And did any of this year's acts give a performance that will go down in Festival history? Check out our top picks here…
1. The Libertines
It's universally agreed (by everyone except Arcade Fire fans) that The Libertines should have headlined Reading & Leeds when they officially reunited in 2010. Cut to 2015, and with new album 'Anthem For Doomed Youth' on the way, Pete Doherty and Carl Barat were ready to rewrite their own Reading history, claiming the closing set they deserved all along.
Set highlights: New track 'Gunga Din', 'Time For Heroes' and every time Gary Powell inspired the biggest cheers. Watch their set here.
2. Jamie xx
An hour later than scheduled due to Tyler The Creator's absence, Jamie's set provided the perfect Sunday evening vibes, and - as long-term fans expected - 'In Colour' translates perfectly to the stage, which the producer shared with a gigantic disco ball.
Set highlights: Closer 'Loud Places', preceded by a sped up 'I Know There's Gonna Be (Good Times). Relive it - or catch it for the first time - here.
3. alt-J
alt-J have never struggled to find their place on Reading's stages, which is quite the achievement for an indie band who often feel inspired by Elizabethan rounds.
Set highlights: 'Matilda', 'Breezeblocks'. Catch it here.
4. Jamie T
Festival staple Jamie T returned to the mainstage for 2015, after making his 2015 comeback with a secret set in the tiny Festival Republic tent. Jamie's often discussed his anxiety, and it resulted in his previous break from releasing form music, but he's never looked more comfortable than when at Richfield Avenue.
Set highlights: His encore, consisting of 'Sticks And Stones' and 'Zombie'. See the set here.
5. Foals
I'm going to call it now: The next time Foals return to Reading, it will be to headline. The promo for their latest effort ' What Went Down' was perfectly executed, with tapes containing the album dropped across Europe, in the hours after a tiny gig at London's Village Underground, so a secret Reading set made perfect sense. With just half an hour to play with, Yannis Philippakis and the band didn't mess about, showcasing their new slicker, confident approach.
Set highlights: 'Mountain At My Gates', which will surely become their new go-to closer, and 'Spanish Sahara'. See Foals' full performance here.
6. Drenge
Now a trio, grunge rockers Drenge managed to inspire mosh pits at the festival's mainstage in the early afternoon, thanks to 'We Can Do What We Want' and the raucous 'Bloodsports'.
Set highlights: Every single festival-goer being captivated by the new bassist. Check out their set (and the mosh pits) here.
Unlike with Glastonbury, just a selection of the best Reading sets are added - in full - to the iPlayer. Here are the other highlights…
LIKE US ON FACEBOOK | FOLLOW US ON TWITTER