Flash floods killed several animals and trapped numerous others at a private zoo in eastern Russia, close to the border with China.
Numerous brown bears were filmed confined in their half submerged cages at the Green Island Zoo in Ussuriysk after the region was battered by Typhoon Goni, causing a major river to burst its banks late on Sunday.
Video broadcast on Russian state television showed the bears standing on their hind legs and clinging to the bars with their front paws to keep their heads above the muddy water.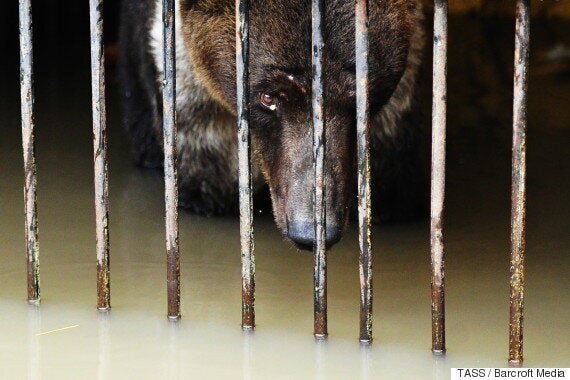 A bear gazes out from behind its bars at the zoo in Ussuriysk
Activists have criticised the zoo for not acting more quickly to save the beasts, amid rumours the keys to some of the cages have been lost. Footage showed volunteers in a dinghy feeding sugar lumps, bread loaves and medicine to the surviving animals while they were still trapped behind bars.
Vera Blishch, identified in the report as a bear trainer, checked on their condition from a boat on Monday and said the survivors were suffering from cold and lack of sleep.
She told Sky News: "The animals could be evacuated, their cages have wheels. I was calling the owner of the zoo, I was begging him to help, but no one listened.
Volunteers attempted to feed the animals with loaves of bread and sugar lumps after the animals became trapped
"I wanted to get Masyanya [a bear] out of her cage, she could have been saved, but they didn't let me."
Masyanya, the youngest bear and a favourite with visitors at the zoo, drowned in her cage, along with at least one other bear, several wolves, bobcats, goats, and a lion, RT reports.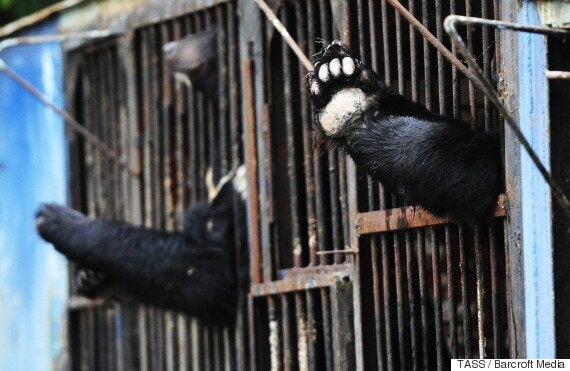 At least one of the zoo's bears drowned while locked in her cage
"The bears are now agitated so a tranquiliser won't help. The doors to the cage are underwater. Even if we open them, even if we manage to put them to sleep, no car will be able to get there."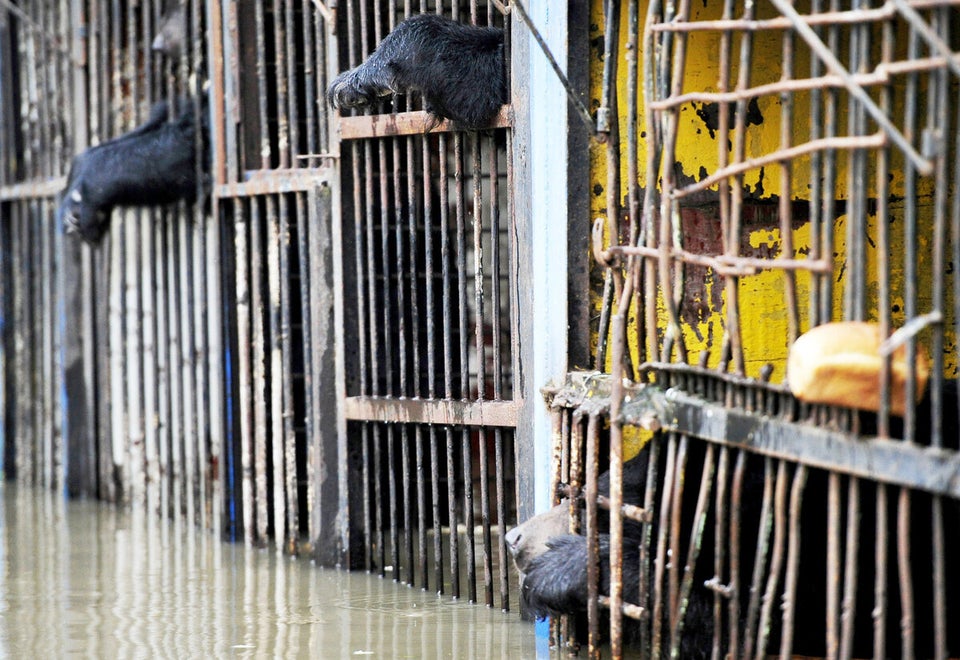 Bears trapped in flooded cages
Related