The former director of security at News UK (formerly News International) has threatened to blow the whistle on conversations he heard during the phone hacking trial, just days before Rebekah Brooks returns to Rupert Murdoch's company as chief executive.
Mark Hanna posted a video on YouTube on Friday in which he said the re-appointment of Brooks was akin to "Mr Murdoch's middle finger being shoved right in my face."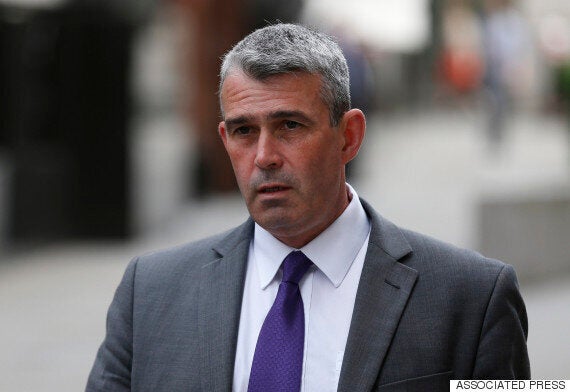 Hanna was cleared of charges to pervert the course of justice during the phone hacking trial at the Old Bailey that ended last year. At the trial, he was accused of removing documents and computer equipment from brooks' homes.
Despite being cleared, Hanna was not given his old job back, being placed on paid leave until the company declared him redundant in January. He said he has been unable to find a new job due to the stigma of the hacking trial. Hanna is currently embroiled in legal proceeding with the company over his severance package.
At the trial, the jury heard how the News of the World, now closed, illegally hacked the voicemail messages of scores of high-profile figures.
Hanna said the return of Brooks was "two fingers up to the nation and those that were victims of the company's illegal activities." In the two-minute film made on a mobile phone, he promised to take a stand and reveal details about his time "working for one of the most hated organisations in the UK."
Worryingly for News UK, Hanna said that he heard "confessions" while sat in the dock with the accused that included Brooks, her husband Charlie, her former personal assistant Cheryl Carter and Andy Coulson, the former News of the World Editor. Of the seven defendants, only Coulson was found guilty and sent to prison.
"Having been extremely close to some of those who pulled the strings within the company and gaining their trust, as well as sitting there every day in the dock... conversations took place, notes were taken, and even confessions were made," Hanna said.
"Having always been law-abiding and doing things by the book, I handed my concerns to the relevant management, but was always told to ignore things," he continued. "As time went on, more issues came to light, and again after reporting my concerns of potential illegal activity, which are classed as protected disclosures, I was told just to carry them out without regard to who it involved. This blasé attitude was never so relevant than today with the reinstatement of Rebekah Brooks."
He concluded: "I intend to tell you everything that I know, which I'm sure will shock everybody."
A News UK spokesman said on Friday: "Mark Hanna has been through an exceptionally difficult time. He was acquitted in court and, throughout the trial, we supported him and paid his substantial legal fees. We also continued to pay his salary and bonuses and provided other financial support throughout his trial and afterwards. When he said he wished to return, we offered him a comparable position with the company.
"Despite all our efforts to find a resolution with Mark, the matter is now before an employment tribunal, a fair and independent proceeding, where the company will defend itself vigorously. We consider his YouTube video to be an attempt to force News UK into offering an unreasonable financial settlement. Of course, we completely reject his accusations of illegal conduct."