Members of the public have also shown their support by donating hundreds of thousands of pounds to charities working to help refugees.
David Cameron has bowed to intensifying political pressure and announced that Britain would take "thousands more" refugees from the camps in countries around Syria.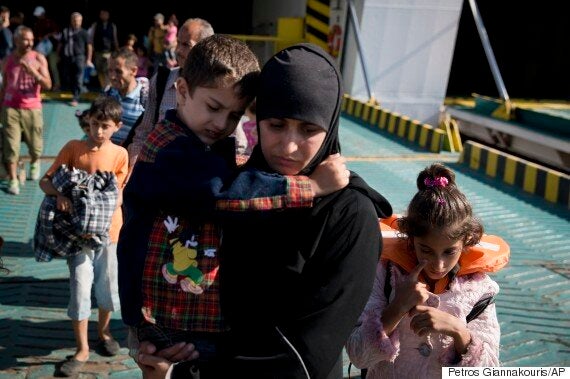 Syrian refugees arriving in Greece last month
Elsewhere in Europe hundreds of refugees, many of whom hope to reach Germany, made their way to the Hungary-Austria border overnight.
Buses, provided by Hungary's government, have been pictured near the border at Hegyeshalom after Austria and Germany said they would allow them entry.
Labour leadership contender Yvette Cooper - who earlier this week called for the UK to take 10,000 refugees - said local authorities around the country had shown a "rising sense of moral purpose".
The shadow home secretary said that within 24 hours of her asking councils in England, Scotland and Wales asking if they would be prepared to help in providing places for refugees, more than 40 had written back offering support.
The disclosure came after David Cameron, bowed to intensifying political pressure and announced that Britain would take "thousands more" refugees from the camps in countries around Syria.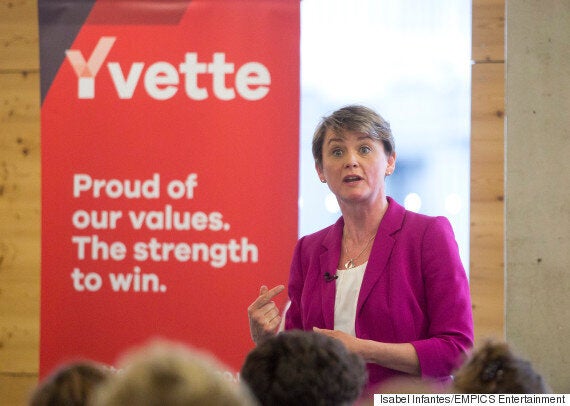 Yvette Cooper said the commitment showed a 'rising sense of moral purpose'
Ms Cooper said it was now up to the Government to work with local authorities to ensure as many people as possible were helped.
"Already councils from across the country have said they want to work with the Government to help Britain offer sanctuary to more refugees," she said.
"There is a real determination and rising sense of moral purpose across Britain to help desperate families. But now the Prime Minister needs to match it.
"I'm once again urging the Government to work with councils to offer as many as 10,000 places for refugees and be part of a national mission to deal with this terrible humanitarian crisis."
In a speech on Tuesday, Ms Cooper argued that if every London borough and county council took 10 families and Scotland, Wales and the English regions all played their part, it would be possible to create almost 10,000 places within a month.
During a visit to Portugal and Spain on Friday, Mr Cameron said the UK would act with "our head and our heart" with a major expansion of the programme to resettle vulnerable refugees from the camps bordering Syria.
He said the scheme would avoid the need for the refugees to make the hazardous sea crossing of the Mediterranean to reach sanctuary in Europe which has seen thousands perish over the course of the summer.
Critics complained his statement said nothing about helping the tens of thousands who have flooded into the EU and are struggling to make their way across the continent in the hope of claiming asylum in the wealthier nations of the north.
However a Populus poll of 1689 people, reported in The Times, suggested the country was divided over the right response to the crisis with a narrow majority - 51% - saying that they did not believe the Government needed to go any further.
International Development Secretary Justine Greening dismissed the prospect of Britain joining a proposed EU plan to redistribute some 160,000 migrants already in Europe saying it "simply fuels the people smuggling business".
Mr Cameron had been under intense pressure to act after the publication of pictures of the body of three-year-old Aylan Kurdi washed up on a Turkish beach shocked the world.
So far, just 216 Syrians have been admitted to the UK under the scheme to help the most vulnerable people in refugee camps, while a further 5,000 have been granted asylum over the past four years.
Related