A 25-year-old has died from a rare form of cervical cancer after being told she was "too young" to have a smear test.
Emma Fisk, from Selby, North Yorkshire, reportedly visited her GP 10 times because she was suffering from severe stomach cramps before she was diagnosed with cancer.
Her family claim she was repeatedly misdiagnosed with a urine infection and was told her discomfort may be due to a "little tear".
She died in June of this year, just months after marrying her long-term boyfriend, Dan.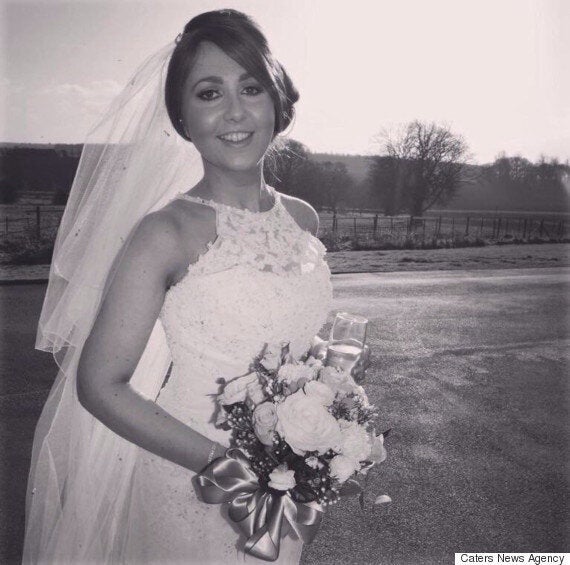 Emma started suffering stomach cramps and unusual bleeding in 2013 and her family says she asked doctors for a smear test, but was told she was "too young".
Emma was reportedly told to wait six months until she turned 25 in October 2014 for a smear test, but after weeks of protesting, she eventually received one in April 2014.
The test flagged abnormalities and after further examination, doctors discovered a tumour. They diagnosed the then 24-year-old with advanced neuroendocrine carcinoma of the cervix - a rare type of cervical cancer.
As with many other forms of cancer, the exact cause of neuroendocrine tumours is unknown. Symptoms will vary depending on where the cancer is in the body, but can include diarrhoea, flushing of the skin, wheezing (similar to asthma)
loss of appetite and weight loss.
Dan proposed shortly after Emma's diagnosis and the pair married in January this year.
But after several rounds of chemotherapy, Emma sadly lost her battle against cancer in June.
Her family are now calling for the smear test age to be lowered in the UK.
"She was fit and healthy and slim - she didn't smoke or take drugs or drink. She was the model daughter. She loved everyone and they loved her. She was such a beautiful person inside and out and we are so lost without her."
The NHS state that smear tests are not offered to under 25s as standard because "normal developmental cell changes in the cervix can look very similar to abnormal cell changes, leading to unnecessary treatment and worry".
They say cervical cancer is also "very rare" in women under the age of 25.
They add: "If you're under the age of 25 and worried about your risk of developing cervical cancer, or you're concerned about other aspects of your sexual health, visit your GP or your local GUM clinic for advice.
"Any woman under 25 with abnormal vaginal bleeding (after sex or in between periods) should see their GP. The GP should refer her to a gynaecologist for investigations. Cervical screening isn't a test for symptoms."
Emma's family are now sharing her story in order to raise awareness of cervical cancer. They have started a Facebook page titled The Team Emma Campaign calling for the smear test age to be lowered to 18.
You can find out more about the campaign here.