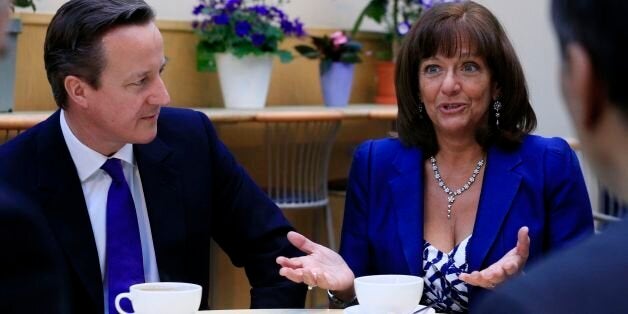 Tory minister Ros Altmann has been expelled from the Labour Party after it discovered she has been a member for more than 18 months, The Huffington Post UK can reveal.
The Conservative minister was made a peer by David Cameron soon after his general election victory in May, but in a bizarre twist it turns out that she was still a Labour party member at the time.
She also signed a renewed membership form on March 25 this year, and paid a cheque for £46.50 for an annual fee.
Just three weeks later, she was unveiled by David Cameron as his next consumer protection minister if he won the general election.
Labour officials decided to kick out Baroness Altmann after the HuffPost UK discovered that she had been given a vote in the party's leadership election.
The former pensions campaigner had been amused to receive a text from the Jeremy Corbyn campaign recently asking her 'can I count on your vote?'
With Labour facing accusations that some of its most senior members - including former Cabinet minister David Blunkett - had still not been sent a vote as of last weekend, the idea that a Tory minister could have a say was originally greeted with dismay by Labour HQ.
But this morning there were 'titters at Shadow Cabinet' among Labour MPs on being told that the minister had been expelled.
A party source told HuffPost UK that Baroness Altmann "has been a fully-paid up member since March 2014 - until we expelled her today".
The grounds for expulsion were simple - 'not supporting our aims and values, by serving as a minister in a Tory government' - the source said.
"Is she also a member of the Tories? Are they happy that one of their ministers was a Labour party member? Did they do even basic checks before David Cameron appointed her?"
The discovery means that the peer has been operating as a Government minister for four months - it is unknown if she is also a member of the Tory party - while simultaneously being a member of the Labour party.
A Tory source told HuffPost UK: "Ros has taken an interest in all three parties. This is because prior to the election she worked on policy, not politics, and wanted to keep in touch with what each party was doing.
"She is now only a member of the Conservatives."
Tories are also pointing out that the revelation is more embarrassing for Labour. "Despite their claims of scrupulous checking they still sent a Conservative Minister a voting form!"
A Labour official today also revealed that Baroness Altmann renewed her Labour membership in late March 2015 - as the election was starting. "Hardly the actions of somebody who was 'taking an interest' in all parties," they said.
"The fact is she accepted a peerage and ministerial job for the Conservatives while remaining a Labour member. Hardly a ringing endorsment of David Cameron's Conservatives.
"Our processes remain robust and her vote will not be included in the Leadership election."
Ms Altmann has long been one of the UK's most prominent pensions reform campaigners and has been courted by all parties over the years.
She has long campaigned for better rates for savers, for better compensation to those who lose out from pension protection and for reforms to women's pensions.
She served as a non-executive policy adviser in Downing Street when Tony Blair was Prime Minister, but was appointed by pensions minister Steve Webb as the Businsess Champion for Older Workers under the Tory-Lib Dem Coalition in July 2014.
Her Coalition appointment came just months after she joined Labour, it now turns out.
It's highly unusual, if not unprecedented, for a minister to be appointed to the frontbench by a Governing party while still remaining a member of the Opposition party.
The discover of Baroness Altmann's membership is the latest twist in Labour's problems over its membership lists during the leadership election.
The party decided today to reissue fresh ballots to members - estimated as being 'in the low thousands' by officials - who complained they had not yet got them.
The leadership contest closes at noon on Thursday.