Does man's law trump God's law, or does the divine reign over the secular?
That's the debate that's raged since the arrest of Kentucky clerk Kim Davis, jailed last week for adhering to "God's authority" over the Supreme Court by refusing to issue marriage licenses to gay couples.
Yet at her release on Tuesday, a new power revealed itself, one that exercises dominion over both man and God -- the large denim overall.
The garb, consigned to history by the rest of the world in 1978, was spotted several times during Davis' meander to freedom, most notably strewn from her husband, Joe, who topped the ensemble with a dog-eared straw hat.
I was honored to meet w/ #KimDavis. A woman of such strong faith and conviction. #ImWithKim#ReligiousLibertypic.twitter.com/RhcaENaA6i

— Gov. Mike Huckabee (@GovMikeHuckabee) September 8, 2015
Off-the-peg or haute couture, Joe?
Joe Davis's wardrobe by Al Capp pic.twitter.com/8DxEojttEu

— Harold Itzkowitz (@HaroldItz) September 8, 2015
A startlingly bold wardrobe choice
Kim's husband, Joe Davis, meeting with sheriff's officers, presumably now that she is being released pic.twitter.com/h4emKESo5W

— Ryland Barton (@RylandKY) September 8, 2015
The ensemble from the rear
Likewise protester Coleman Colston of Henry County, Kentucky, who looked resplendent in tailoring that matched the bib-and-brace with a sleeveless checked shirt, hat and six-inch beard.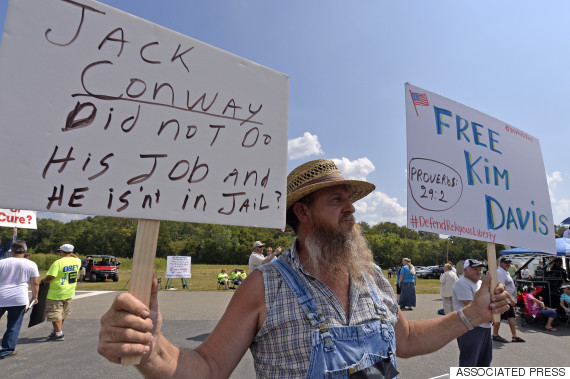 Coleman Colston... en vogue
Social media offered its voice on Joe's daring wardrobe selection:
I can't get enough of this Kim Davis chick. Her husband wearing goddamn overalls to her "rally" is A+ pic.twitter.com/VVVr4GhEGI

— Feitelberg (@FeitsBarstool) September 8, 2015
kim davis was released, the supreme court is the new ISIS, and apparently overalls are back in style. #WTFpic.twitter.com/BqqdzE4HWd

— Phil Chiu (@chil_phiu) September 8, 2015
Look at the dude in overalls and straw hat behind Huckabee, Kim Davis.

(H/T @JeffCercone) pic.twitter.com/Vc8mnjTbok

— Brian Moore (@BriTheWebGuy) September 8, 2015
@TheTweetOfGod do you also stand with the guy in overalls and straw hat behind #KimDavis? #sameplanetdifferentworldpic.twitter.com/BEDiSc6zle

— Cayman Sasquatch (@caymansasquatch) September 8, 2015
I like Kentucky. Good BBQ sauce. But this guy in the overalls and straw hat isn't helping anything.

#KimDavispic.twitter.com/C5OUZY2myA

— Matt the Mormon (@MattBrooksLDS) September 8, 2015
Can we discuss Kim Davis' husbands attire at her rally?? Those overalls and straw hat made my day #puttingontheritz

— Lindsay Wampler (@wamp2214) September 8, 2015
On Kim Davis' big day, her husband, Joe, decided to wear the nice overalls

— September ThemedName (@ZaaackKoootzer) September 8, 2015
@govmikehuckabee who's the guy cosplaying as a farmer

— Matt (@Cheesegod69) September 8, 2015
Kim Davis's Husband is Farmer Fran from 'The Waterboy' pic.twitter.com/ZRlffpm8LD

— Benny (@bennyjohnson) September 8, 2015