With the average wedding costing around £18,000, some brides-to-be are willing to go to extreme lengths to save some pennies.
In one Cornish dress shop, two such women have been battling it out for the chance to win £5,000 towards their special day.
The brides, Kate Holder and Tara Attis, spent days modelling dresses as human mannequins in the window at Bude shop Budeiful Brides, after the store promised the cash prize to the woman who lasted the longest.
After spending a whopping 58.5 hours in the shop window, Attis, 32, decided it was time to give up, leaving 27-year-old Holder to be crowned the winner.
The women were permitted to take toilet breaks every four hours as part of the competition and food was brought to them in the shop window.
While Holder texted friends to keep her company, Attis read magazines to pass the time and also brought a copy of E.L. James' bestseller Fifty Shades of Grey with her to the competition.
Kate Holder (left) and Tara Attis (right) with shop owner Emily Benny (centre)
After spending 46 hours in the shop window, the two brides-to-be decided it was time to change the rules in order to speed up proceedings.
Up to this point, the women had been allowed to sit or stand in any position in the window. But after the change of rules, they decided they would stand for the entire day and only sit down to eat lunch and sleep between 11pm and 7am.
After almost 60 hours in the window, Attis called it a day.
"She didn't say anything - she just stepped down from the window. Nobody was expecting it - she hadn't said she was stopping," Holder said.
"I was in shock - I didn't believe it. I actually thought it was a wind up. I was prepared to be there as long as it needed. I had arranged child care for the next ten days. But it was worth it - the prize is fantastic."
The winning bride-to-be will be putting the £5,000 towards her wedding in February of next year.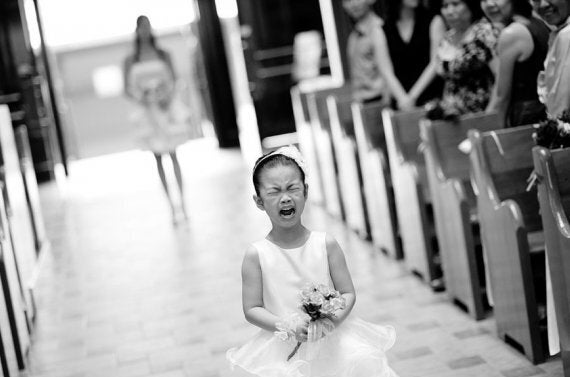 Kids Stealing The Spotlight At Weddings