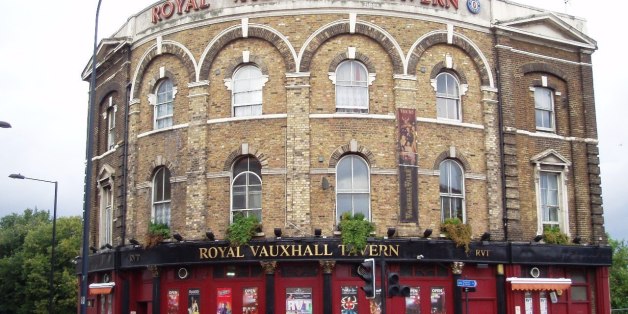 Ewan-M/Flickr
The oldest gay venue in London, the Royal Vauxhall Tavern (RVT), has been awarded grade II listed status after a successful campaign with supporters including Sir Ian McKellen, Paul O'Grady and Graham Norton.
Heritage minister, Tracey Crouch, made the announcement on Wednesday, saying: "The iconic cultural hub in the heart of London is of huge significance to the LGBT community.
"Not only of architectural interest, the venue has a longstanding historic role as a symbol of tolerance and alternative entertainment."
Many took to Twitter to express their delight at the listing of the first UK LGBT venue.
Long live The Royal Vauxhall Tavern 💛💙💜💚❤️

— Rooftop Film Club (@rooftopfilmclub) September 9, 2015
Delighted to hear @thervt has been granted listed status. A vital part of LGBT community. Well done @RVTfuture! http://t.co/k9SSZH58pS

— Paul Dillane (@Paul_Dillane) September 9, 2015
Fantastic that Vauxhall landmark the @thervt has been listed by @EnglishHeritage! Well done everyone involved! http://t.co/KNojMt7NBx

— Sadiq Khan MP (@SadiqKhan) September 9, 2015
Best morning news ever! Almost spilled my coffee. Royal Vauxhall Tavern is now a listed building! Mazeltov, @amylame and team @RVTfuture.

— rebecca kahn (@rebamex) September 9, 2015
We're delighted to hear that @thervt has been granted listed status. Congratulations to all involved in campaigning! http://t.co/bbJsrVo5UV

— Stonewall (@stonewalluk) September 9, 2015
Great news Royal Vauxhall Tavern (or RVT), the UK's oldest LGBTQ pub, today became a listed building. Let's now secure its future @RVTfuture

— Collins of Highbury (@Lord_Collins) September 9, 2015
Amazing, amazing news about the RVT. The listing was successful! RVT is now a listed building of LGBTQ importance.

— Soen (@Soeno) September 9, 2015
Such a proud day. Thanks to everyone who supports @RVTFuture and @thervt. Still can't quite believe it.

It's Listed, Bitch.

— Push The Button (@PTButton) September 9, 2015