A male impersonator "deliberately targeted" a "naive" woman to dupe her into having sex with her while blindfolded, a court has heard.
In his closing speech to jurors, prosecutor Matthew Corbett-Jones said if they were satisfied that Gayle Newland, 25, had deceived her alleged victim into believing she was a man then she was guilty of sexually assaulting her, the Press Association reports.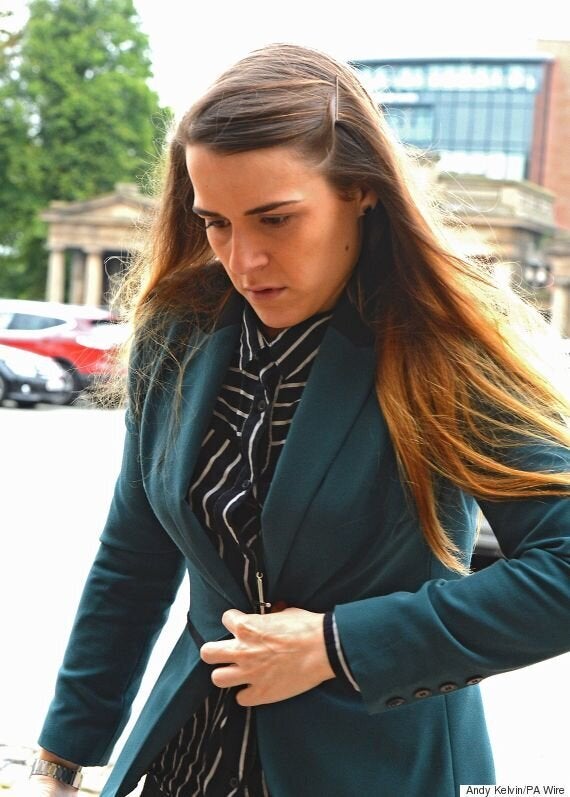 Gayle Newland arrives at Chester Crown Court where she denies five counts of sexual assault between February and June 2013
Newland, 25, told Chester Crown Court the pair were engaging in role play and fantasy as they struggled to accept their sexuality.
She admitted creating a fake Facebook profile in the name of Kye but said she explained this to the defendant from the "get-go", who played along with her online persona for up to two years before they finally met as "man and woman".
Mr Corbett-Jones said: "The issue really comes down to whether or not (the complainant) is telling the truth about her belief that Kye was real and he was the one having sexual intimacy with her.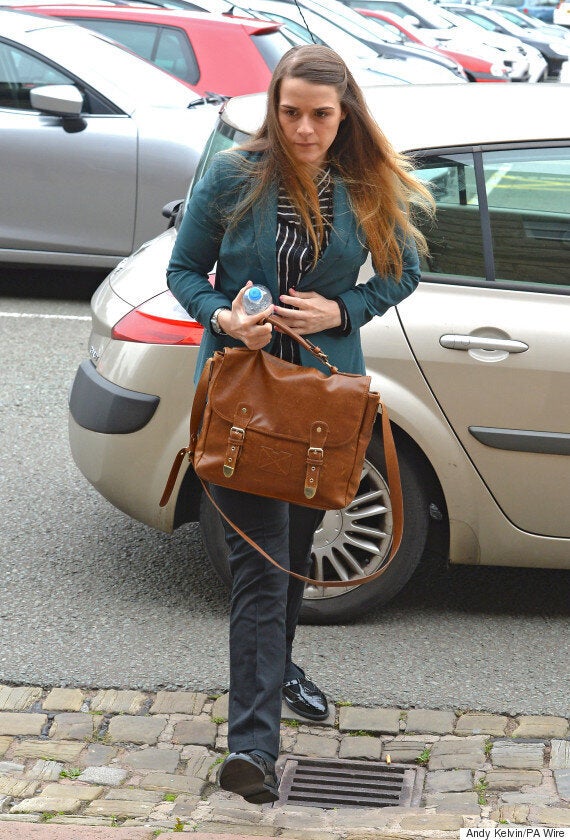 Newland is alleged to have disguised her appearance by wearing bandages across her chest
"She was cross-examined for a number of hours along the lines of she must have known it was a woman and it was preposterous, say the defence, that she believed that Kye was anyone other than Gayle Newland pretending to be Kye.
"We know that the defendant says it goes further than that and she knew from the outset and she (the complainant) then chose to contact Kye.
"(The complainant) says that did not happen and that 'no conversation took place between us and I did not contact Kye, Kye contacted me'.
The Gender Trust supports anyone affected by gender identity | 01527 894 838
Mermaids offers information, support, friendship and shared experiences for young people with gender identity issues | 0208 1234819
"The prosecution say that looking at the evidence overall, it is clear that (the complainant) believed she was communicating with a real man.
"You are going to have to use your collective wisdom, and your experience of life, and make a judgment.
"Is it incredible or is there a combination of factors at play here that have allowed this to happen?
"Is (the complainant) a fundamentally gullible and naive girl who the Crown say this defendant deliberately targeted to exploit that vulnerable and naivety?
"The sad truth is that (the complainant) had fallen in love with Kye.
"Her own experience in life had not been kind. She feels she had no experience of real love in her life."
He continued: "Why would she put herself through the excruciating embarrassment of these proceedings, to have her personal life subjected to the sort of scrutiny and judgment that it would inevitably bring with it?
"Why has she brought out all of this into the public?
"The defendant says she doesn't know and that she is possibly struggling with her sexuality. She could have walked away. It was entirely private, no-one would have known a thing.
"She went to the police because she was devastated by what had happened. She has no axe to grind.
"Conversely, I submit, the defendant's explanation for all of this is completely shot through with inconsistencies and lies."
Newland, of Hooton Road, Willaston, denies five counts of sexual assault between February and June 2013.