First dances can be awkward affairs, especially if a groom is ill at ease.
But Justin Willman certainly didn't look uncomfortable as he appeared to LEVITATE in front of hundreds of guests.
The American magician worked with his bride Jillian Sipkins to pull off the feat during an outside reception.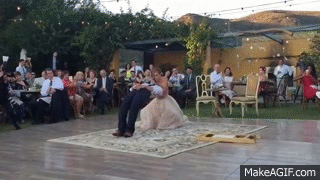 The bride and groom pulled off the trick in front of guests
And their guests were beside themselves with joy when Willman pulled off the trick, rising to their feet and punching the air.
As the couple begins their dance, Jillian uses her groom's body as a platform to perform a short gymnastic routine, including a cartwheel and handstand.
Then Willman moves around and falls backwards slowly, with the help of his bride.
He then appears to levitate as she withdraws her support and walks around him.
And while it's obvious his flexibility certainly helped out, questions remain over exactly how he pulled it off...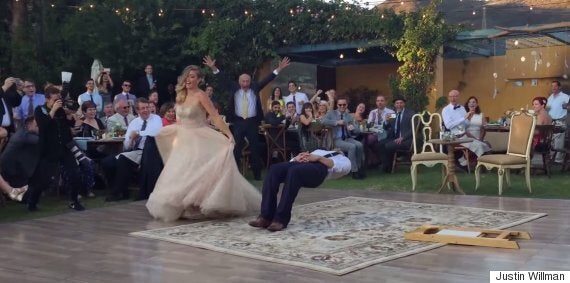 Guests leapt into the air as Willman appeared to hover above the ground
But then, Willman is a professional magician.